William Bosi talks Hubble
Thursday 27th October 2016
Oct 27th; 2016
As reported earlier, Will Bosi made a rare repeat this week of Hubble – Ben Moon's seminal testpiece at Raven Tor.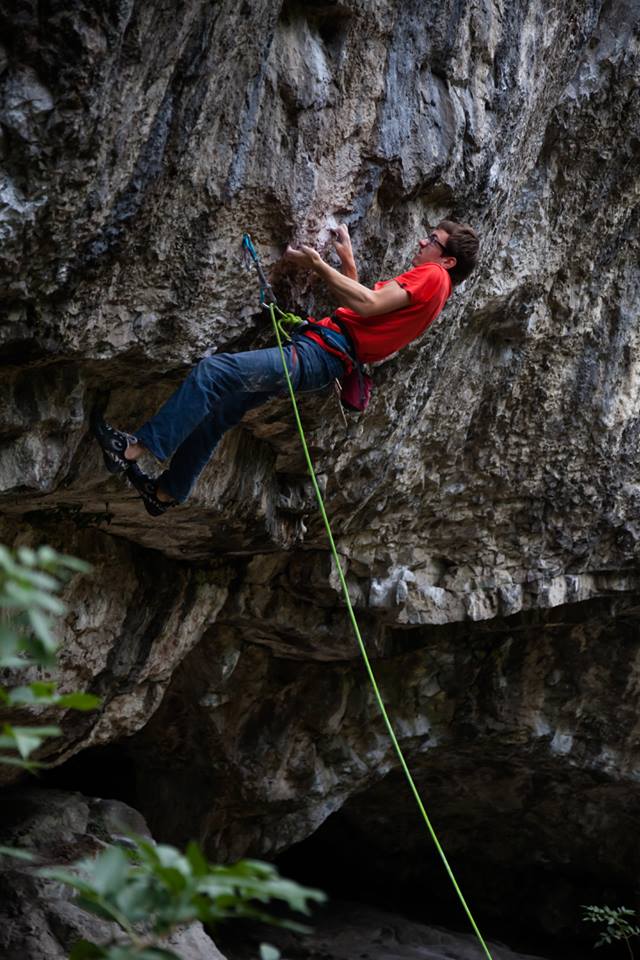 Will Bosi on Hubble. Photo Paul Diffley/Hot Aches Productions
Will's ascent, thought to be the seventh (confirmed) overall, is the second this year – after Alex Megos - and the second by a Scottish climber – after Malcolm Smith's second ascent back in the day. What makes Will's ascent standout is that he is now the youngest ascensionist to date, that he did it in just a handful of visits and that it follows his ascent of Rainshadow (F9a) at Malham which as a much longer route requires a completely different physical and mental approach to say nothing of the different demands on the energy systems involved.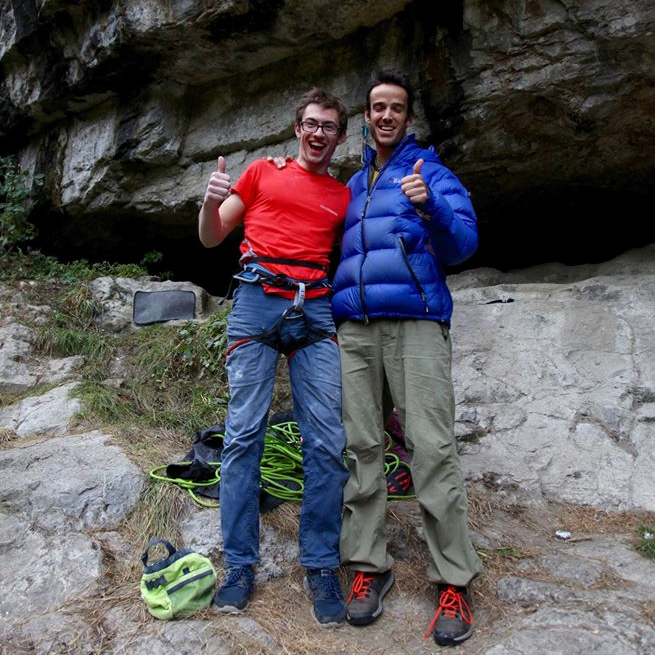 Will Bosi and Tom Randall après Hubble. Photo Paul Diffley/Hot Aches Productions
Tom Randall, of WideBoyz and Lattice Training fame, was on hand to belay Will on his successful ascent. Having coached Will for some time, Tom was quick to recognise Will's achievement this year posting the following on Will's timeline: "Monk Life, Rainshadow, Hubble. Good start to an outdoor climbing career Will Bosi! Enjoy the fruits of your labour... it's all very well deserved".
Tom also told CLIMBER a little bit about Will's training background; "Will's really good at all parts of the different energy systems. He's one of the rare climbers that hasn't got any major holes in his profile." Tom added a little about Will's dedication and understanding of training saying; "Will is a really hard worker, he puts the graft in and gets on with it and understands the process well – and now he's had the result to show for his hard work."
Will Bosi. Photo Paul Diffley/Hot Aches Productions
CLIMBER have been in touch with Will for his thoughts and naturally started by asking if his ascent of Hubble has sunk-in yet…
Wow – Hubble! How does that feel?
It's hard to describe how it feel; absolutely amazing almost says it.
With Rainshadow and now Hubble – to say nothing of Monk Life and other stuff you've done this year - 2016 is going to be memorable right?
Yes it is, I don't think I will ever forget this year but I'm hoping I will have better years to come.
So tell us about Hubble; when did you first try it, did you think straight away that it was game-on, how many days have you tried it, and how does it compare to other stuff you've done?
So I first tried Hubble straight after the BBC's semi final, I had half an hour before I had to head back to Edinburgh so I just gave it a shot to see how it was. As soon as I tried it I knew it was possible, however I wasn't sure how long it would take or how much training would be needed. I think it took 6 days, but two of the days I only had a quick go to. It's completely different to anything else I have tried so it's pretty hard to compare.
What was the hardest bit for you and did you do any special training?
The crux for me was the third move where you have to do a very precise drop in to a small undercut pocket. I did some bicep curls on Tuesday.
OK – time to commit; do you think it's F9a or is F8c+ just fine?
So in my opinion its 9a (not that the grade really matters), firstly judging by what other people have said and who's tried it/done it. Secondly by the fact the 8B+ boulder problem is meant to be 9a sport route and the crux of Hubble is 8B+ I reckoned. In short it felt really hard!
Accepting that Hubble, like Monk Life, is effectively bouldering but that Rainshadow is a full-on route, Hubble and Rainshadow two couldn't be different in style. Can you contrast how they felt and whether your approach was different and also say which you preferred and why.
Well both felt really hard, Rainshadow definitely feels more like a route than Hubble as getting pumped is the problem. I can't say which one I preferred as the experience of both was amazing.
Of all the things you've done this year which has meant the most to you and why?
Both Rainshadow and Hubble have meant a lot to me, I can't say which one more. As the two routes are so different there is no way to compare as they have meant a lot to me in different ways.
Is there anything else on your bucket-list for the year or have you wiped the slate clean?
Nope - or should I say that at least my outdoor bucket list is cleared for this year. However comps are still going and I'm off to China for the youth world championships in two weeks. I do have a few routes I'm psyched for next year but I will see how things go.
Is Malcolm Smith a bit of a hero of yours perhaps and do you get some of your inspiration from him?
Yes he is, I think it comes with being British and also living in Edinburgh where he trained. So I've heard all the story's and "myths" about him and his climbing. Which of course has inspired and continues to inspire me.
Any plans for the winter projects that you'd like to share with us?
No I don't have any winter plans apart from to train really hard and hopefully plan a trip abroad soon.
CLIMBER would like to thank Paul Diffley of Hot Aches Productions for his excellent photos - click through here to follow Hot Aches Productions on social media – and Tom Randall for his comments also – click here for the Lattice Training page.