William Bosi repeats Monk Life (V14/Font 8b+)
Tuesday 20th October 2015
Oct 20th; 2015
After minimal work, William Bosi has just repeated Monk Life (V14/Font 8b+) at Kyloe-in-the-Woods; thereby adding his name to the bouldering greats who have repeated one of the hardest problems in Northumberland.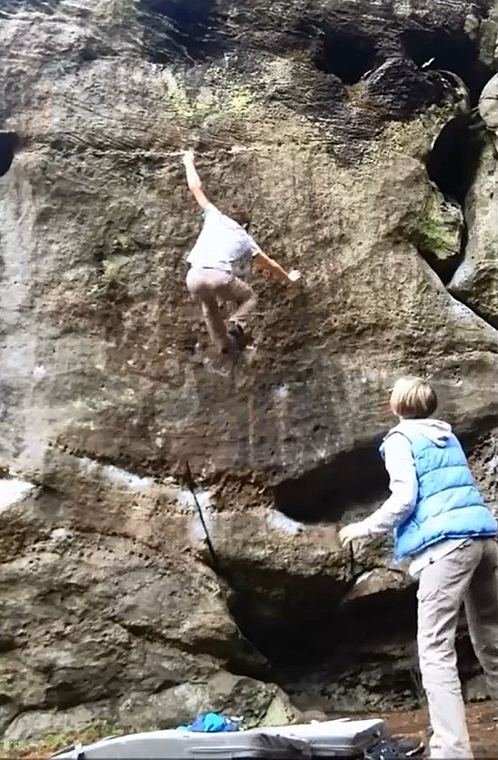 William Bosi repeating Monk Life (V14/Font 8b+). Video grab ©William Bosi
Bosi is the latest in a long line of Scottish climbers who have been drawn to Northumberland. Whilst it was Dave 'Cubby' Cuthbertson and Murray Hamilton who arguably kick-started bouldering at places like Kyloe-in-the-Woods back in the 70's, Malcolm Smith put the hammer down hard in the 90's/00's when he climbed a number of test-pieces including monster traverses such as Lothlorian (V13/Font 8b) and Leviathan (V14/Font 8b+) as well as the more conventional Monk Life (V14/Font 8b+). Monk Life was famously a 'ten-year project' for Smith. His first ascent came in 2003. Geordie climbing-ace, Andy Earl, had also been trying Monk Life at the same time and although he'd come very close – he touched the crucial hold - he was eventually pipped at the post by Smith for the first ascent. Earl posted the second ascent in early 2004 just months after Smith's first ascent.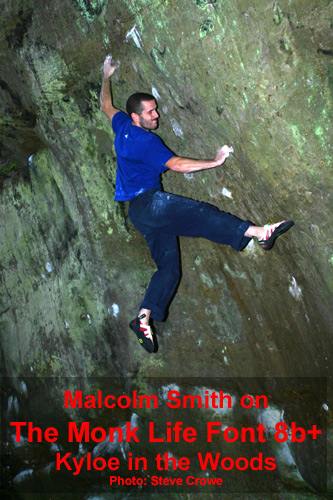 Malcolm Smith on Monk Life (V14/Font 8b+). Photo Steve Crowe
Fast forward the intervening 11 years and Monk Life has only had a handful of ascents including such bouldering luminaries as John Gaskins, Micky Paige and Nigel Callender who got the third, fourth and fifth ascents respectively. Bosi's ascent is thought to be the seventh overall ascent. His ascent, which he did on his first go of the day, came after a working session last week and a 'play' a while back. Not only is that one of the fastest ascents, Bosi now takes the youngest ascent given he's just 16 years old. Bosi's ascent is clearly a significant repeat in its own right but coming just three weeks after the BLCC (British Leading Comps) in which Bosi placed second in the senior and third in his age group events it's evident that Bosi has a considerable depth and breadth to his climbing which - when coupled with his age - is both remarkable and bodes very well for his future projects.
Click through here to go to follow William on FB and to watch a video of his successful ascent of Monk Life…
Finally, thanks to Steve Crowe for the use of his photo of Malcolm.