William Bosi cranks hard and fast in Chamonix
July 15th; 2018
William Bosi achieved outstanding results at the latest IFSC Lead and Speed comp in Chamonix breaking the British speed record and making fifth place in the Lead final!
Will, the current British Speed Champion, is no stranger to what many have previously considered the dark art of speed climbing. At the British Lead and Speed Championship last year at Awesome Walls Will took the speed title with a run of 8.69 secs. In Innsbruck however he recorded 8:45 sec at the world youth championship. Will has been plugging away at his speed climbing with considerable dedication as he told CLIMBER: "Over the last year I have put a lot of work into my speed climbing and in the last month before this season I was doing 2 sessions a lot on top of my lead training."
That dedication and effort has paid off for Will. At the speed comp in Chamonix last week he blasted through his previous British record to post an impressive new British record of 7.66 secs.
Will, on his record run, about to pounce for the bell and stop the clock at 7:66 secs - a new British Speed record. Video still from 📹 @jackpalmieri video
Will's time at Chamonix, impressively more than a second faster that his winning time of 8.69 secs at Awesome Wall last year, placed him in 45th place overall in the IFSC comp. To put that into perspective, Jacob Schubert and Alex Megos – both of whom climbed in the men's final lead comp alongside Bosi - recorded 8.03 and 10.91 secs respectively placing them 53rd and 78th. In case you're wondering, the winner - Danyil Boldgrev, clocked 6.08 secs!
CLIMBER asked Will what he thinks about speed climbing and what he might achieve in the future: "This has made it very satisfying for me and I'm incredibly psyched to keep training my speed this winter! So at the moment if I had a perfect run I think I could do 7.00 secs and with a lot more training I think I will be able to get sub 7 secs although I'm not sure how far under."
Will Bosi just below the headwall in the lead final
Fast forward to the lead comp. Beneath the high alps backdrop the lead comp couldn't have a more inspiring location. Not surprisingly, it's every comp climber's ambition to do well in the Chamonix comp. Will's qualification runs were both consistent and high scoring (14th and 16th in the two runs) which is something with many climbers couldn't match. Will's semi-final run was again superb placing him in joint fifth place going into the finals!
Will nearing his high point in the final (move 43+) only three moves below Alex Megos and Domen Skofic.
Making finals at IFSC senior level is something which has eluded many Brits – certainly in recent times. Last year, of course, Molly Thompson-Smith and Shauna Coxsey both made the finals in the last comp of the season at Kranj with Molly taking the bronze – the first ever lead medal by a British women whilst Shauna placing sixth in her first lead comp at senior level. Back in the halcyon days of comp climbing Jerry Moffatt's win at Leeds in 1989 fanned the flames for comp climbing. That year, Simon Nadin put British climbing firmly in the spotlight when he won the lead title. Medals in the senior lead comps have been non-existent since then but Will has now joined an elite group who, alongside Simon Nadin and Jerry Moffatt, have all made international finals, namely; Ben Moon, Malc Smith, Ian Vickers, Mark Leach, Ian Vincent and Tony Ryan. (Apologies for any omissions!!)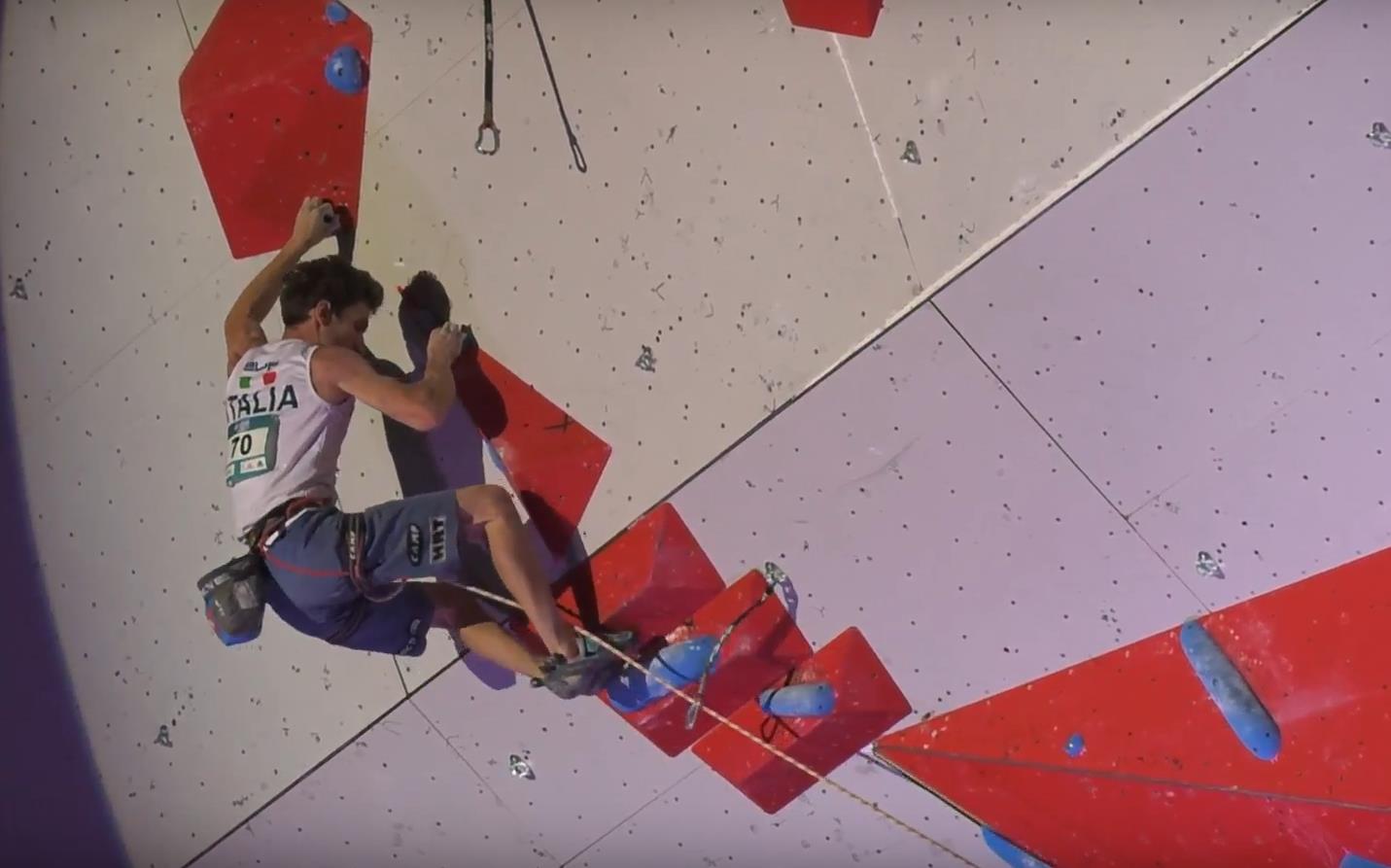 Stefano Ghisolfi on his way to another top and another IFSC Lead Gold
Will's performance in the final was little short of brilliant. Climbing purposefully, and clearly enjoying every move, Will climbed high onto the headwall before finally falling at move 43+ placing him in a thoroughly deserved 5th place ahead of Shuta Tanaka on count-back. Alex Megos made move 46+, enough to get the bronze ahead of Domen Skofic. Jakob Shubert added a couple of moves more to take silver but Stefano Ghisolfi alone topped-out to take the gold.
Will told CLIMBER about his lead preparations and his plans for the rest of the year: "Endurance is my soul focus in the run up to lead comps, just doing as many circuits as possible. I'm definitely not there yet; my goal for this year was to make as many semi-finals as possible and that is still my goal for the remaining comps."
And what did he make of getting into the finals at Chamonix and will he be doing more lead comps now? "Making finals here was completely unexpected. Yes after this comp I have decided to do the rest of the lead season. Including combined at the World championship."
Also in the men's Lead event Jim Pope placed 55th after having something of a nightmare on one of the qualification routes. Dave Barrans, fresh – or not - from the British Bouldering Championships last weekend, finished in 86th.
Over in the women's event all eyes were on Janja Garnbret and Jessica Pilz to see who would take gold at Chamonix. Garnbret got her campaign off to a flying start with two tops in the qualifications – although she was also matched by Jain Kim, Anak Verhoeven and Akiyo Noguchi. Garnbret placed high again in the semis although Jessica Pilz pipped her to take top place and go into the finals in first place. Slowly the high point crept up the wall with each finalist but Jain Kim really turned the screws to climb brilliantly – as ever – to take third place.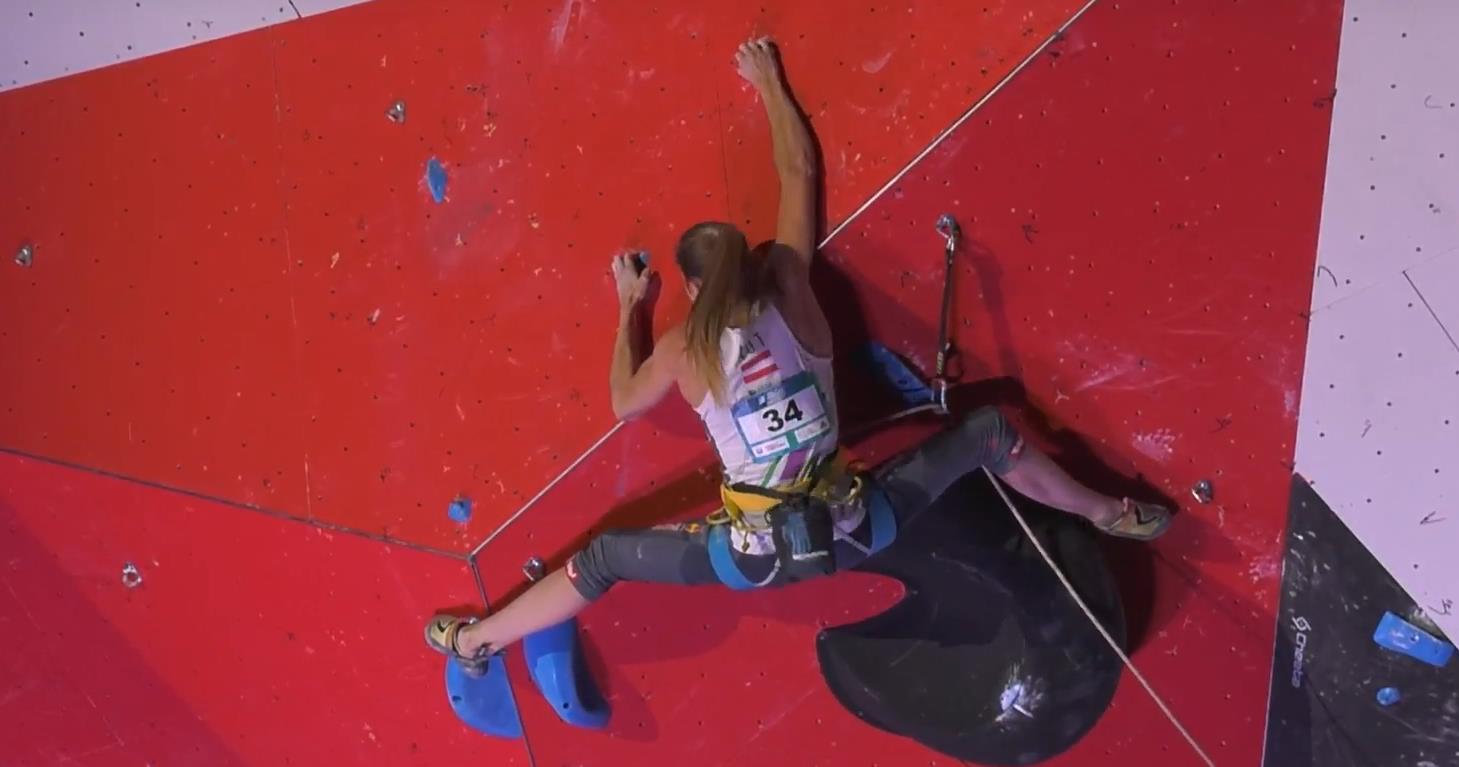 Jessica Pilz delighted the crowd with her first IFSC Lead Gold.
Finally, it was the two favourites. Garnbret, climbing ahead of Pilz, didn't top the route so it was down to Pilz to show what she could do. To the delight of the crowd, and her fellow competitors – Garnbret included, Pilz climbed superbly to take the top and her first every IFSC Lead Gold.
Chamonix Final Lead results
Watch the highlights of the lead final below.