Will Bosi frees Brandenburg Gate at "soft F9a+"
Will Bosi freed the long-standing and infamous Raven Tor Brandenburg Gate project yesterday at "soft F9a+".
Once again, Keith Sharples reports…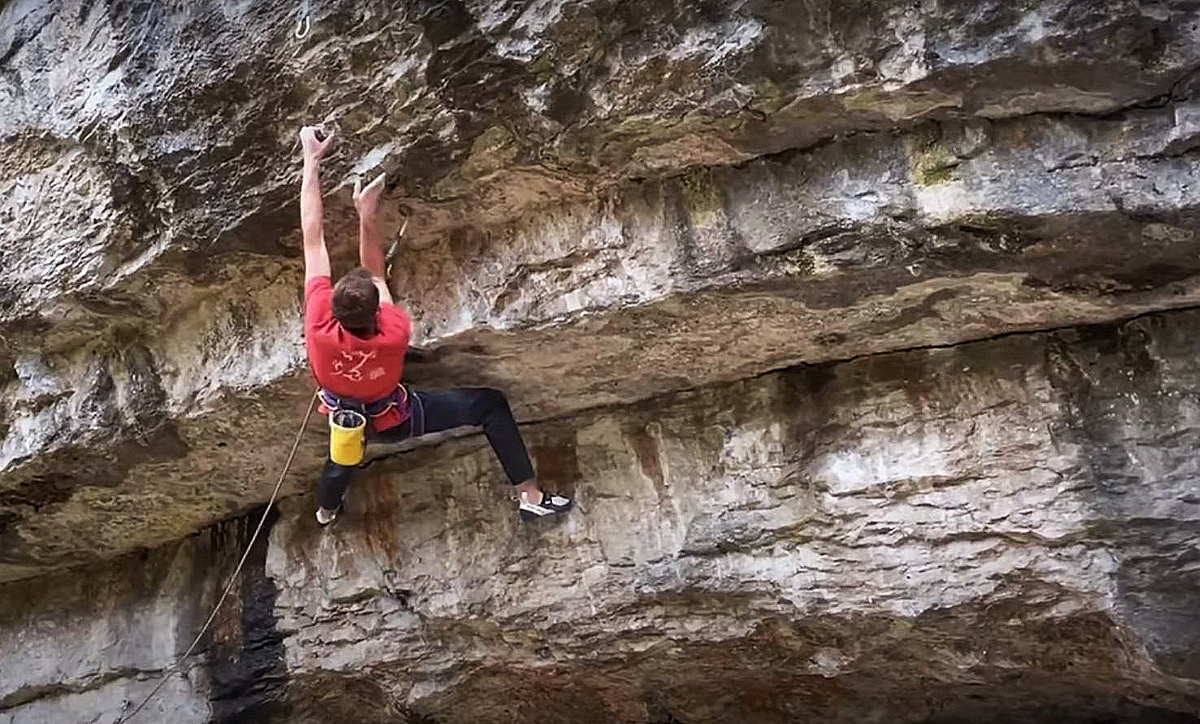 For the second Sunday in a row, Will has sent a historically significant Raven Tor route with the Brandenburg Gate project falling this weekend after the second ascent of Mutation the previous weekend!
Given the Tor is at the centre of the autumnal action for Peak District based sport climbers, it's perhaps hardly surprising that these ascents are happening now. That said, both of Will's ascents are massive news and come at a time that Will is free of competitions and in unbelievable form plus conditions are excellent. Historically, it' almost as though a metaphorical blockage has been ripped out of the system, which has allowed Will to burst through!
Talking about his first ascent Will explained his interest in the old project and how it came together:
"I am so happy that such an iconic open project was able to go down so quickly compared to my battle with Mutation.
I inspected the route out of curiosity a few years back and abseiled down to feel the holds but it was only this year that I began to put some serious time into it. Once conditions improved at the crag, I began to put a number of sessions together and the sequence came together rather quickly for me and once Mutation was out of the way, it was great to return and clip the chains on this one!"
Brandenburg Gate is in-between Hubble (F9a) and Make it Funky (F8c) and unsurprisingly features very hard bouldering moves some of which are on small and shallow pockets. Having climbed through the initial bulges it then joins and climbs Make it Funky before ultimately finishing at the lower off on Mecca as per Make it Funky.
Will outlines the difficulties:
"The climb is very similar to Hubble in a sense but the sequence of moves are a lot more complex and technically demanding. I was stuck for a while on the lower section but once I was able to unlock a sequence, the route came together really quickly for me".
In total it took Will just eight sessions to work out the sequence and seven redpoint attempts before he was able to complete the first ascent.
It has been widely assumed that the grade of this would be pretty high on this – some even speculating as high as F9b. However, Will thinks not, saying:
"My view is that Brandenburg was a soft end F9a+, in comparison to Mutation which I regard as solid F9a+. The climbing was harder than other F9a's I have done in the past but not by a large degree so I feel it just about deserves F9a+. However, again I look forward to seeing the route get more ascents so the grade can settle one way or the other".
Will's first ascent of Brandenburg Gate is another stand-out achievement in a year that has seen Will not only mop-up at Raven Tor but add King Capella (F9b+) and a number of Font 8C's to his already impressive CV.
Inevitably, the question is what does Will do next?! Climber understands that Will is now turning his attention to Europe – Spain in particular –for the winter and is now tweaking his training to adapt to the hard routes out there he hopes to try.
Back in the very early 2000's John Gaskin spent considerable time working on the Brandenburg Gate project. He is credited with having climbed through the hard initial moves on the lower bulges before falling on the upper section having joined Make it Funky. Climbers active at Raven Tor at the time, the writer included, recall arriving at the Tor during the late spring and early summer – ie May, June, and July – at 9am or just after to see Gaskins finishing his climbing session on the project having driven down from the South Lakes earlier that morning. Gaskins was well-known for early starts to get good conditions and at the time he was belayed by his then girlfriend.
Watch footage of Will from his YouTube Channel on the first ascent of Brandenburg Gate below…