Will Bosi crushes The Prow @ Kyloe-In
July 31st; 2017
Taking advantage of some cooler weather over the weekend, Will Bosi crushed The Prow at Kyloe in the Woods.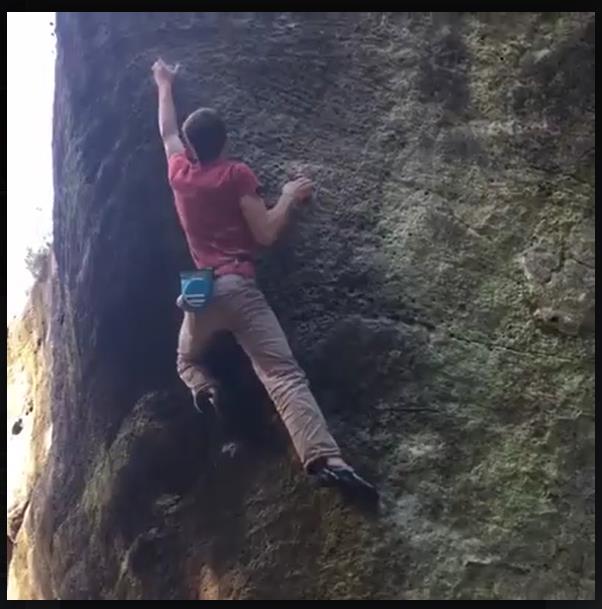 Will on The Prow - Video still
The Prow – one of the then last great problems of The County - was originally climbed by local hero Andy Earl back in 2003. Even in The County, The Prow stood out as a very bold and hard undertaking. The consensus grade was E9 7a. Nearly a decade later both Dan Varian and Ned Feehally both repeated it the same day grading it Font 8a (highball). The Prow takles the arete on using either tiny crimps or one digit monos.
Will told CLIMBER that he first tried The Prow only last week. Working it on a top-rope he managed every move ok but went away without any real plans to return. However, he was back on Saturday with a group of mates as he explains…
"I returned to Kyloe on Saturday with a large group of Edinburgh climbers, who had all come for a leaving party for Sergio, a Spanish climber who is moving back to Spain. This provided an ideal opportunity to try it with plenty of spotters and mats! I spent the morning and early afternoon top roping it until I climbed it start to finish three times in a row. That's when I knew it was on, and asked if I could get most people's mats over. I climbed up to the crux and dropped off once just to test the landing. Happy with the mats I went for it and stuck the crux and made it to the top."
CLIMBER asked Will how it squared-up with other things he's done…
Another View of Will on The Prow. Video still Ben Brotherton.
"This is the first hard highball I have done, therefore, I have nothing to compare it to. I think the moves felt like 8a but with the height factor it's hard to judge. All I know is that The Prow is one of the most aesthetic lines in The Country and the climbing is amazing. I hope it sees some more repeats soon!"
To keep in touch with what Will's up to and to watch a video of Will on his successful send click through here to go to his FB page. Alternatively, watch Ben Brotherton's video below...