Will Bosi and Molly Thompson-Smith on fire in Chamonix
July 17th; 2019
Team GB was very well represented in the IFSC lead final at Chamonix last weekend when Will Bosi finished in fourth place just outside the medals and Molly Thompson-Smith took an impressive sixth place. Chaehyun Seo and Adam Ondra took the leads golds and YiLong Song and Alfian Muhammad took the speed golds.
Will Bosi taking a very well-deserved fourth place at Chamonix. Will was over the moon with the event has he told Climber; "Chamonix being one of the biggest climbing towns makes this the best competition of the year in my opinion! So I have to say this has been the best weekend of my life so far. Climbing my best in front of the Chamonix crowd was amazing. I'm really happy with my shape at the moment and I hope I can climb well next week in Briancon too."
Chamonix hosted the second lead event and the fifth speed event of the 2019 IFSC calendar and promised to be a storming event. Team GB were out in force and Will Bosi, Molly Thompson-Smith and Shauna Coxsey all qualifying for the semi-finals. All three had made semi-finals at Villars the week prior to Chamonix but a place in the finals had eluded them all on that occasion. Will Bosi put in an excellent performance in the semi-final and qualified for the final. Remarkably, Janja Garnbret dropped out of cruise-control and made what appeared to be a rare error and fell in the semi-final. Garnbret's fall came against all the odds – as well as her amazing form throughout the 2019 season – and as a result she didn't make the final handing that place instead to Molly Thompson-Smith who would otherwise have missed the cut! Incredibly, Garnbret has never missed a lead final before in her career; it seems however that she is human after all! Sadly, Shauna Coxsey didn't have her best run either and finished in 23rd.
Molly Thompson-Smith finishing in sixth – her best result since taking bronze at Kranj in 2017. Molly was also buzzing after Chamonix as she told Climber; "It was an unreal experience to climb in the finals at the Chamonix World Cup. I'm not sure about the other World Cup climbers, but for sure it's been a dream of mine to be able to climb in front of that crowd in that setting since I started competing in World Cups 6 years ago. It's funny- I'd only ever competed in Chamonix once before 5 years ago, and it's clear how much the style has changed as well as the athletes who are excelling. The field is getting stronger and younger which makes it all the more exciting (and challenging!) to be there in the mix. After such a surprising but amazing beginning of the season, I'm looking forward to seeing where I go from here."
The Saturday night finals started with the women's event. It was one of the youngest ever fields; incredibly six of the eight finalists had all been born since the Millennium; four in 2003! Jessica Pilz, at 22, who was the oldest finalist! Having qualified in eighth place Molly Thompson-Smith was first out a climbed smoothly and efficiently before falling going to hold 27. Ultimately Molly finishing in sixth place – her highest place since her fantastic third place at Kranj in 2017. Unfortunately, just like in Villars the week before, the women's final route appeared to have a stopper move to hold 35 and five of the finalists all fell at the same point.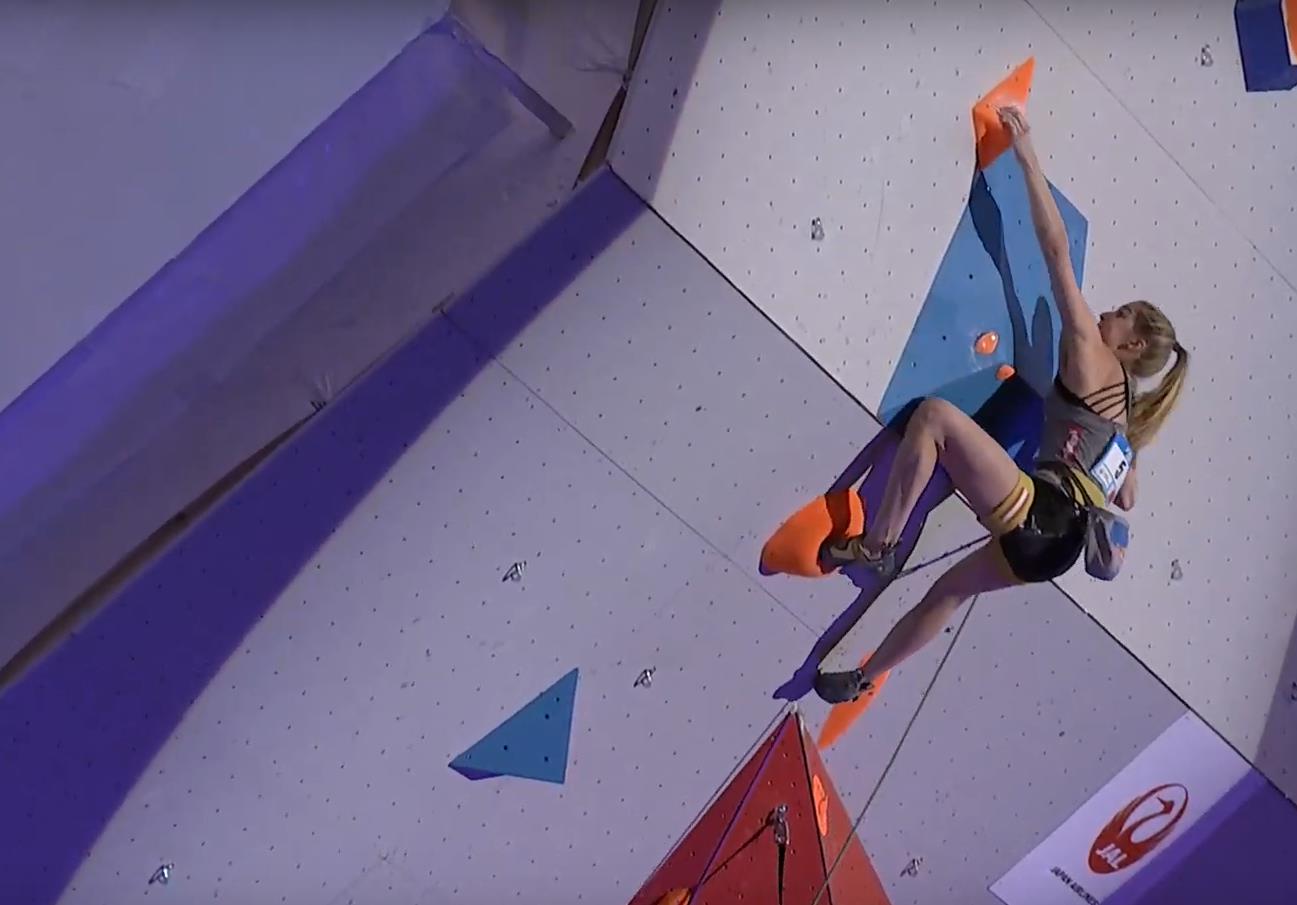 Jessica Pilz briefly latching hold 35 but she wasn't deemed to have controlled it sufficiently to be awarded the move. She finished in third as a result.
Jessica Pilz alone hit and briefly held hold 35 before falling off whilst attempting to reseat her hand. For a while it looked as though Pilz would be awarded 35 and hence the win but in the end the judges marked her down having failed to fully control hold 35.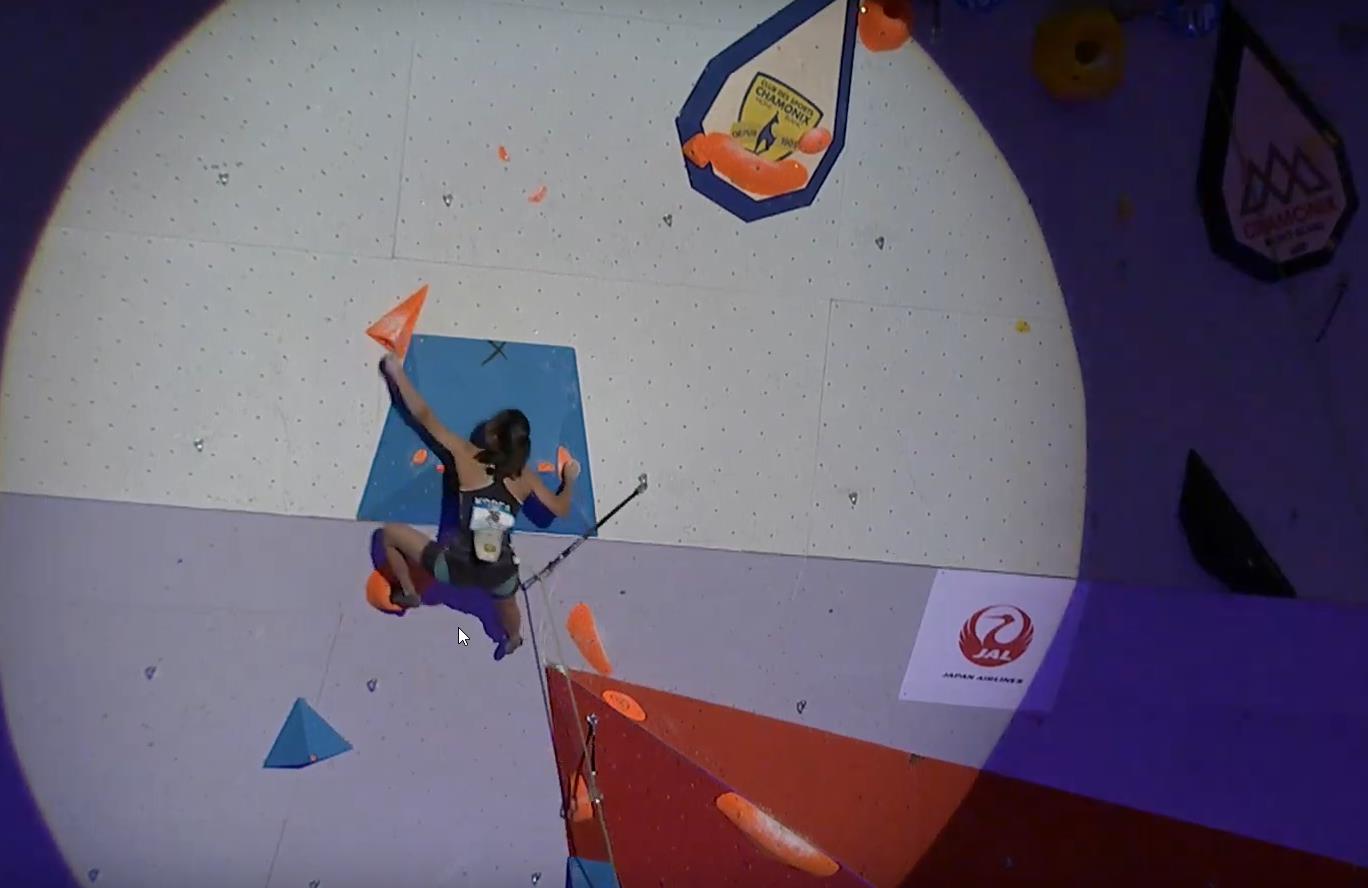 Chaehyun Seo took the win at Chamonix ; her first ever win coming in her second ever Lead final! Seo has emerged as a serious challenger to Garnbret for the 2019 lead totle already.
Korean climber, Chaehyun Seo – having finished second in Villars in her first ever WC lead final - finished her second event at Chamonix in first on countback. Without a doubt, Seo is emerging as a strong contender for the 2019 lead title and is now very definitely on everyone's radar. YueTong Zhang and Jessica Pilz finished in second and third respectively and Ai Mori and Ashima Shiraishi finished in fourth and fifth place respectively. Having missed the finals, Janja Garnbret had to content herself with ninth place finish, whilst other big-name climbers Ako Noguchi, Petra Klinger and Miho Nanaka finished in 10th, =16th and =16th respectively.
Whilst the 'stopper move' on the women's final somewhat knocked the fizz out of the women's event, the men's final was little short of electric! Earlier in the weekend, Adam Ondra, having missed Villars because of a wrist injury, came out of the starting blocks in a blaze; he alone topped both qualification routes and just for good measure he very nearly repeated that in the semi-final. Having won last year at Briacon Alex Megos looked pumped-up for a good result as was the 2018 Overall winner Jakob Schubert. Both Alex Megos and Jakob Schubert along with Romain Desgranges had excellent qualification rounds and whilst Megos and Schubert continued that form into the semi's Desgranges bombed in the semis alongside other like Sascha Lehmann, Rei Sugimuto and Domen Skofi. Once again the judges were called upon to make a determination when Alex Megos seemingly stood on a bolt low down on the semi-final route. As a result Megos was marked down into eighth place.
Alex Megos getting super bendy
Having been marked down to eighth Megos was first out to climb in the final and his performance was little short of a masterclass until a foot slip caused him to fall high on the route. Memorably, Megos dropped into a box-splits at about half-height on the final routes after which he climbed flawlessly until the footslip; his shear frustration when he fell clearly suggested that he thought could have gone much further. Kai Harda, Sean McColl and Martin Stranik all fell low on the route leaving the way open for Bosi, Gines Lopez, Schubert and Ondra. Smiling from ear-to-ear, Bosi climbed with excellent flow and execution falling high on the route just prior to the headwall. Alberto Gines Lopex astounded everyone for climbing many moves beyond what looked like being his last move; certainly his endurance and commitment couldn't be challenged at all!
Adam Ondra reaching a highpoint on the headwall to take the win
Climbing seventh and eighth respectively Jakob Schubert and Adam Ondra climbed brilliantly but it was Ondra who went farthest on the headwall climbing in a very impressive and determined manner clearly demonstrating that whatever wrist injury he had been suffering with appeared to be resolved. It's early days yet in the lead season but Ondra's win at Chamonix means that he became the first male to win gold in both boulder and lead in 2019. Interesting, Kai Harada and his fellow male Japanese climbers don't appear to have found their lead flow yet this season.
The Chamonix results.
Click through here for the Chamonix page on the IFSC website for the full result or watch the finals below.