Wideboyz Crack Fest 2020
Wednesday 18th March 2020
The first-ever fully crack themed climbing competition happened at The Sheffield Depot early in March.
A uniquely designed bouldering circuit from Wideboyz crack heads, Pete Whittaker and Tom Randall, featured 25 crack-based problems ranging from fairly easy – assuming you could jam - to technically hard and beefy. All the blocs required a whole host of crack climbing techniques from thin fingers, to perfect hands, from stacked fists to chicken wings.
All of the competitors experienced a full-body workout trying to complete these boulders. Along with fingers, hands, fists, feet, knees and elbows even heads were used by competitors! Everyone really got stuck in and had a go and was sharing beta for each of the problems no matter if you were a crack novice, seasoned trad wad or Olympic hopeful.
The entry fee (£25.00) covered wall entry, a scorecard and a roll of super sticky WideBoyz tape which had taping instructions. All the competitors were also entered into a number of raffle prizes at the end of the competition.
They were also five different timed crack themed challenges included in the competition designed to test strength stamina, technique and pain threshold. During the day Pete, Tom and Harriet Ridley (WideBoyz affiliated coach) were on hand running crack school classes and offering advice and technique on crack climbing.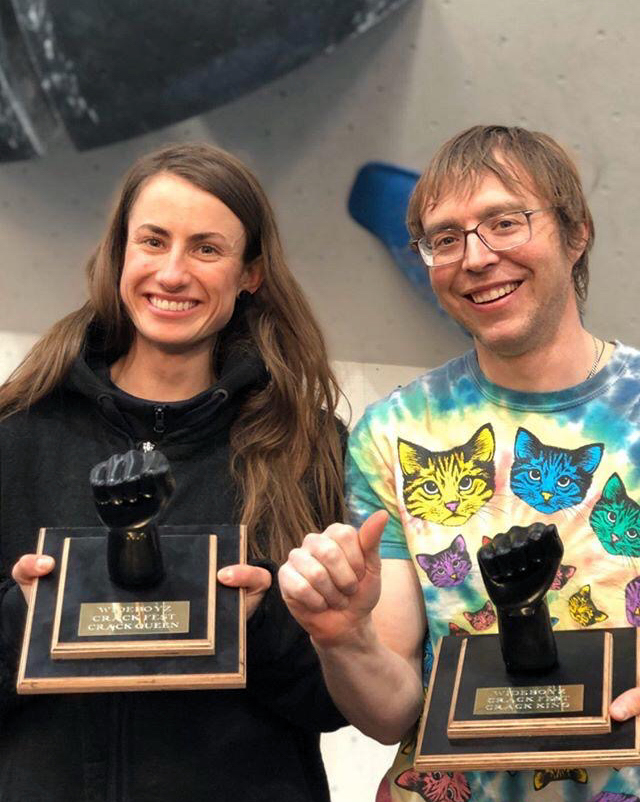 Having battled all day the eventual winners of the prestigious WideBoyz trophies were collected by Crack Queen, Mari Salvesen, and Crack King Ben Bransby.
The Wideboyz team were indebted to the Depot Sheffield for believing in this event and allowing for use of their centre for the day along with the other sponsors who provided a fantastic selection of prizes Patagonia, Rab, Dark Ventures and Wild Country.
For further info on more WideBoyz events and all things crack-related please visit their Instagram page here, their YouTube channel here and their website here.