White-hot scene in Youth A, Youth B and Junior bouldering comps in World Championships at Arco
Saturday 5th September 2015
Sept 5th; 2015
With the action-paced week at the Arco Rock Masters now running into the last two days a fair bit of the metalwork has already been dished out.
For the first time ever – the IFSC Bouldering Youth and Junior World Championship – has been included as part of the famous Rock Masters comp. Given that the cohort this year includes stars like Ashima Shiraishi (USA), Janja Garnbret (Slovenia) and Jongwon Chon (Korea) as well as the rest of the incredible talent from around the world, the competitions have seen some fierce efforts for the respective titles. Unsurprisingly really, as these athletes are not only performing at an incredible standard for their ages but they've taken medals in the senior comps as well!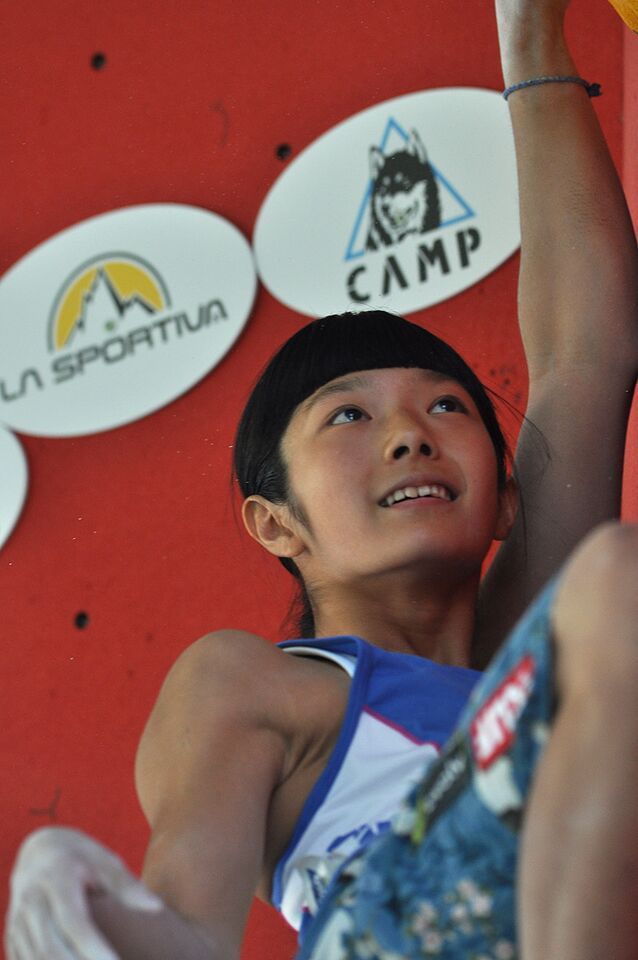 Ashima Shiraishi (not surprisingly) winning Female Youth B comp. Photo Giulio Malfer / planetmountain.com
The junior and youth events are heavily split across the ages with Juniors (Under 20), Youth A (Under 18) and Youth B (Under 16).
The Male Junior event was won by Jongwon Chon (Korea) who therefore picked up the double having won the senior Bouldering World Cup overall ranking earlier in the summer. That said, Chon only just managed to squeeze ahead of the Frenchman Nicolas Pelorson whose deficiency on Chon was the narrowest of margins having taken six attempts to get his four bonuses whilst Chon took only five! Anze Peharc (Slovenia) picked up third and the bronze tinted medal. Nathaniel Coleman (USA) placed 5th, Dominic Burns (Ireland) 16th and Hamis Potokar (GBR) 20th.
The Male Youth A was dominated by a tightly-fount Japanese pair; Yoshiyuki Ogata and Kai Harada taking gold and silver respectively with just one attempt separating their four tops – Ogata taking five attempts for his four tops whilst Harada took six. Hugo Parmentier (France) took bronze with two tops. Shawn Raboutou (USA) finished in 4th place just one place higher than his sister Brook Raboutou in her stream. The best placed GBR athlete in 13th place was Aidan Roberts. Roberts is increasingly making a name for himself on the scene having 'gone big' in the Yorkshire Dales recently when he repeated Neil Gresham's Freakshow (F8c) at Kilnsey in double-quick time. Not surprisingly, he's pretty good on the blocs too. Sean Hoare (Ireland) placed 24th.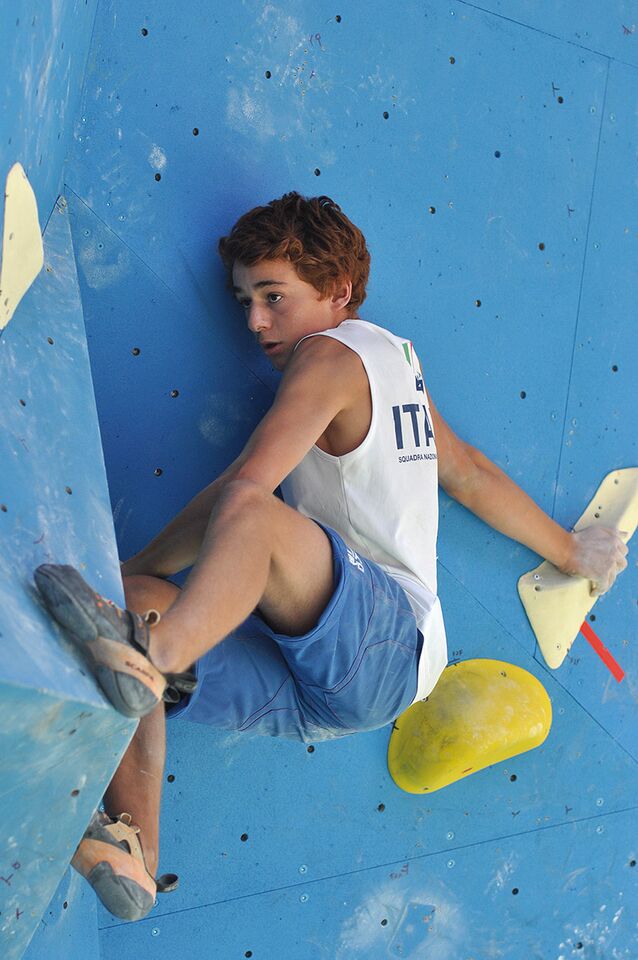 Run-away winner in Youth B, Filip Schenk. Giulio Malfer / planetmountain.com
Over in the Male Youth B comp Filip Schenk (Italy) was a run-away winner scooping up no less than three tops in the clearly hard final round where only Keita Dohi (Japan) was able to top a single bloc to get second ahead of Lukas Franckaert (Belgium) in third. Nathan Whaley and Maxillian Milne, both GBR, members placed 25th and 26th respectively.
The Female Junior event was won by Stasa Gejo (Serbia) with Miho Nonaka (Japan) taking silver and Jessica Pilz (Austria) bronze. Gejo's winning margin was reasonably decisive taking two tops in three goes whilst Nonaka also managed two tops but took nine attempts. Third place went to Jessica Pilz (Austria). Tara Hayes from GBR placed a creditable 10th with Molly Thompson Smith collecting 34th place.
Finally, the Female Youth A stream saw a win from Janja Garnbret (Slovenia) with silver and bronze going to Margo Hayes (USA) and Asja Gollo (Italy). Best placed Team GB athlete was Hannah Slaney in 29th place. The Female Youth B stream comp was won by the prestigiously talented Ashima Shiraishi (USA) with Elena Krasovskaia (Russia) and Vita Lukan (Slovenia) collecting silver and bronze respectively. The best placed GBR athlete Eugenie Lee, made the cut into the semis and finished in 20th.
Click through here to go to the IFSC website and the full results…