WCS 14 - Taking bravery back to the bone
Thursday 16th October 2014
A report on the Women's Climbing Symposium by one third of the organising team, Claire Carter.
'Don't be humble, you're just saying your shit'.
Hazel Findlay cracked open the fourth Women's Climbing Symposium by dryly dispensing with the myths we draw around our climbing, and cutting to the quick. To fall or not to fall? Not so simple? Simple. With a matter-of-fact approach Hazel gave her own breakdown of the symposium's #beboldbebrave theme. Obviously having one of the world's best and boldest climbers present was going to be inspiring for the 160 women that visited TCA Glasgow, but Hazel's carefully researched, articulate talk was a pretty groundbreaking experience. Naomi Buys, WCS coach, and no slouch in the bold department commented, 'The totally scientific dissection of the relationship between female climbers and their 'other halves' was very funny and a bit too close to the bone - she made me want to pull my socks up…'. Noticed a new fashion for knee-highs at the crags? Now you know why.
A packed TCA in Glasgow. Photo: Rachel Hoyland
If anyone was reeling from the trauma of having their excuse book ruthlessly shredded, they could find some relief in the slightly gentler 'Psyche Therapy' offered by Jenni Stafford-Curtis, a popular workshop that saw 50 or so delegates creatively post-it noting their way to a happier climbing life. A brave selection joined Michaela Tracy and I as we convincingly embodied Buffy and Willow (Champion and Punter) as climbing demon slayers, pinning down fears for a future analytical research model on women's climbing. The rest were warming up fast to put Hazel's aphorisms in to practice in the coaching sessions. Confidence, motivation, mind games; climbing grey matters were matched to coloured holds as the 8 top level coaches demonstrated their practical strategies for the climbing brain. From training after pregnancy to headpointing E9, the coaches embodied the breadth of personal focuses that make up women's climbing.
Next on the mic was Jen Randal presenting 'Peaks and Troughs', her humble, no, sincere story of rising to the dizzying heights of adventure filmmaking stardom, and the resulting shoots in Scottish bogs. The premiere of 'Project Mina', a year in the life of Mina Leslie Wujastyk, was frank and emotional. Jen's edit raised the bar on the level of intelligence we should expect from climbing films.
No rest for the women, the second round of coaching and talks saw girls flying for dynos and Menna Pritchard and Claire Youdale speaking about their 'amateur' adventures. Inspired by historic alpine climbers and boulders flung across the globe, these two are working to live their dreams. We also had two very professional presentations on gender stereotypes and natural movement from sports psychologist Jessica Tang and physiotherapist Helen Denton.

This was an in-depth symposium with a good range of women speaking on their specialist interests, but sharing common experiences to connect, inspire and develop. Such think tank words have no impact in this report, but on the day they felt tangible, as honesty and humour kept everyone in the zone. Summing up with a bounding, boulder-smashing talk was Shauna Coxsey, romping through six madcap months on the competition circuit and dispatching a V14 boulder whilst on holiday. Except of course, this is the WCS, things aren't that simple, and an iPhone video showing her stepping off before the crux of her boulder, rather than giving it some and falling, brought the challenge of #beboldbebrave home. It's personal. Even the Pro's can't turn it on everyday, but a bit of shared inspiration, training and motivation might help some have a damn good go.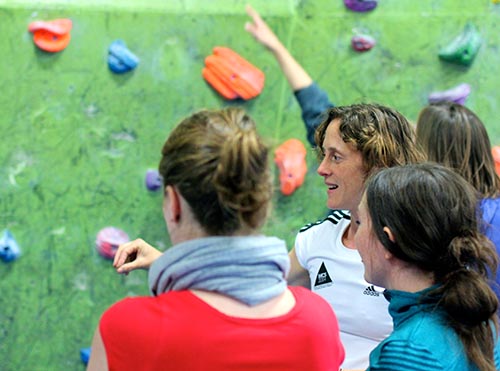 That's the point of WCS14. We wanted to talk about some truths; climbing is individual, sometimes complicated, tricky, but the major common factor is straightforward. We like ascending rock. Hopefully delegates took some practical knowledge away from the day along with a strong, rejuvenated level of psyche. We hope they can get out, be brave, be bold and move the sport on, in their own heads and on the crags.
WCS coach Katherine Schirrmacher and participants Photo: Elizabeth Holley, BMC