WC Bouldering back with Meringen: Ondra and Garnbret take golds
After a year decimated by the pandemic Meringen kick-starts the World Cup bouldering for 2021; predictably Adam Ondra and Janja Garnbret take the golds.
After what feels like an absolute age with no competitions, World Cup competitors and viewers very much welcomed the return of international competitions with the Meringen competition over the weekend. As it was however, uncertainty and quarantine restrictions meant that a number of countries – the UK included – didn't send a climbing delegation to Meringen. Some of those that did are now faced with quarantine isolation when they return home. Such teams – and members thereoff – clearly placed a high store on the value of gaining 'match fitness' so much so that they were prepared to submit to quarantine on their return home.
Despite the absent teams a total of 189 athletes – 112 men and 77 women – contested the event at the Haslital Mountain Centre. With the exception of a few notables, Shauna Coxsey included - the majority of the big-name stars punched their tickets for Friday's Qualification. Once the dust had settled it was Adam Ondra and Kokorii Fujii along with Janja Garnbret and Akiyo Noguchi that jointly topped the qualification streams. Although it had, as the IFSC reported, been 679 days since the last Boulder World Cup competition in Vail, Colorado, it seems that Janja Garnbret had absolutely no intention on loosening her grip as the stand-out boulder ace. Continuing where she left off, Garnbret flashed all the boulders in the qualification round – the only athlete to do so! That said, it looked as that what might turn out to be another exceptional talented WC boulderer was storming up behind Garnbret; competing in her first senior event 16-year-old Oriane Bertone of France finished in joint third position with the USA's Natalia Grossman!
Saturday was the business end of the competition with both semi's and finals in the day. As is often the case, the setters cranked up the difficult for the semi's and whilst it was an absolute cracking round, many big-name stars and a few Olympians amongst them – Alex Megos, Jernej Kruder, Domen Skofic, Miho Nonaka and Brooke Raboutou - didn't make the cut for the finals. Remarkably however, no less that four of the men's Japanese team did make the finals in an extremely impressive display of strength and depth within the team. The Slovenian Women's team were almost as dominant given that three of their team members made the finals. Ondra topped the men's semi's finishing with three tops. Seemingly inevitably, given her form in the qualification round, Garnret topped the women's semi's although for once, and whilst she didn't flash all the problems she quickly mopped up the only problems she dropped on her second attempt. Aforementioned Oriane Bertone maintained her form and in an extremely assured performance she finished second nudging veteran Akiyo Noguchi down into third.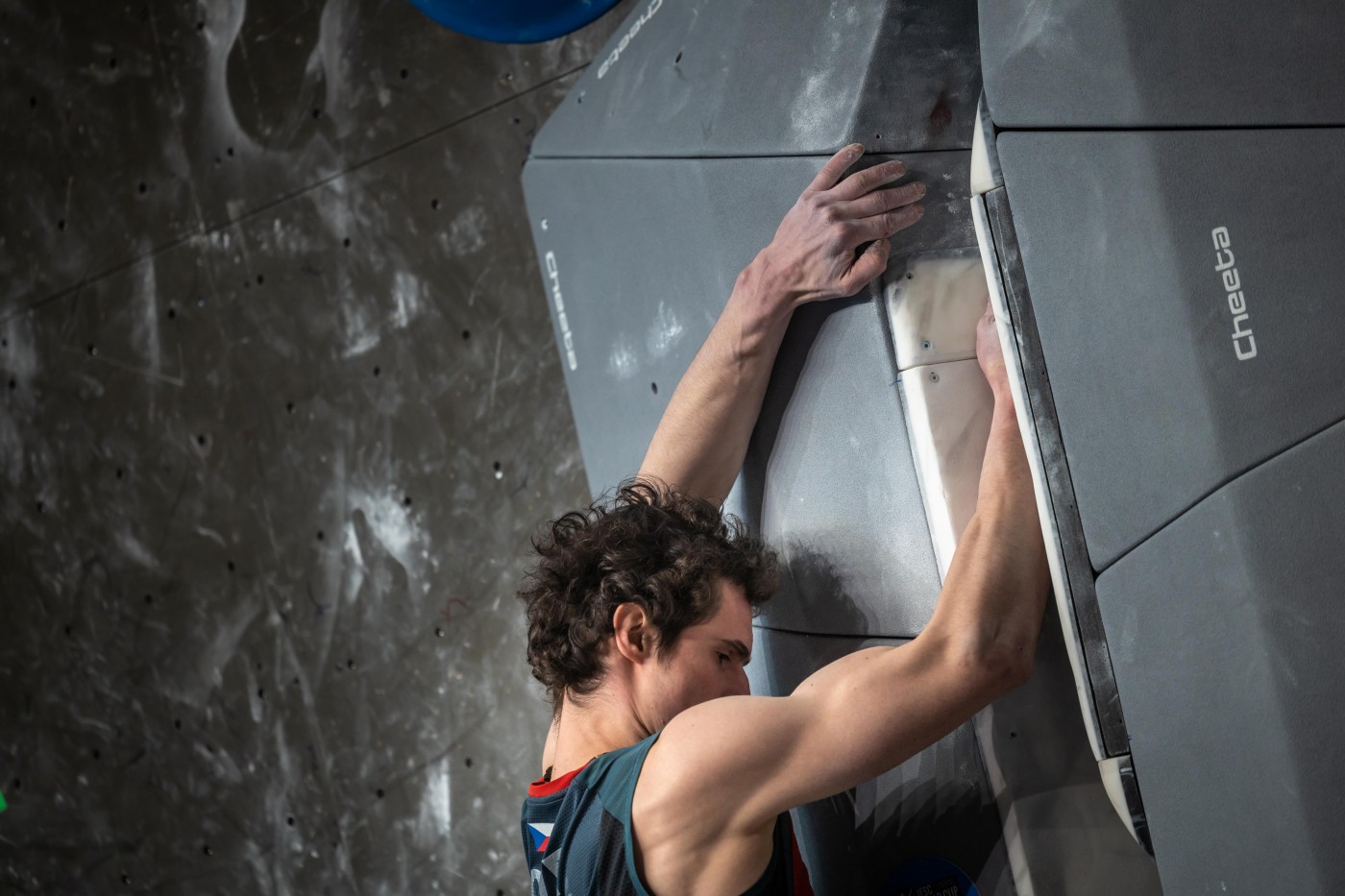 Before we leave the semi's let's just drill deep into what some see as the proverbial "elephant in the room" – yes, lets focus on the crack-bloc! The last Meringen WC boulder event in2019 had featured a crack boulder in the men's event; Ondra – if you recall - duly delivered a masterclass and smashed it! Whether the competitors thought that another crack was unlikely or not is, of course, entire speculation but, be that as it may, there was indeed a crack bloc for the men to battle with in the semi's. Many competitors were completely flummoxed and looked what could only be described as totally out of their depth; Ondra and Tomoaki Takata cruised it without so much as a blink. Whilst parlour-style of climbing seems to have been accepted and mastered by many, crack climbing still seems to have largely been ignored! Perhaps reflecting the thoughts of a number of competitors Jakob Schubert, during a discussion with commentator Matt Groom, poo-pooed crack climbing dismissing it as something of a 'gimmick' which the setters had adopted. Leaving aside the rich history of crack climbing in Yosemite, the Pennines and Cadarese, to name but a few of the world-wide famous crack climbing destinations, those climbers heading to Tokyo later this summer, would perhaps do well to remember who the head route setter is at that event, where he lives and his previous penchant for setting cracks in competitions. Percy Bishton was no doubt watching the Meringen comp with interest whilst computing his options; anyway, enough said on that for now!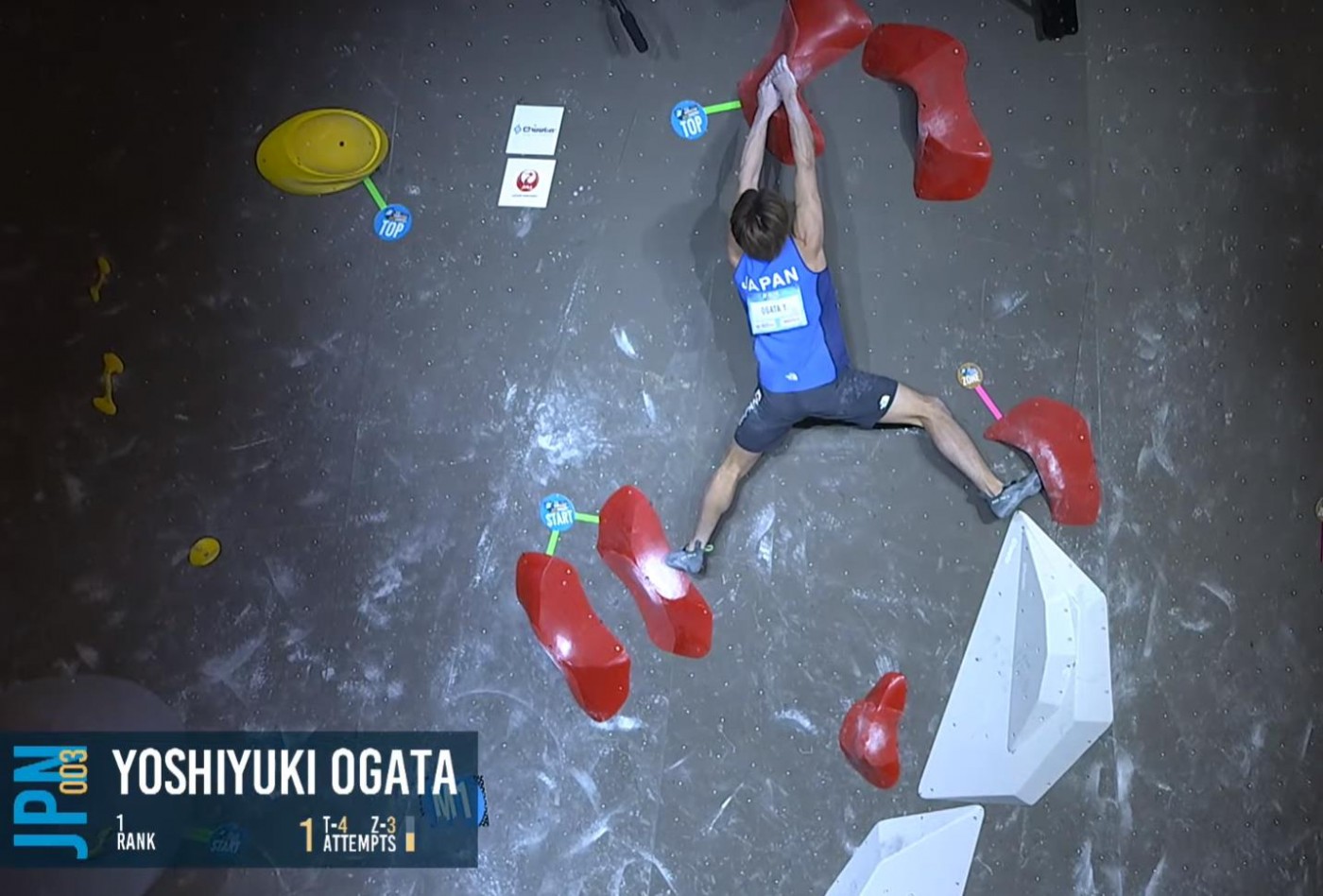 The final's on Saturday evening got underway with the men's event. M1 proved spectacular, frustrating and decisive. An extremely dynamic problem M1 had a free-standing jump onto two wide-grip pinches followed by a dynamic roll-over move to a big sidepull and then a final double-handed dyno to finish. Whilst Ondra, along with the rest of the field, was shut-down Yoshiyuki Ogata topped it and in so doing set the men's final alight with the only top. One down and Ondra was on the back foot. M2, a devilish slab, saw a flip in fortunes and Ondra topped whilst no one else got near it. A single zone separated Ogata and Ondra at the mid-way stage; Ondra trailing.
M3 had a tricky dyno to finish not least because it required the finalists to simultaneously flick into a toe-catch to hold the dyno. Some spectacular falls resulted as climbers missed the toe-catch and slammed into the mats; fortunately no-one was hurt but the falls looked quite gnarly! Both Ogata and Ondra duly dispatched M3 so Ogata held onto his meagre (one zone) advantage going into the final problem thereby keeping Ondra under pressure. M4 proved not only an extremely physical boulder but decisive. Nathaniel Coleman, using his height and upper body strength to full advantage, was the first climber to top the boulder so we knew it was definitely possible. Ogate failed to top so it was all down to the wire with Ondra needing a top to take the win. To be fair, you'd probably not bet against him so when he pulled through to take the top his screams filled the auditorium! With three top to Ogata's two, Ondra was the clear winner but he had been made to work hard for his prize for sure. His was a solid performance throughout the competition and he remains a firm favourite going forward – as expected! Watch the Japanese climbers however as it seems that if Ondra makes just one mistake they'll pounce.
The big question for the women's final was could Garnbret continue to winning streak with yet another win? Based on the evidence from the first rounds that seemed highly probably although with the two youngsters Oriane Bertone and Natalia Grossman snapping at her heels nothing was a given. Nor too should the older and hugely experienced Akiyo Noguchi – with the other two finalists, Vita Lukan and Katja Debevec - be dismissed.
W1 was a real bruiser of a bloc to get the women's final underway; a combination of small crimp pinches and big rounded sloping blobs. So physical that some competitors only had time for a couple of attempts! Garnbret aside, all the finalists managed to get as far as the zone hold but all gasses out thereafter; Garnbret alone pushed on through and topped the boulder – characteristically flashing it as well.
Garnbret's flash of W1 effectively set the scene for the rest of the women's final. W2 featured a plethora of big volumes the final moves of which were guarded by a swinging dyno-cum-shoulder press. Bertone and Grossman both pieced this bloc together nicely and took tops but when Garnbret came out and promptly flashed what everyone else have been really battling it was starting to look like a done deal.
Bertone was the first to record a top on W3, a balancy slab and final dyno move; remarkable she matched on the finishing holds with what could only have been fractions of a second left. Needless to say, Garnbret dispatched W3 with yet another flash! With Garnbret in an insurmountable position W4 was somewhat academic. Nevertheless, Grossman applied herself well and was rewarded with a top. Interestingly, W4 featured nothing less than a fist jam in the final moves; Grossman used it but didn't look especially comfortable. W4 was also a brutal bloc – and a massive learning point - for Bertone. Having got quite high on an early attempt Bertone struggled with the initial moves thereafter and despite numerous attempts couldn't get established again. Doubtless she will watch the replays with her team and build on that for her subsequent events. Garbret made an uncharacteristic slip off a volume on her first attempt but made no mistake on her second. Interestingly, she too didn't look especially comfortable in the fist jam either and having used it momentarily switched to opposition Gaston's to finish the boulder.
As many suspected Garnbret was in absolute top form at the start of the Olympic year. Surprisingly, Noguchi failed to mount a creditable treat to Garnbret so whether her training is such that she's set to peak later or whether her incredible period as a bouldering ace is coming to an end we'll have to wait and see. What was self-evident however, was that both Natalia Grossman and Oriane Bertone are very real treats to Garnbret's dominance; that being so it'll be fascinating to watch the season unfold.
Meringen Final Results
Watch the finals below…