Waterhouse gets second ascent of The Kraken
Alex Waterhouse has just made the second ascent of The Kraken, Tom Randall's V13 jamming roof crack at Hartland Quay, Devon.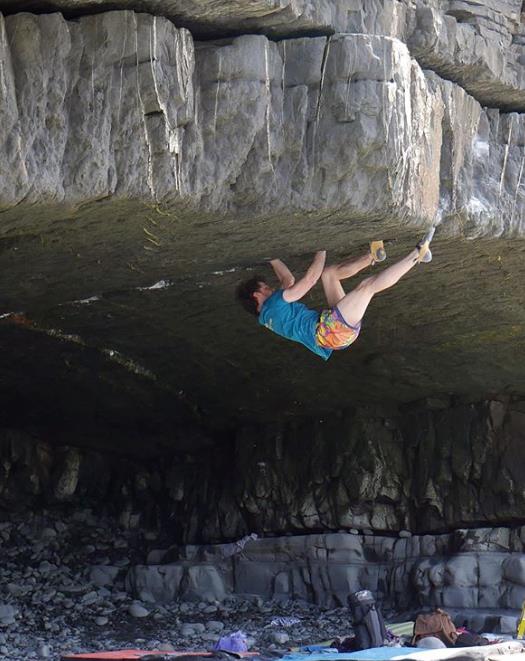 Alex Waterhouse sets goals for himself. Writing on-line at the start of 2020 he said: 'This time last year, I scribbled 3 ambitious goals inside the cover of my training diary: 1) Climb F9a, 2) Boulder Font 8b+/V14, 3) Make the 2020 GB Climbing Team'.
Remarkably Alex did exactly that repeating The Fly (F9a) at Rumney, New Hampshire, USA and bouldering New Base Line (Font 8b+) at Magic Wood, Switzerland. He achieved his final goal at the British Lead Championships.
Writing his own end-of-year-report Alex said: 'These three boxes gave me something to strive towards, and while filling them is ostensibly a climbing achievement; it represents a whole lot more than just climbing. I've been struggling for direction for a long time, and these ticks give me confidence that I can achieve anything if I set my mind to it.'
'The more I train, the luckier I get' Alex posted earlier this year after he competed at and won the BIFF (Beastmaker International Footless festival) at The Climbing Works, Sheffield in late January this year. Success in Sheffield came after a solid period working on steep board problems, something which Alex has admitted in the past hasn't been his best game.
Last Friday, Alex has just had another amazing result; the second ascent of The Kraken, Tom Randall's 40foot V13 boulder jamming testpiece bloc at Hartland Quay. Remarkably, Alex's success came on only his third day of trying The Kraken; astonishingly Alex had never climbed an outdoor crack before!
In an amazing demonstration of what is possible when you set your mind to something, Alex started to learn how to jam: 'I had a lot to learn in order to subdue this beast. I spent many hours sitting in the cave reading '@petewhittaker01's new book, studying how to make jams marginally smaller or larger and on a ladder contorting my hands into every possible position to find jams that felt usable. It seemed to me that each jam had its own personality, no two felt the same and tiny changes in the position of my hand or the angle my arm could result in a massive difference in how secure it felt.'
Alex succeeded on day three – much to his own surprise: 'In the end, it all came together much quicker than I expected (though with more bloodshed than anticipated), at the end of my third session.'

It seems now that crack climbing might have a new enthusiastic follower as well. Alex again: 'This process has certainly piqued my interest though, and I'd be psyched to see how far I can push myself in this unique discipline. Any suggestions for the crack climb life list?'
Follow Alex on his Instagram page here.