UK's first DWS competition a major success
Organised by The Quay Climbing Centre in Exeter this two-day event saw some stunning climbing performances in front of a large and enthusiastic audience for the first ever event of its type in the UK. With some very hard climbing and failure resulting in a cold plunge into the dark canal waters many climbers demonstrated dogged persistence to stay in contact.
The Quay is fortunate to have a canal next to the Centre and it was possible to build an Entre-Prises wall on a floating pontoon and the competition ran smoothly throughout with a combination of a marquee and the Centre itself. Some very strong fields in four categories featured a number of British competition team members alongside lots of Exeter locals, other Brits tempted by a unique experience and even a visiting US climber, Sierra Blair-Coyle.
The Junior competition was restricted to Under-16s rather than following the international 4-way split for the junior categories and the top three in the girls event were, in 3rd Kitty Morrison, 2nd was Eugenie Lee with the winner being Hannah Slaney. In the boys Dominic Vincent was 3rd, Tommy Matthews 2nd, and Jim Pope the winner. The senior events were hard fought with some tight finishes, particularly the mens' event but Liam Halsey just won out over Matt Cousins and third placed Nathan Phillips. The womens' event saw a more clear-cut winner with an on-form Michaela Tracy taking the title over second placed Sierra Blair-Coyle with Emma Twyford in third.
Below are a handful of photographs from the event, keep a look out for a gallery of images in the near future on the website plus the magazine.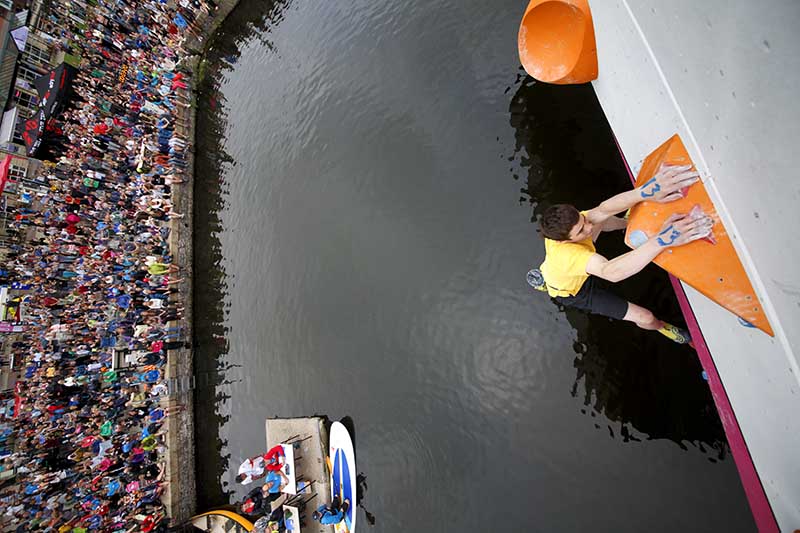 Jim Pope winner of the boys category in action before a packed crowd. Photograph: David Simmonite
US climber, Sierra Blair-Coyle came second. Photograph: David Simmonite
The impressive wall during the men's semi final. Photograph: David Simmonite