Two climbers found dead in Glen Goe
Jan 18th; 2016
Two men were killed whilst climbing on Stob Coire nam Beith in Glen Coe on Saturday, Jan 16th.
Reports are that the Glen Coe Mountain Rescue team, lead by Andy Nelson, was first alerted by two other climbers who found the two bodies. The sixteen-strong rescue team found the men after taking over an hour to climb c. 2,300 feet. The snow level was said to be down to sea-level.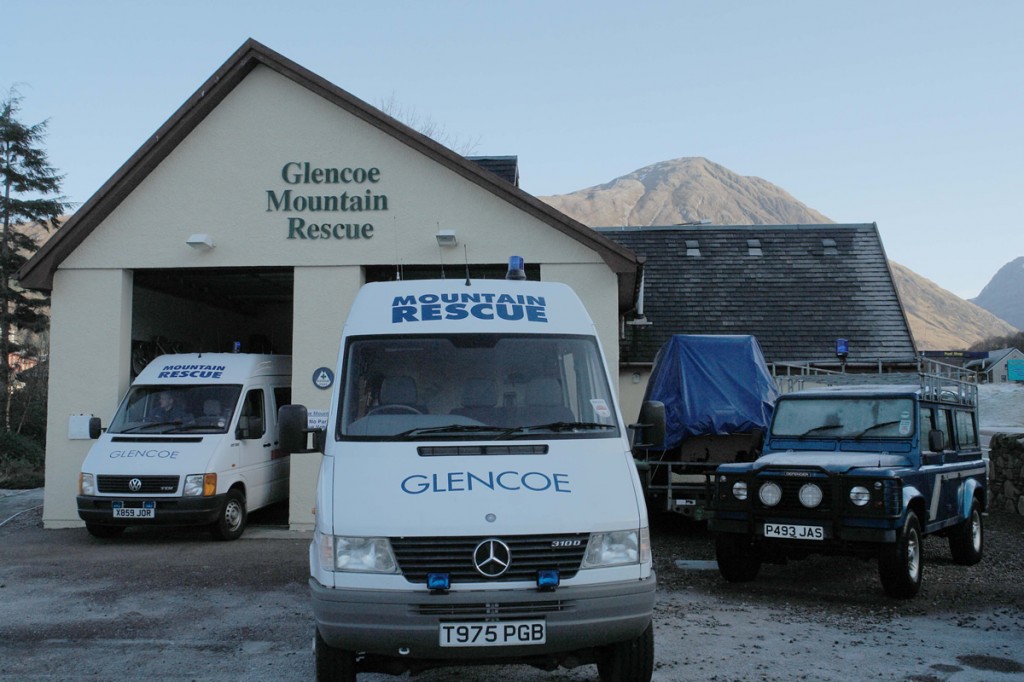 Glen Coe Mountain Rescue
Andy Nelson reported to BBC Scotland: "The guys were roped together so it's possible they were still on the climb, but they've clearly fallen some distance. My information is that they've been killed instantly by the fall."
Andy Nelson is also quoted as saying: "The route they were on is commonly climbed but not one of the most popular in the area. It took a little time for us to reach them because the people who had found them had gone without giving an exact position. It is only conjecture but it is possible they got caught up in an avalanche at the top of their climb. The guys were roped together still and there was no climbing hardwear attached if they had fallen off the climb. We don't know how far they had descended but it was probably several hundred feet. It was a typical winter day, snowing with wind on top. The avalanche risk in the area is considerable. We just do not know for certain what has happened - or how experienced they were. But they were well-equipped and had good equipment."
One of the men has been named locally as Simon Davidson. The other man is as yet un-named. Both men were said to be in their 20's.
Source: BBC Scotland and Daily Mail
For more on the Glen Coe Mountain Rescue Service, one of the busiest in Scotland, click here