Tom Randall cracks The Kraken, a.k.a. the Hartland Roof project
Aug 11th; 2015
After a considerable effort spread over a number of days, Tom Randall has just sent his roof-crack project at Hartland Quay to give The Kraken V13.
Hartland Quay. Photo Keith Sharples
As one of the Wideboyz, Tom is no stranger to hard cracks and his CV is clearly outstanding. The Kraken though is different. Tom explains how his interest in it came about; "Ever since doing the Pura Pura, I've been looking out for something that'd take my crack climbing in a slightly new direction. Whilst the Pura Pura was hard, Century Crack was grueling and Cobra was painful, none have truly powerful, all-out 100% moves." Doing a harder crack then was all about finding and doing a crack with harder moves – Tom again; "I think the answer for me lay in trying to find or climb a much (much) more powerful crack. No endurance factor, less cheater-beta and with plenty of power needed."
A close-up of the cave. Photo Keith Sharples
Despite being an unlikely venue Hartland Quay had the perfect project. Located on North Devon's Culm Coast, Hartland is a one of the areas better – albeit spread out - bouldering spots. Mid-way along the bay is a monster cave complete with a roof crack. Tom visited the area a while ago with Pete Whitaker and had a look at the roof crack. Initial impressions weren't favourable however as Tom recalls; "Unfortunately, it rained and rained and rained. That wasn't the issue though… it basically turned out that it was way too hard! A massive horizontal roof crack at Hartland Quay that featured 20ft of pods and pockets into another 20ft of thin hands and monos with a tricky lip turn at the end. Suffice to say we got shut down and decided that it was easier to go and climb Greenspit and All Elements / One Infinity.
But the pull of the unknown got the better of Tom as he explains; "As Pete is off training most of this summer for his Yosemite trip, I found myself getting motivated again for some Devon action. I knew in the back of my mind that I should just commit to something that I wasn't sure was possible as then I'd find out how far I could push my power."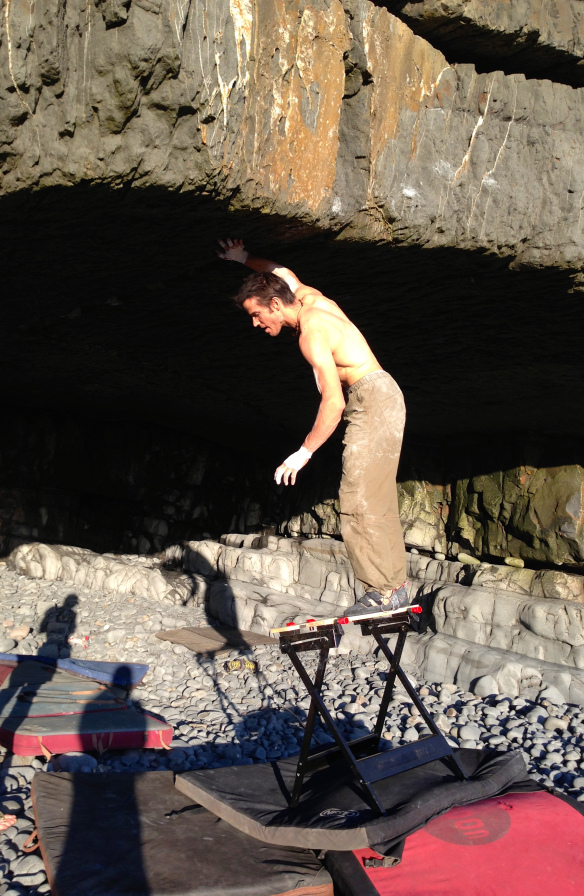 The working process
Starting the project process is always much easier than completing it. Tom's early visits persuaded him that his Hartland proj was going to be a tough; "Going back for the first session back on the project this year I was reassured that everything about it was hard. The singular moves came to together ok, but trying to link and maintain core tension whilst spinning around in the roof was desperate. All of this had to be done with little error so that I had a chance on the crux mono move."
Tom Randall working The Kraken
Slowly, Tom's sessions came together. Prior to last weekend Tom had done the proj in two halves so he was feeling the pressure and he admits having the to play the usual mid-games during his warm-up. Despite all the (self-imposed) pressure, Tom successfully pulled through the initial difficult section but was looking at dropping the next section; "As I spun through and eye-balled the ring-lock move my body sagged a little and realised I'd blow it. Not enough in the tank. Bollocks! Gav below me shouted and I made a vain lunge at the one-inch slot ahead knowing I was off. As I dropped towards the shingle beach my fingers locked in the position I've done a million times before and suddenly it was game on…. on a bloomin' ring lock!" Fighting through the final moves Tom succeeded and said proj was no more; "As I dropped off the finishing jugs and onto a pile of mats, I felt utterly beasted. It seemed appropriate that I named the Hartland Roof as "The Kraken" after a mythical monster of the deep that most of us hope we never have to wrestle with."
Tom Randall on The Kraken. Photo Mike Hutton
And finally, after a few days post send, CLIMBER can bring you Tom's latest thoughts on The Kraken…
Great result on the Hartland Project – your hardest crack yet by the sounds of it?
Hard to say whether it's categorically my hardest yet as these things tend to take time to bed down in your mind. What I can say is that it's by far the most powerful and shortest crack I've done and that you can't do it just by getting fitter. I suppose it's hard to compare everything together when they're all different styles. Pura Pura you can break down by getting fitter and fitter on it as it's got loads of V8. Interestingly for me (I'd have thought this was unlikely) I walked away from that project thinking that harder is still possible. I'd just need more time, accessibility and conditions to push it on again.
You said you went looking for a project with real power moves in it and that The Kraken has just that. It sound like the crux has some horrific moves; can you describe them and how you worked-up to doing them.
The worst two moves are certainly the "mono back-hand spin through" and the "thin hands ring-lock move". There's plenty of description in my blog of the mono, but the ring lock essentially involves a long lock off a thin hand jam after doing the mono, into a long and hard move off a ring lock in the roof. I can safely say that 5yrs ago I would never have thought I could do ring locks in a roof!
Although The Kraken has some stopper moves it's also about forty foot long so it must have a fair bit of endurance in it as well? What did you do to work the endurance necessary for the rest of The Kraken?
I didn't find this actually. It's either because my endurance is always pretty decent or that genuinely it doesn't need endurance! I only felt a bit pumped as I rounded the lip at the end, but it's much easier there anyway. So in answer, no I didn't work any endurance!
You gave it a boulder grade of V13 which would be about Font 8b? To set it in context with other hard cracks you've done what route grade would it get do you think?
Hmmm. Tricky! I find it hard to grade really short stuff. Maybe soft 8c+?
The Kraken was all about a power-project – is that the direction that you're look to continue with for the foreseeable future?
Oh definitely not! I'm such an endurance climber that I think I'm always going to be a on the back foot with this kind of stuff and I'm keen to push my trad climbing in reality. It's what I always come back to. I've very much had the attitude that I've worked on this project as a building block for some bigger trad climbing projects and I think it's important that you don't focus on any particular hard thing as being a "pinnacle" of your achievement. Always treat it as a stepping stone and you'll keep focussed on where you're going and not lose the hunger.
You say you've had ten days projecting on The Kraken this year but that not excessive – in fact it's barely into project-zone for many climbers. Have you got your eye on a really hard crack – something that'll take 20+ day over a couple of years say?
That's true, but in reality I train on my cellar roof crack all the time. Anything that involves a roof crack is a bit of a home advantage for me! But yes, I have my beady eye very much focussed on a harder crack that'll take everything. I need that experience again - like the Century Crack one - where I basically had to dedicate a big part of my life to it.
Read Tom's full account of The Kraken on his blog by click though here.
Finally, thanks to Mike Hutton for the use of his image of Tom working The Kraken.