Tom Bolger on relentless mission at Margalef
Tom Bolger had an amazing 2020/21 winter season adding and repeating several routes up to F9a+ at Margalef. Tom - now fully embedded within the local Spanish community - had been plagued with injuries over recent years but put all that behind him and had one of his best seasons ever. Keith Sharples talks to Tom to get the low-down on his Margalef 2020/21 tick-list.
The Move to Spain
Tom moved out to Spain over ten years ago; "It seems like yesterday but how time flies!!" Like many climbers, Tom made a life decision to move close to the climbing which motivated him; "I was so impressed by the sheer volume of amazing crags that I felt it would be the best way for me to enjoy my climbing and develop as a climber." Tom has nothing but praise for the local scene saying; "The Spanish climbing scene is pretty amazing, there is a huge climbing culture full of motivation a great way to experience climbing."
Injuries and Comebacks
Since moving out to Spain Tom had to deal with a number of injuries - not least with a bad back which held him away from the harder routes that he craved for. Tom outlined his problems and return to fitness; "I had a bad back injury that plagued me for years, I had to learn to deal with that, but it also taught me to listen to my body a huge step for me."
Tom's 'come back' route last September was Perfecto Passat R2 (F9a). So, how did that feel to have recovered and be trying hard routes again? "Perfecto Passat is a great route up the middle of Finestra Wall. It felt amazing to start doing these routes again."
Winter 2020/21
Having returned to fitness in time for the optimal Spanish winter conditions Tom capitalised on his return to climbing at the higher levels. In early October he climbed Gancho Perfecto F9a+ which he followed up a week later with Victima Perfecta F9a/+.
"Gancho Perfecto was the biggest milestone for me." Tom confirmed before adding his assessment of the quality; "Props to the big man Chris Sharma for bolting this stunner; Gancho Perfecto is the best route I've climbed to date."
Tom is clear that the motivation he got to return back to his 'A-game' came from climbing routes such as Gancho Perfecto; "That's what kept me going back for more!! It was a hard process, I had to get stronger, improve my sequences and train my head game!"
Living in Spain gives Tom the time and space to explore new routes, something which he is passionate about. "New routing is the most important factor for development over the last season; it's my new obsession. It's a beautiful process and I feel very fortunate that there are still amazing lines still to be bolted!"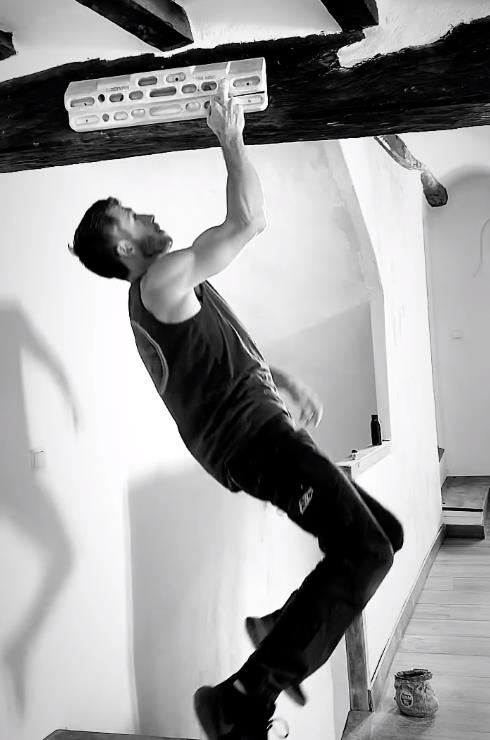 Fast forward to January 2021 and Tom zeroed in on new routes; the first of which was Wild West (F9a/+). As with many hard routes at Margalef, Wild West had wild moves off monos. "Wild West is a real mega route with hard committing moves on monos and was super psyched to do this one relatively quickly."
For his second new route project, Tom looked under the cobwebs; "I then moved onto looking for new projects in the same mega wall of Espadelles Margalef, there I found an abandoned project Frenesi which after checking out was absolutely mega, it was so shocking and so revealing that when routes have little chalk or aren't "famous" they go unsung. Frenesi (F9a/+) is an absolute classic with a seriously hard dyno off a sloping 3 finger dish." Tom topped out on Frenesi in late February.
Next up was Mr Big; another F9a and his third and final first ascent for the season. Tom was chuffed with this one too; "Mr Big, what can I say, some routes just climb well. The flow is what I relate to when I think of the quality of a route and Mr Big has amazing flow. The best route I have bolted to date." Like most developers, Tom is keen to get others to try his routes; "I'm always trying to get people to try my routes, that's a huge part of why I bolt, I love the creative element and be able to share the same motivation for a climb with others is fulfilling."
Mr Big went down in early March; a week later Tom had polished off Alex Mego's Wild Publico (F9a). Posting about this route after the successful redpoint Tom commented that he thought Alex was unstoppable – the rate Tom was smashing the routes out though, the very same could be said of him too!
Doing some math, that's seven routes of F9a or harder including three first ascents which Tom had pumped out in the course of a winter season. It was a remarkable output; one of the best ever by any British climber. With the warmer weather just over the horizon and therefore the season coming to an end Tom stepped up to try some even harder routes whilst the better conditions lasted. Perhaps he was interested in trying Perfecto Mundo (F9b+) even? "Since then I have been trying hard routes all 9b and harder and bolting new lines, now it's time to get serious and focus on a couple of projects otherwise I won't get anything done 😅"
The optimal conditions have now ended and currently, Tom is ticking over and training for the forthcoming season. If it's as good as last year's then it'll be another scorcher!
Follow Tom via his Instagram page here.
To see more amazing shots and footage of Tom and others climbing at Margalef et al check out Esteban's incredible Instagram page here.