Toby Roberts climbs Batman (F9a/+)
Thursday 14th October 2021
Earlier this week Toby Roberts got the fourth ascent of Batman (F9a/+) at Malham.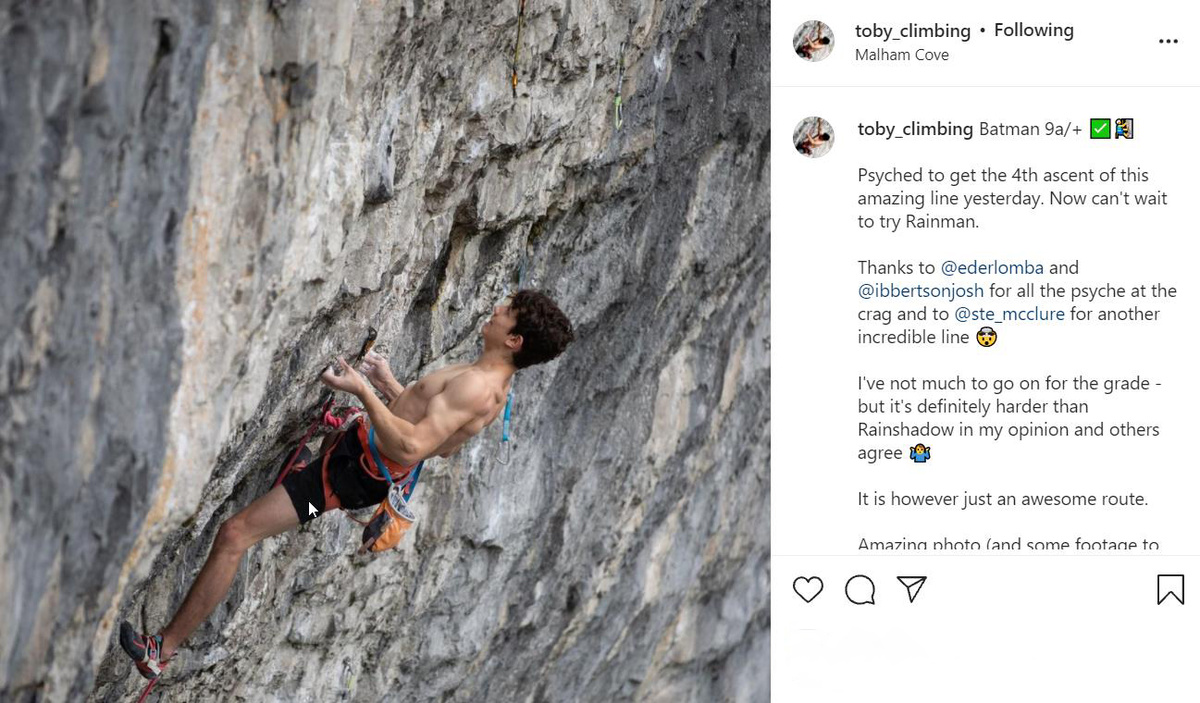 Toby's ascent of Batman comes after Josh Ibbertson's ascent in late September; Eder Lomba got the second ascent earlier this year. Batman was originally climbed by Steve McClure as a training link when he was preparing for Rainman (F9b). However, Toby - as Josh was after he'd topped out – was delighted with climbing Batman. "It is however just an awesome route." was Toby's verdict.
As with many early repeats these days the grade has been discussed not least the slash grade. Having previously climbed Rainshadow (F9a), Toby's thoughts on the grade then: "I've not much to go on for the grade - but it's definitely harder than Rainshadow in my opinion and others agree." Unusually, for the UK, Batman was given a slash grade by Steve when he did it back in 2013. Steve's thinking was that "It's harder than Rainshadow and Northern Lights but not as hard as Overshadow".
As suggested by the name, Batman starts up Bat Route (F8c) following that route to the double kneebar 'bat hang' before breaking out right to attach the headwall between Rain Shadow (F9a) and Bat Route.
Climber understand that Toby, Josh and Eder are now all trying Rainman.
For more photos of Toby and Josh climbing Batman as well as some video footage of Toby on the crucial moves on Batman's headwall click through here to @monoculturefilms Instagram page.