The New Berghaus Extrem Range – taking mountaineering performance to a higher level
Thursday 15th September 2016
New Berghaus Extrem™ – taking mountaineering performance to a higher level
Originally introduced in 1986, Berghaus Extrem™ has since become a byword for innovation, technical excellence and extreme adventure. 30 years and over 90 expeditions later, Berghaus has launched its most advanced range ever, with a collection of waterproof, down/synthetic and fleece garments that includes products like the ISPO award winning Extrem™ 8000 Pro jacket and Ramche 2.0 down jacket.
In engineering the new Extrem™ range, Berghaus took the integration of athlete insight to a new level. Leo Houlding, Mick Fowler, Angelika Rainer and others played key roles at crucial stages of product design and development. Leo tested the new kit during his successful expedition on the Mirror Wall in Greenland and Mick did likewise during his first ascent on remote Gave Ding in the Himalaya. Working closely with Berghaus' dedicated Extrem™ and MtnHaus™ innovation teams, athletes advised on and tested concepts, early prototypes and final samples of new products. The result is the most technical range of mountaineering clothing that Berghaus has ever released.
Extrem™ 8000 Pro Jacket
Berghaus believes that the new Extrem™ 8000 Pro is the most advanced mountaineering shell jacket now available. Key to that claim is the new Berghaus Xpanse™ back, hood and faceguard, designed to provide the ultimate level of adjustable apparel technology for mountaineering, and delivering unparalleled freedom of movement during extended use.
Made out of 3L GORE-TEX® Pro Shell, the Extrem™ 8000 Pro jacket uses a combination of two face fabrics, including an exclusive lightweight 40D face, developed in partnership with WL Gore especially for the jacket. Not only is it extremely tough, but it also delivers outstanding water shedding performance, helping to maintain its light weight and breathability during extended use. Packed with essential features and finished with an uncompromising attention to detail in every aspect of its construction, the Extrem™ 8000 Pro sets a new, extremely high standard.
Ramche Down 2.0 Jacket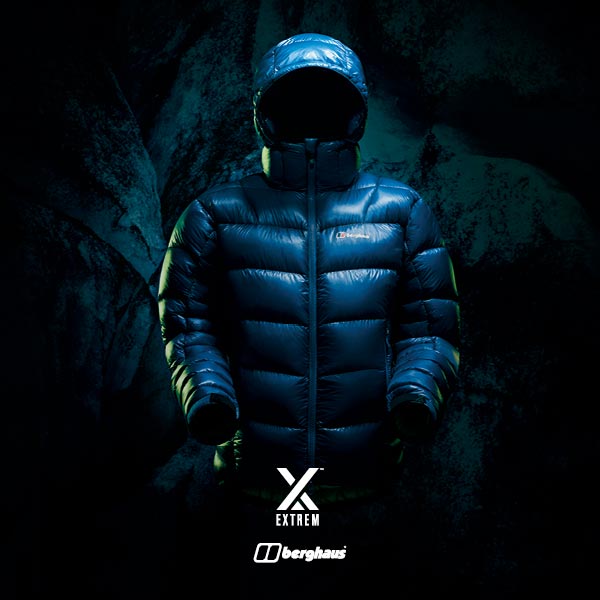 Building on its predecessor's success, the Ramche 2.0 is lighter, warmer and more durable. For autumn/winter 2016, Hydrodown® forms part of the Berghaus MADEKIND initiative and uses Nikwax's PFC-free hydrophobic down, which provides water repellency during use for up to 16 hours.
The Ramche 2.0 uses 183g of 90/10 850 fill goose Hydrodown® and three zone bodymapping ensures the optimum distribution of the insulation, while offset baffle construction eliminates cold spots. New Reflect™ aluminium mesh sewn into the core of the Ramche 2.0, reflects heat back into the jacket without inhibiting breathability and the Ramche 2.0 is wrapped in a super-lightweight 7D 100% polyamide material (22g/m2), which is windproof, water resistant, breathable and twice as strong as its predecessor.
Mick Fowler used a sample of the Ramche 2.0 on Gave Ding: "The Ramche 2.0 was absolutely brilliant in temperatures that dipped to around minus 30 degrees Celsius. It was also really tough compared to the previous version. At one point I got it caught in my abseil device and had to descend a fair way with the fabric caught - but there was only superficial damage!"
The 30th anniversary Extrem™ range is available now from www.berghaus.com/extrem and selected specialist outdoor retailers. See the kit in action on the big screen in the UK premiere of the film of Leo Houlding's Mirror Wall expedition, during this year's Kendal Mountain Festival. The premiere will be at 6:00pm on Friday 18th November – tickets available from www.mountainfest.co.uk.