The low-down on Jules Lines's Magrathea...and more...
Wednesday 17th August 2016
Aug 17th; 2016
As previously reported Julian 'Jules' Lines recently added Magrathea (E9 7a) to Creag an Dubh Loch in the Cairngorms.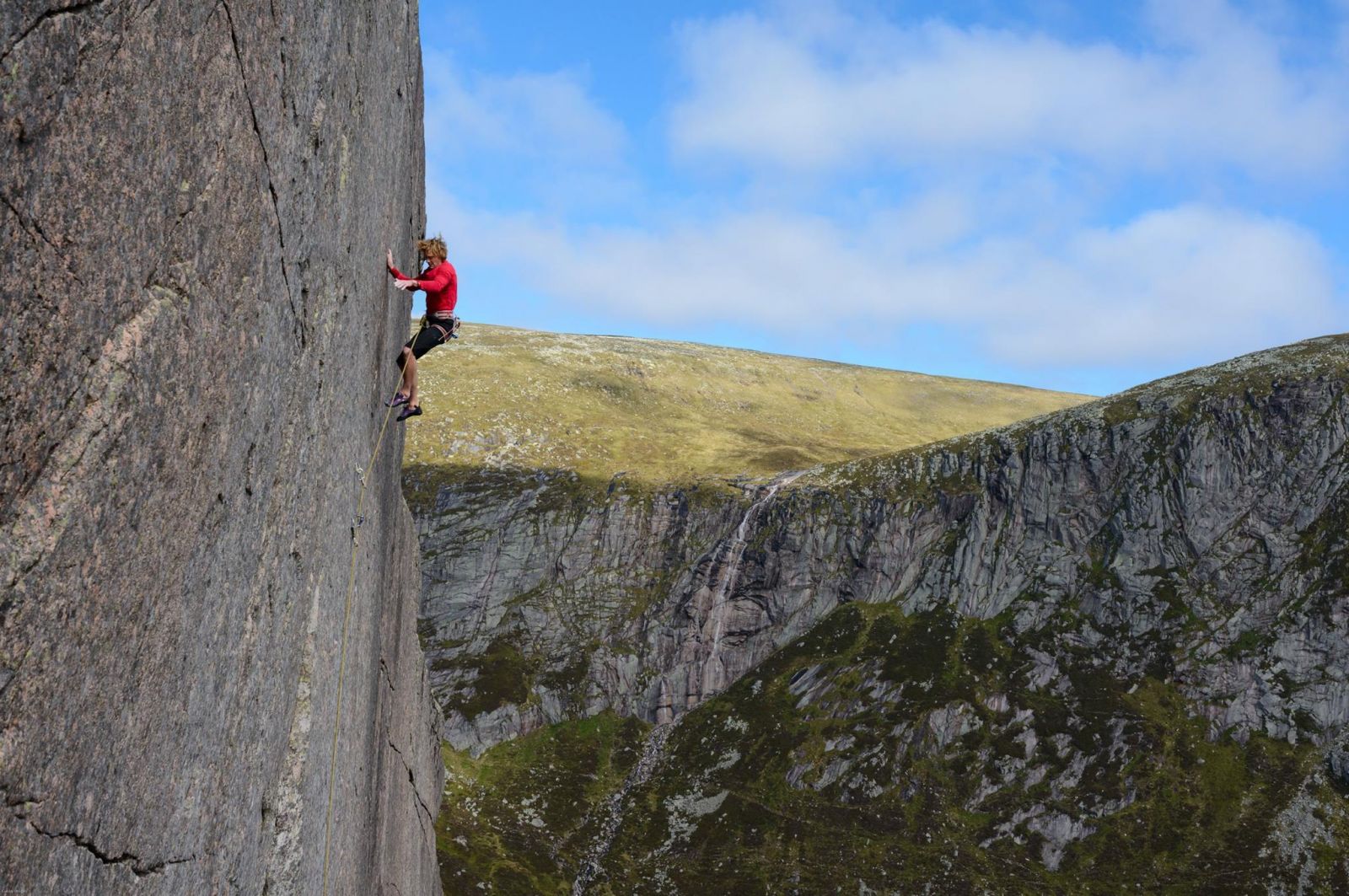 Julian 'Jules' Lines falling off a previous attempt on Magrathea back in 2014. Photo Dave 'Cubby' Cuthbertson.
The Dubh Loch is one of the UK's proudest mountain crags. Dubh Loch lies over 2,000' above sea level and access, although eased somewhat by using mountain bikes for the approach, is c. two and a half hours effort from Ballater. Considerable effort is therefore required just to get to the crag let alone do any climbing. Over the years, Dubh Loch has attracted some top climbers keen to leave their mark. Murray Hamilton, climbing with Kenny Spence and Rab Anderson added the modern classic Flodden – a 120m E6 6b in 1983. Several other E6's were added in the 80's and 90's and Jules Lines added Buddha (E7 6c) in 1995. Nearly 20 years later, Jules finally topped-out on Magrathea at E9.
CLIMBER have been in touch with Jules for the low-down on his ascent just as he was headed off for a stint of off-shore work.
Magrathea sounds like it's been a mission?
Yes, all projects in the high mountains become missions. It's logistical and frustrating trying to align a weather window with a willing belayer; feeling fresh, on form and without any injuries.
The seasons up there are so short compared to the lower crags.
Can you describe the situation up there - the effort of trying the line as well as the climbing?
The 70m high wall starts off a narrow ledge situated about 100m above the base of the cliff. The route is best accessed by abseil. It's quite a logistical problem to access the main pitch although it becomes easier once you have a system in place.
The first half of the climb is easier but potentially dangerous. And the upper half is extremely sustained, sequential and very fingery with 'full height of the wall' fall potential above marginal gear.
Is it a relief to complete the route or has your ascent left a void?
Yes, relief is exact word. Mostly because I might have only got one more chance this year, rather than relief from the dangers involved in the climbing.
No, there isn't a void as such. I'm content.
How does Magrathea feel compared to some of your other first ascents?
Different routes give different emotions so they aren't really comparable. It's not all about difficulty but more about aesthetics of the line that appeal to me more. However, finding and climbing a continuous three pitch route of such quality in the mountains is, in this day and age, incredibly fortuitous.
Will you take some time now to chill-out for a bit or is it straight onto the next challenge?
We all must survive and make ends meet one way or another. I'm away to work for a while and I'm looking forward to it. I guess pacing myself keeps the fire burning.
---
Jules is well-known for his quiet and somewhat understated approach so CLIMBER have been in touch with Dave 'Cubby' Cuthbertson to drill down into Jules's ascent in a little more detail. Here's what Cubby had to say – firstly about Magrathea itself, then about Jules and then a little about Scottish climbing in general…
You've watched and photographed Jules on many of his climbs over the years – can you sum up his contribution to Scottish climbing in terms of his new routes, including Magrathea?
Magrathae is an outstanding achievement and completes a lifetime of innovative and creative first ascents, not just in the Cairngorms (an area incidentally where he has excelled) but also throughout Scotland and the UK.

In a world so often led by trends and fashion, Jules remains individualistic and true to himself; a spirited zest for adventure that has never wained. If anything he is the trend setter; quietly going about his solitary adventures, avoiding the limelight and thereby creating a sense of mystery and aura surrounding himself and his climbing. A zest that drove a young boy to complete all the Munros while still at school, a zest that threw caution to the wind with an outrageous solo of Clipity Clop in the Peak when he first appeared on the seen back in the 80's. This is the man who put butch back into slab climbing with his super link - up on the most blank sheet of Cairngorm granite on the Shelterstone - Icon of Lust (E86c 2003 and still unrepeated). I've witnessed seasoned hard core climbers close to tears on Etive 60's classics; I can't imagine E8 6c! His deep water solos are both visionary and audacious; an aspect of Scottish climbing that didn't really exist until Jules led the way. His climbs exude a true spirit of adventure and the young and older generations alike are loving it. For me, Jules has certainly reserved a play in the history of Scottish rock climbing, alongside the likes of Graeme Livingstone, Murray Hammilton, Malcolm Smith, Iain Small and Dave MacLeod.
Jules is well-known for his soloing exploits so he must be phenomenally strong mentally. Would you say that his mental strength is the mainstay of his climbing or does he have something else under the hood that he draws heavily on?
We only see the end result, the climb, the first ascent or whatever it might be. What we do not see is the dedication and the ups and downs, the agony and ecstasy behind the making of so many of today's cutting edge achievements. Jules is no exception. Projects in the Scottish Highlands, while uniquely pleasurable because of their magnetic charm are, it must be said, notoriously fraught. Juggling personal form, work, weather and reliable belay partners is something of a dark art; Jules is a master.
With age (approaching 50) he does show signs of a shift in his approach and openly admits that head pointing has opened up more opportunities, allowing him to operate at the cutting edge (Hold Fast Hold True - E10 solo). For all of that this is a man who avoids the outwardly competitive world of cutting edge climbing and would not dream of comparing himself to the likes of Dave MacLeod. Sport climbing and bouldering don't sit particularly easy with Jules and while he might lack the raw strength and power of the others, his strength lies in controlling the power of mind and body when it's needed most. He is a climber perfectly tuned to his environment.
Your ascent of Requiem back in 1983 thrust Scottish trad into the limelight. Are you 'pleased' with the routes that have been done since by the like of Dave MacLeod and Jules Lines; do you think there's a lot still to be done north of the border and who do you see leading that charge?
There is no doubt in my mind that Dave MacLeod has taken Scottish climbing to a completely different level and there is nobody who can touch him at the moment. This is not intended to put Jules down in anyway, I would say that some of Jules's climbs would certainly test Dave's metal. As an aside, the old school part of me wonders if a small number these climbs might have been possible without pre practice.
I still believe that the unwritten rules in climbing are as poignant today as they ever were. Intuitively most of us feel that the ultimate in rock climbing is the on sight (or solo). In order to take climbing standards to the next level, young climbers need inspiration. We all build on the achievements of a preceding generation and that is a part of life I have always respected. It's fantastic that today's generation of young climbers are inspired by my own legacy of climbs. Equally, the achievements of Dave and Jules make me feel almost proud and thanks to them trad in Scotland is alive and healthy. We are after all a bit like a climbing family and if I have played even a small part in the process of that evolution then that makes me very pleased indeed.
History has shown that there is usually a period of consolidation prior to the next wave of development. At the moment I can't think of another climber (in Scotland at least) who has the ability to take climbing beyond that achieved by Dave MacLeod. It may well be that the baton has been picked up, we just don't know right now. I witnessed this while still active and Dave MacLeod picked up the baton. The generations overlapped and a period of consolidation followed, rather than any great technical advances, and then 'bang', before I knew it I was history and Dave was in the driving seat! New generations are fresh, liberated or untainted by ethical ties that can pull a climber down. I'm still not sure if that is a good or bad thing.
There are huge amounts of unclimbed rock in Scotland, you just need to know where to find it! Many of the most recent first ascents are of the highest calibre.
---
So there you have it – the nuts and bolts of Magrathea, Jules Lines and Scottish trad. Thanks to both Jules and Dave for their time and thoughts.
To see more of Cubby's fantastic images click through here…