The Great Escape repeated again by Dan McManus and Tom Livingstone
May 27th; 2016
Following an ascent earlier this week by James 'Caff' McHaffie and Ryan Pasquill, The Great Escape (E8 6b, 6c, 6b) on Arran has now had another ascent by Dan McManus and Tom Livingstone.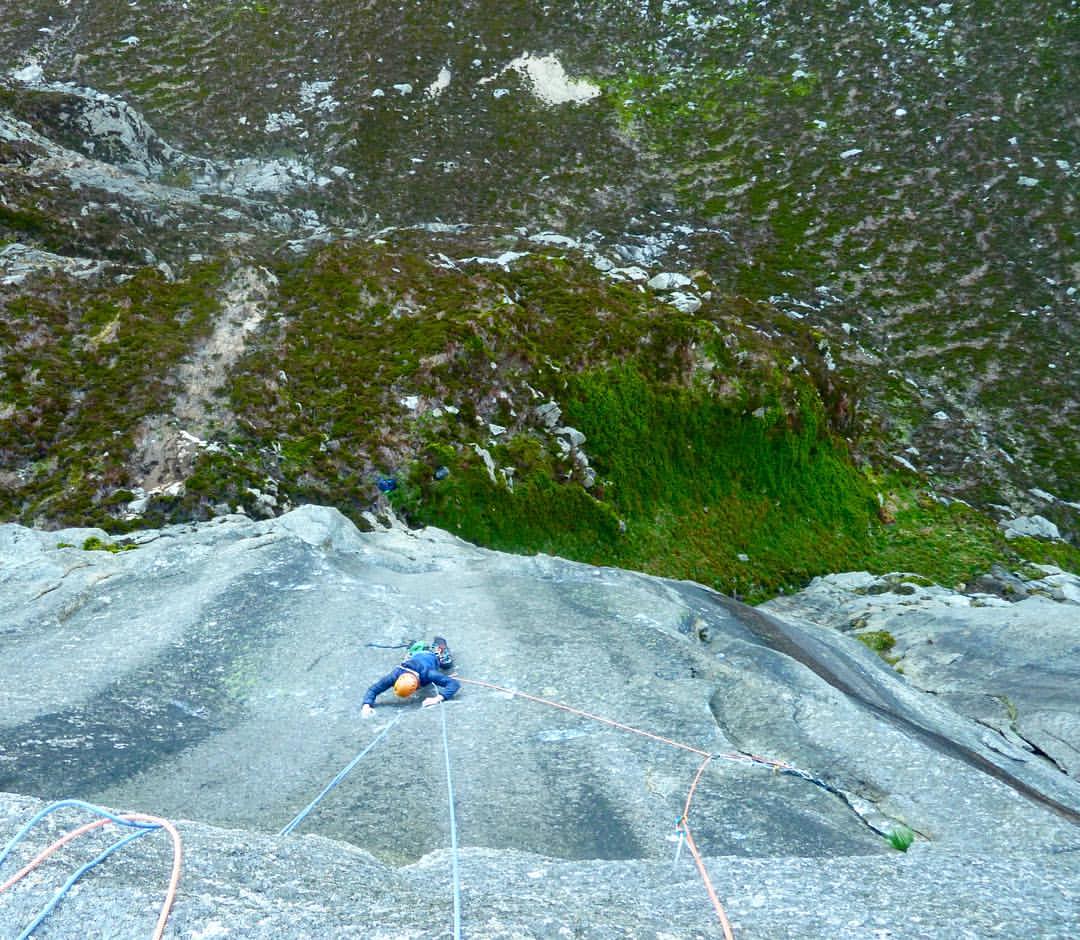 Dan McManus on The Great Escape (E8 6b,6c, 6b), Isle of Arran. Photo Tom Livingstone
The Bastion, high on the coire wall of Cioch na h-Oighe, is one of the most impressive pieces of rock on Arran. A number of routes, including the classic Abraxas (E4 6a, 6a, 5b) tackle the smooth walls of The Bastion. However, it is The Great Escape that stands head and shoulders above all the other routes on the wall.
John Dunne, climbing with his then regular partner Andy Jacks, did the first ascent of TGE in June 2001. Not unusually, Dunne's ascent attracted a degree of controversy. Reports circulated of the cleaned rock and chalk which suddenly stopped leaving dirty rock and no chalk high on pitch three. However, this was explained away when it came to light that said pitch was affected by run-off after rainfall. Dave MacLeod also climbed the line at a similar time and was credited with making the second ascent. Since then, Iain Small has made the third and only other known ascent until this week of course. Writing in The Great Mountain Crags of Scotland, Kevin Howett commented that an on-sight ascent of The Great Escape was one of the foremost challenges of Scottish mountain rock.
Fast forward to earlier this week when the DMM climbing team arrived on Arran. On their first day of climbing, James McHaffie and Ryan Pasquill headed straight for TGE and despite the less than ideal weather duly made a long-awaited on-sight ascent. Their ascent has been widely reported on-line including on DMM's website.
Watching McHaffie and Pasquill's ascent was Dan McManus and Tom Livingstone. Inspired, they returned and tied-in themselves. CLIMBER has been in touch with Tom Livingstone for the low-down on his ascent with Dan.
Can you tell us how your ascent went?
We watched Caff on-sight the main (second) pitch in fine style. He was chatting most of the way up. Ryan flashed it shortly after.
Dan and I came back next day. I led P1, Dan flashed P2 after we got the beta from Caff and Ryan. Dan was really steady and impressive. I went for the flash but fell on the last tricky move of the crux, which is a delicate and slabby traverse leftwards. The kit is good but a few metres to the right so it was a fine fall. I was pretty raging to have fallen off but I'm not much of a slab climber! I pulled the ropes and set off again but a red Dragon cam was in a pocket at about half height and I'd forgotten to take it out as I was lowered past, back to the belay. It was taking up the hold so I fluffed it and slumped onto the cam. I pulled out the cam, came back to the belay and then pulled the ropes and led it clean and fine. Technically third go ground up I guess. It's amazing because it's steep then slabby then massive overhanging layback off width to finish in a wild position. It's also a very intricate line, a lot of weaving and hidden pockets. I obvious had it much easier than Caff who put in a strong effort for the on-sight.
Finally, Dan then led the top pitch which is E7 in its own right. It feels like P2 is the technical and main E7 and P3 is a pokey E7.
How did it feel repeating TGE?
We're all psyched to climb TGE - the line, the variety of the climbing and the history all add up to make it a great experience.
So what else have you and the team been up to on Arran?
We've been to The Bastion a few times, Cir Mhor once (long 2.5hr walk in but amazing rock) and been bouldering once. It's a great little island, nice atmosphere but the hills feel a bit remote because they're a bit of a trek to get to. The bouldering is half decent as well!
Caff did a new route on Cir Mhor and some folk have repeated The Sleeping Crack (E6 6b) on Cir Mhor, which I hope to go and flash with Bransby tomorrow. There's a bit of new route potential here but some bits of the granite is a bit scrittly.
Read about McHaffie and Pasquill's ascent on the DMM website here...