Tanya Meredith does Traverse of The Gods F8b+
Sunday 13th September 2015
Sept 13th; 2105
Tanya Meredith has just sent one of the longest and biggest pumpfests on grit - Longridge's Traverse of the Gods.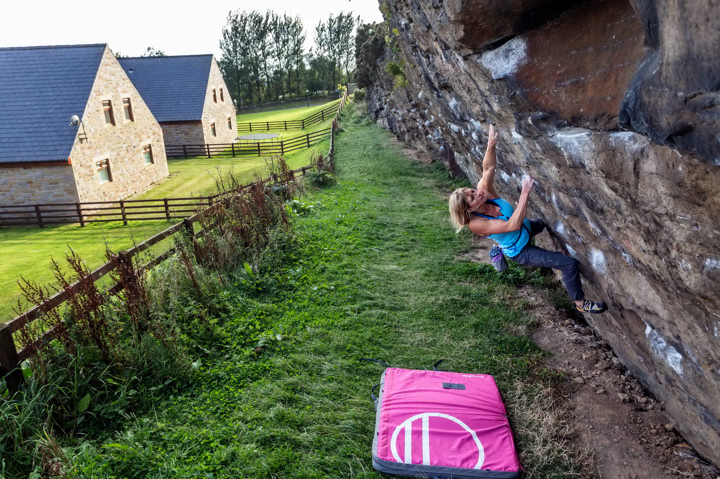 Tanya Meredith pumping out the moves on Traverse of The Gods F8b+, Longridge. Photo Peter Wilkinson
Longridge, or Craig y Longridge to give the crag it's full name, is unique; a monstrously-long frozen wave of gritstone which is unlike anything else in the Pennines. The crag saw increasing activity and development from the Eighties onwards and many of the well-known Lancashire hot-shots have cut their teeth here. Its future was ensured a while back when the BMC stepped-in and bought the crag. Rather bizarrely, there's a housing estate immediately adjacent to the crag which makes climbing there 'interesting'.
Amongst Longridge's famous 'up' problems there are a number of equally famous 'traverse' problems; none though are as well-known – and coverted – as the traverse that covers then entire length of the crag, the Traverse of The Gods. Usually climbed left to right, this c.300 foot-long monster was first done by Dave Kenyon in the mid/late Eighties. Whichever way you cut it, TOTG is an essential rite of passage for self-respecting stamina junkies. Taking the high break for most of its length, TOTG weighs in at F8b+ (sport grade). Once seen as the ultimate stamina testpiece, it's much loved by the locals and visitors alike. Years ago, word on the street was that an on-form Ian Vickers had done it three times in a session! Steve McClure dropped into Longridge on his way past in 2011 and came away with the first ever on-sight of TOTG – a feat that Ed Hamer repeated a couple of years later. Now, Tanya Meridith is the latest to add her name to those who have ticked one of grit's longest and hardest traverses.
Tanya, rather conveniently, lives in Longridge. Although Tanya - like many - first pulled some climbing shoes on whilst at university in 2003 it wasn't until 2007 that she started to climb regularly. Since doing her first grade eight sport route, Raindogs, in 2012, Tanya has been working her way through the classics. Earlier this year she ticked-off GBH F8a+. Along the way she's taken time out to headpoint 10 O'Clock Saturday Morning E6/7 6c at Nesscliffe and Linden E6 6b at Curbar – both of which she did in 2013.
Always keen to feature stories about outstanding efforts – especially from climbers who aren't regulars in the spotlight – CLIMBER have been in touch with Tanya for a few more details:
You're very definitely a Longridge local and clearly enjoy climbing there. We'll come to Longridge in a moment but can you first tell us how you started climbing, what's a typical week for you, who you usually climbing with and where?
When I first started climbing in Lancashire, I climbed a lot with Gill Peet and her partner Ian Vickers. We had some really good sport climbing trips abroad to Spain. We still enjoy climbing together now, usually when our paths cross at Boulder UK.

Nowadays, I spend a lot more time climbing with my boyfriend Neil [Mawson] - we tend to sport climb a lot in Yorkshire (mainly Malham and Kilnsey) although I do venture over to the Peak and North Wales occasionally! Over the last few summers we've also trad climbed a bit more together, down in Pembroke.

In the week, if I'm training at Longridge, I'll meet up with Nes Herbert. I also climb a lot with fellow Lancashire climbers Pete Chadwick, the Buys and Toons and am looking forward to climbing with Becky McGovern more soon, now she's climbing again after a long-term injury.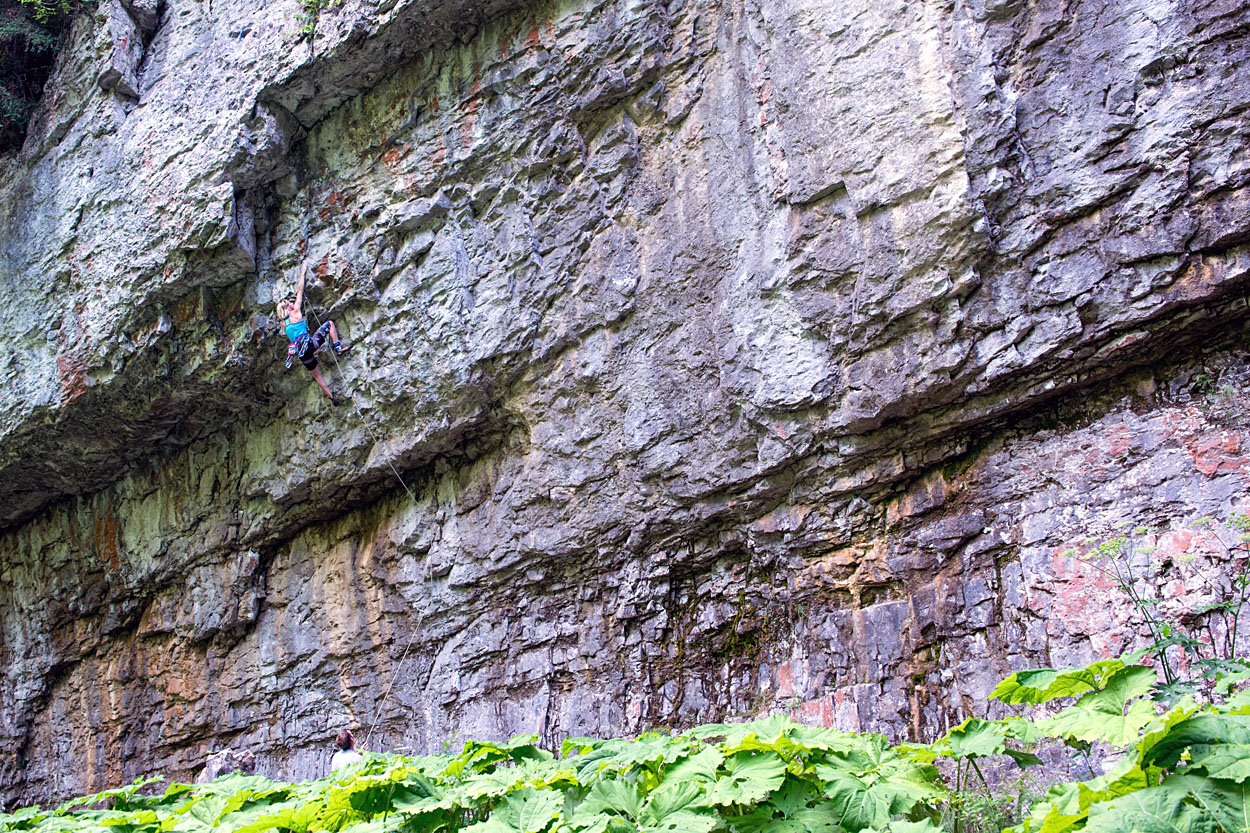 Tanya on Cry of Dispair F7c, The Cornice, Chee Dale. Photo Keith Sharples
OK, so let's get specific and talk about Longridge. Perhaps start by telling us how you came to try TOTG and what kind of a journey has it been?
I first started going to Longridge in 2008 with Gill Peet. At that time, I was probably sport climbing around 6b and, like a lot of local climbers, I mainly used the traverse for fitness training in the week, after work; I never initially approached it with any serious intention of doing it.

It was only in spring 2013, when I did the link from the start to high break, which gains a French grade of 8a+, that I started to consider it as a possibility....one day!

The following year, I came back to the traverse with bags of fitness after an Easter trip to Kalymnos, but my efforts were soon thwarted when I fell off the very end of the high break; I panicked a bit and fell awkwardly, missing the mats and causing soft tissue damage to my knee and ankle, which resulted in me being on crutches for a couple of weeks. When I returned to the traverse, I definitely had a bit of a mental barrier to break through!


Tanya concentrating hard on Traverse of The Gods F8b+. Photo Peter Wilkinson
What has been the hardest aspect for you of TOTG; the physical effort or the mental anguish of trying such a super-long traverse or something else?

Over the last couple of years, completing the traverse has always been on my mind as a possibility, but I've always had other sport climbing distractions. I just tended to keep doing the same links from the start, using it as training to gain fitness. I guess I'd not felt lots of pressure as I live in Longridge, the traverse is not going anywhere and I was continuing to improve as a climber, so I just thought "well one day it might just happen"!

I was in Ceuse this summer with Neil and Pete, we were discussing the traverse and it was then I realised how much I wanted to do it. So I made a conscious decision to be more tactical and commit to trying it properly at the end of August. With Neil's advice, I decided that I needed to do bigger and bigger links to the very end, rather than going from the start, so that I could get confident climbing through the high break and into the boulder problem near the end, with pumped arms.

In the end, for me, it was probably more about overcoming the mental challenge. Of having the belief that it was possible and of climbing well - relaxed and confidently - as I moved further and higher along the break at the end of the traverse into the harder boulder problem before the final good rest. Doing links gave me a sense of progress, built my fitness and confidence and kept the red-point stress at bay!

You were clearly 'very psyched' to get the job done. Were there some critical last minute tweaks or was it a big effort or have you been 'all over it' for a while?
Ha! Yes, I was possibly a bit too charged/motivated (a common problem that I have) when I turned up to meet Nes at the crag on Thursday. His wise words to me were to "simmer down, else you'll blow it", so I did! In the end, I was more relaxed and less pumped going through high break and the boulder problem, than I'd been than on any of my previous links; I knew that I was going to get to the rest. As soon as I did, I nearly lost my focus again as I was too excited about the prospect of actually completing it! Again, Nes was a calming influence and helped me to keep it together.

I did also tweak my beta slightly the previous session. Paul Robinson (Probes /Crusher Holds) shared some really useful information and I changed the way that I held a couple of the holds on the boulder problem near the end and added a heel hook - this made a real difference to me when climbing through that very droppable section pumped.

What's your next goals?
I'd be keen to try Austrian Oak at Malham and/or the Bulge and Urgent Action at Kilnsey. Of course, I'll keep traversing at Longridge in-between to keep the fitness up! I'm also keen to do some more traditional climbing as I didn't really get into it again this year.
Thanks to Tanya for the info and to Peter Wilkinson for the photos. Tanya is sponsored by Wild Country. Click through here to see more of Peter's photography on FB.