Stu Littlefair talks about his ascent of Rainshadow and Kepler 16b
Wednesday 9th September 2015
Sept 9th; 2015
Yesterday, Stu Littlefair became the fifth person, the fourth Brit, to redpoint Rainshadow, Steve McClure's Malham test-piece.
Stu Littlefair cranking on Rainshadow. Photo Mike Cheque
We reported Stu's ascent of Rainshadow late last night – click here for that story. We've just got off the phone to Steve McClure who, as we reported, was on belay duty yesterday when Stu topped out. "I felt really emotional when Stu did it yesterday – I'm so happy for him, he was so psyched". CLIMBER have also been camping out on Stu's frontdoor step pestering for beta on his ascent and we're pleased to be able to bring you his thoughts below.
First though a bit of background. Steve McClure first did Rainshadow back in 2003; his third route grade F9a after Mutation and Northern Lights. Rainshadow had to wait until 2011 until the marauding Czech climbing machine Adam Ondra turned his attention to it during his second visit to the UK having (finally) repeated Overshadow. Steve McClure is on record re Rainshadow thus; "My best new route and perhaps the best route I have ever climbed". Ondra, having nabbed the second ascent, agreed with Steve saying "Honestly one of the best climbs I have done..." Since then, Jordan Buys became the first Brit to summit Rainshadow in 2013 followed by Ben Moon earlier in June this year and now Stu.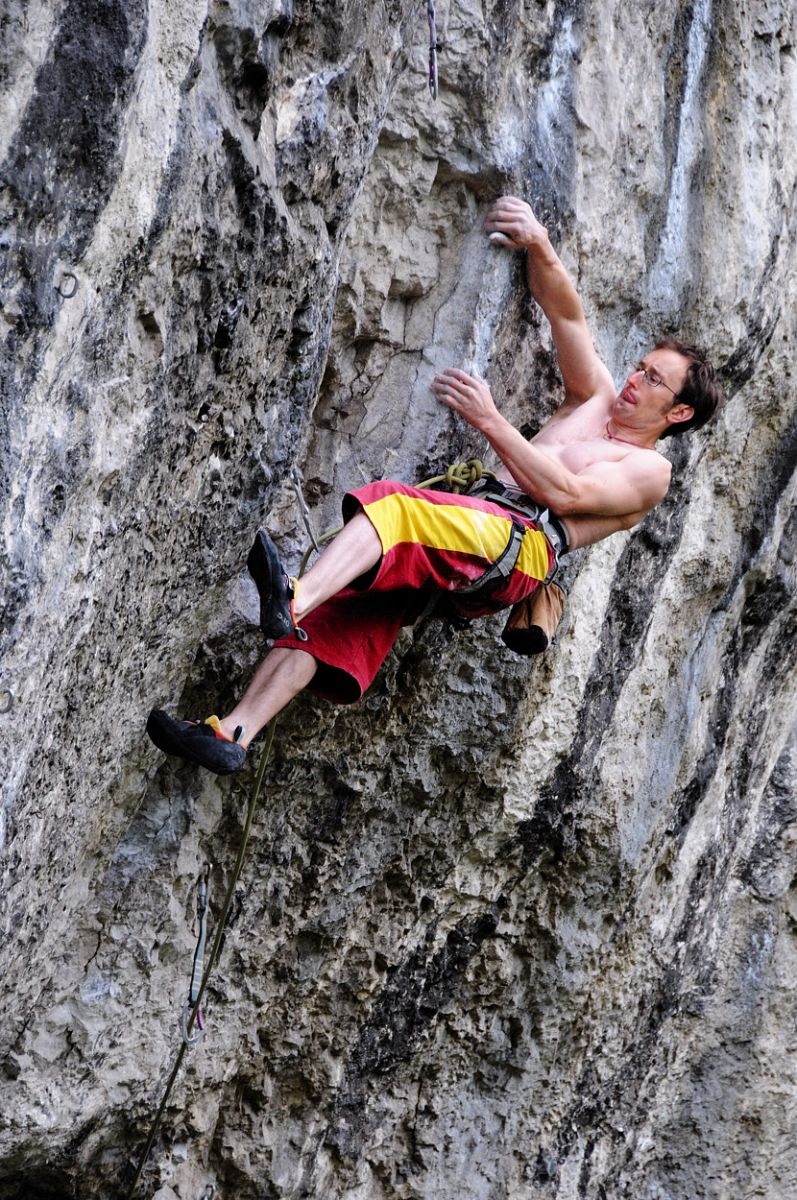 Stu on the lip-smacking powerful Mecca - sans kneepad - back in 2009. Photo Keith Sharples
And so to Stu. An ex-Cambridge student – he gave in to the gravitational pull (sic…) of Sheffield subsequently joined the lecturing staff at Sheffield University. Since then, he's shared his passion about climbing, training and astro-physics with many – not least folks such as Airlie Anderson – ex of the Parish – and more latterly Alex Barrows with whom Stu has a healthy (discuss…) on-going competition. Stu's been a regular climber on the scene for a considerable time during which time he's converted himself from being an incredibly powerful climber who liked bouldering and short routes to an incredible climber who can turn the power on half way up Malham. Stu's success is not only well-deserved but it's an impressive story of dedication, training, adaption and yes, tenacity!
Stu again on the crux of Rainshadow. Photo Guy van Greuning
Too young (then) to be included in the seminal book Power of Climbing; Stu however now dines at the top table of sports climbing in the UK. And given he's still short of 40, he's got plenty of time to do more…
Here's the Q&A with Stu…
First off – congratulations on sealing the deal on Rainshadow – how good does that feel?
You know when you buy a Kit-Kat and get one that's all chocolate. It feels like that.
What was going through your mind when you made it through the crux from the ground for the first time?
To be honest I was so sure I would fall off the headwall I felt pretty relaxed. It was only on the last move or two that I felt nervous. The worst part was shaking out before the last 5a moves - I was terrified I'd fall then.
You always been well-known for being ridiculously strong and then you started training endurance. That opened up many of the longer routes such as at Raven Tor and at Malham for you but can you tell us when did you first think about getting on Rainshadow, when did you start your campaign and was there a definite session that you thought it was game-on?
Rainshadow has been my long term goal since the early 2000's when Steve first did it. It's the best hard route I've ever tried so I knew I wanted to do it if I could. I started trying it in earnest last October but it was only this weekend I started to think I'd actually do it.
Ben Moon, Ryan Pasquail and yourself were all trying Rainshadow this spring. Were you all feeding-off each other with ideas and sequences? Do you thrive on friendly competition?
Those guys were such an inspiration to me. Ben's ascent was incredibly motivating - he had such power on the crux. And Ryan got achingly close before breaking his ribs. They were rubbish for beta though - I'm about half Ryan's size!
I do like a bit of friendly competition, but not with those guys. I prefer to be competitive with people worse than me, like Alex Barrows.
You had to stop your attempts because of injuries and work commitments; both of which meant that you've had time off since the spring. How did you stay focused and what you were doing during your down-time and whilst you ramped back up again?
I trained! It's always possible to train around work and injuries.
Work trips are difficult for me. I spend a few months abroad each year working long nights on the telescopes. It's not all bad though, I find it pretty easy to stay motivated and train. Plus the telescopes are in nice locations; there are some lovely spots to hang a fingerboard in Hawaii.
Given your scientific background – it's a safe bet to think that you're on a pretty strict training programme. Can you give us a flavour of what yours is all about and how long have you've been 'on it'.
You're right - I've always been keen on training, but I noticed big improvements when I started training with Tom Randall about four years ago. Although I don't train with Tom anymore I still use a lot of the knowledge I got from him to structure my training.
For me it's important to plan everything in advance and stick to the plan. I like to train on fingerboards and campus boards too; it's easy to quantify improvement. You have to make sure you don't forget how to climb though!
It's early days yet but what's your next big route going to be?
I'm pretty keen to focus on my trad climbing a bit more now. I have a rubbish head though, so you'll probably find me failing on E5s next. After that I'd like to go back and finish off Evolution at Raven tor.
Will the minimum requirement for your PHD students go up now you done F9a and what do you think Alex Barrows will say to you today over coffee?
All Physics undergrads at Sheffield must climb E3. 8c for the PhD students. We have to maintain standards.
I imagine my colleague and nemesis Alex Barrows will be eager to ask me what it feels like to have climbed a 9a with some hard moves on it.
Let's finish with a geekie question - what's your favourite solar system and why?
Good question! Kepler 16b is a particular favourite. It's a planet orbiting twin suns, so it has cool sunrises. Like Tattoine, where Luke Skywalker lives. Except real.
Thanks to Stu for the thoughts and to both Mike Cheque and Guy van Greuning for the images.
To see more of Mike's photos click through here and here for Guy's.