Storr and Levier take gold in Round #1 of World Cup Bouldering, Toronto
June 1st, 2015
In a hotly contested first round of the World Cup bouldering in Toronto over the weekend Anna Storr and Alban Levier took the top slots in the female and male comps respectively.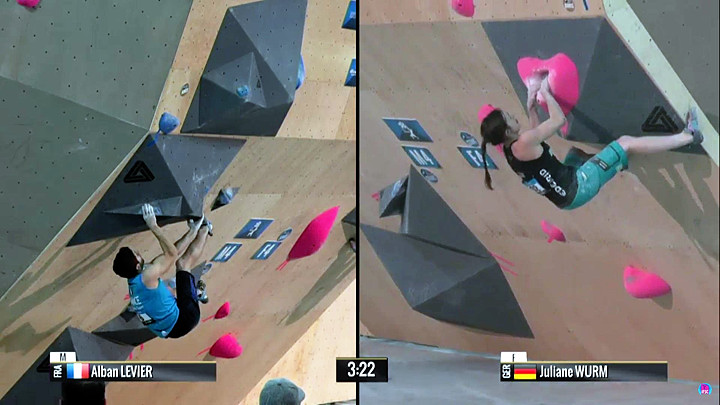 Alban Levier on M4 and Juliane Wurm on F4 in the finals at Toronto. Video grab from IFSC live feed
The setters managed to create of tasty set of blocs in all the rounds although surprisingly some big names fell in the earlier rounds. Perhaps the biggest shock saw the newly-crowned European Bouldering Champion, Jan Hoyer, leave the competition at the end of the qualification round – his three tops from 10 attempts and three bonus from four attempts showing just how tough the blocs were. Hojer finished in 27th place, six places shy of the cut for the semi-finals and four places down from our own Dave Barrans who once again came out as highest ranking male competitor for Team GB. Louis Parkinson, Nathan Phillips, Ben West and Orrin Coley finished in 39th, 45th, 47th and 59th respectively.
Aklyo Noguchi flashing F2 in the finals at Toronto. Video grab from IFSC live feed
Qualification was equally brutal in the female comp too. However, Shauna Coxsey made a very welcome returning to top flight competitions having had to sit-out the European Comp earlier in May with a finger injury. Coxsey was the highest placed of the female Team GB athletes scooping four tops from six and four bonus from six – results which took her into the semi-finals. Both Leah Crane and Diane Merrick got one top apiece and although they each collected a decent number of bonus holds their bonus collection was low and both failed to make the semi's finishing in 21st and 47th place respectively. In Leah's case being denied a semi-final place by just one position must have felt especially tough.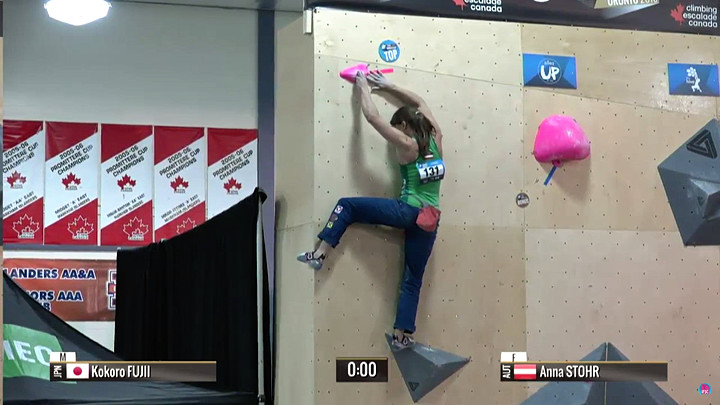 Anna Storr on the only top-out of F3 in the finals at Toronto. Video grab from IFSC live feed
The semi-finals were perhaps even more brutal with yet more big names falling foul of the blocs. The 2014 Toronto winner Guillaume Glairon Mondet from France along with Candian Sean McColl and Jakob Schubert from Austria all fell short of the cut for the finals as did Shauna Coxsey who finished in ninth place overall with just one top from two attempts and four from ten bonus holds.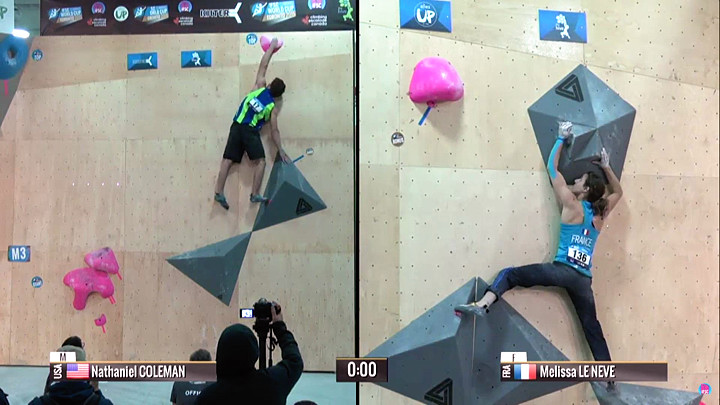 Nathaniel Coleman on a rare top-out on M3 and Melissa Le Neve arriving at the business end of F3 in the finals at Toronto. Video grab from IFSC live feed
With six female and seven male athletes contesting the finals the stage was set for a massive show-down. The setters had clearly not yet used all their tricks up because the finals saw some real swings back and forth in fortunes amongst the athletes. Generally speaking, many of the athletes operating at this highest level are well capable of pulling on the smallest of crimps on the steepest of walls. In order to separate the field out, the four blocs are usually set with a mixture of very steep blocs right through to super thin 'dirty vert' or slabby blocs with some jumps, compressions and out-and-out funky moves thrown in for good measure.
Storr, Noguchi, Wurm and Puccio topped bloc #1 although only European Champion, Juliane Wurm, flashed it. Moving to bloc #2 the flash-fest continued with Storr, Noguchi and Wurm all doing the business. Wurm was starting to look like the gold medallist in waiting. Bloc #3, especially the extending finishing move, sorted the women out with only Anna Storr completing it albeit taking three attempts. Wurm's gold changes were shipped wrecked on bloc #3, she crashed at that point leaving Noguchi and Puccio alone to top bloc #4, Puccio demonstrating her strength by flashing it. Storr with her three tops from six just pipped Noguchi who also finished with six tops – sadly for her – however in seven goes! Wurm's two tops from two goes edged out Piccio who finished in fourth with two tops from three. Neither Saurwein nor Le Neve got a single top and finished fifth and sixth respectively.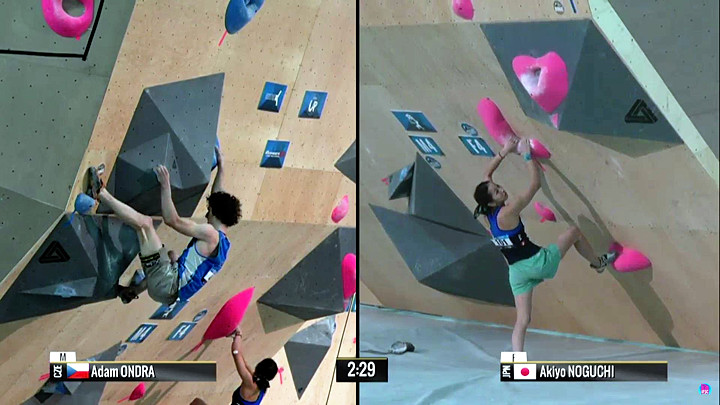 Adam Ondra on his way to dropping the final move on M4 and Alkyo Noguchi about t o start F4 in the finals at Toronto. Video grab from IFSC live feed
The male blocs equally separated out the field. Levier, Coleman, Ondra, Fuji and Chon all topped bloc #1, no doubt to the consternation of the setters although Fuji was the only competitor to flash it. Ondra, Coleman and Cornu all hiked bloc #2 with Levier doing it in two goes. As with the female comp, bloc #3 really sorted the men's field out – inevitably it was a slab! Cornu was downright frustrated by this bloc virtually kicking the wall in frustration at the end! Fuji appeared totally bemused by the bloc and Ondra resorted to a wardrobe manipulation pinning his vest together at the sides althoough in the end he just walked off with time on the clock! USA freshman, Nathaniel Coleman, nailed it in five goes which would have been a stunning performance outclimbing some of the best bloc-miesters around if it hadn't been for Levier who proceeded to flash it! The final bloc involved some crowd-pleasing inverted feet-first action as well as campus moves and 180 deg rotations and a heart-stopper monster dyno to a big hold…with a blocker hold in the back! Coleman, Chon, Levier all fluffed the last move as did Ondra – much to the crowd's surprise. Fuji alone topped out – in three goes. Levier picked up gold with three tops in six goes, beating Coleman's three goes in nine goes and Ondra's two tops in three goes who was just ahead of Fuji who finished in fourth place with two tops in four.
Women's Podium at Toronto. Video grab from IFSC live feed
Men's Podium at Toronto. Video grab from IFSC live feed
The timetable for the remaining events is below although with the competition in Vail (USA) next weekend it's going to be a short week ahead and a rapid turn-around for everyone involved.
June 5th – 6th, 2015: IFSC World Cup Bouldering - Vail (USA)
June 20th – 21st, 2015: IFSC World Cup Bouldering, Speed - Chongqing (CHN)
June 26th – 27th, 2015: IFSC World Cup Bouldering, Speed - Haiyang (CHN)
August 14th – 15th, 2015: IFSC World Cup Bouldering - Münhen (GER)
The result from the finals are listed below and for the full results click through here to go to the IFSC website.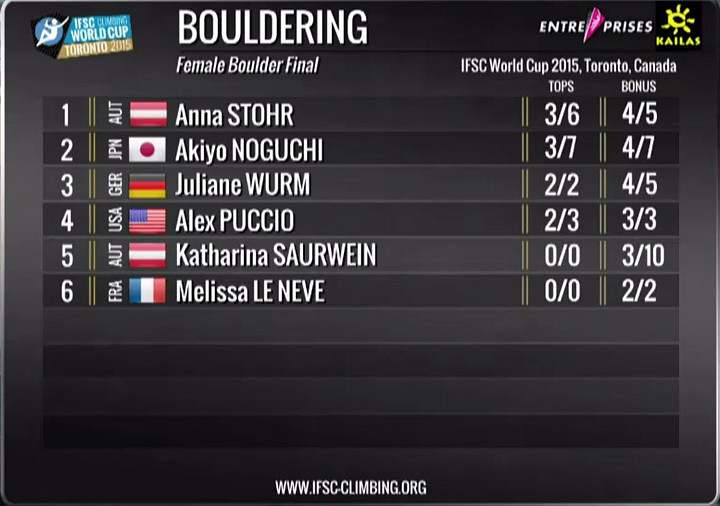 Womens Results from Toronto. Video grab from IFSC live feed
Men's Results from Toronto. Video grab from IFSC live feed
Click through here to watch the finals on You Tube.