Storm Ophelia causes damage at Tremadog
Thursday 19th October 2017
Oct 19th; 2017
The BMC are reporting that Storm Ophelia has caused some damage to the Tremadog crags.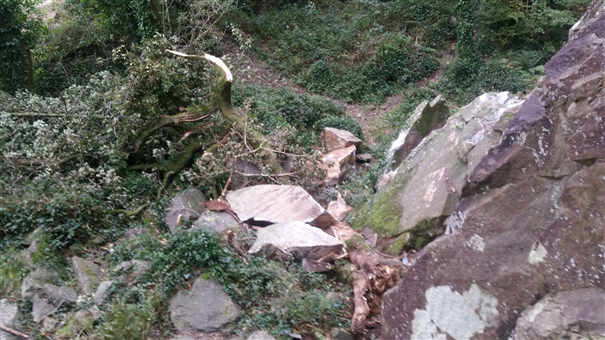 The area below Belshazzar – clearly showing the damage caused by Storm Ophelia
The full extent of the damage to Craig Bwlch y Moch, the BMC-owned crag at Tremadog, and to the other crags in the area has yet to be established but the BMC report that the 90mph winds hit trees in the area causing damage to the ledges and ground.
The following warning and info has been posted on the BMC website.
---------------------
A warning to all climbers visiting Tremadog - many routes and in particular those that rely on trees for belays or those with large mature trees growing on ledges or at the cliff top may be affected by loose rocks.
Areas known to be affected:
• A couple of large mature trees have fallen near the approach path to Vector Buttress but these do not appear to affect the approach path but more loose branches may fall here.
• A significant rockfall has occured (more then 50 tons) between the first pitches of Belshazzar and Rienetta, affecting the path below these routes. The first pitches of Belshazzar, Earthsea and Re-Entry are now in a perilous state with further large blocks likley to fall - see photos, best avoided!
• The tree on the shared stance of Meshach/Grim Wall seems to have been given a rather violent shaking and there is a possibility of loosened rock and boulders here.
• Some large fresh blocks of about a ton in size have appeared below the arete between the routes Rio and Chwys - the exact source is not known so again there could be further rock-falls here.
• In addition there are numerous loose and broken tree branches on or above all the approach and descent paths.
Similar damage is likely on the other Tremadog cliffs, Craig y Castell, Craig Pant Ifan and Craig y Gesail, all of which have mature trees growing on ledges and cliff edges but these have not yet been inspected.
MORE INFO: Available on the Regional Access Database