Stop Press: Ellis Butler Barker repeats Brian F8c+ at Anstey's Cove
April 2nd, 2015
Ellis Butler Barker has just told CLIMBER that he repointed Brian F8c+ at Anstey's Cove yesterday.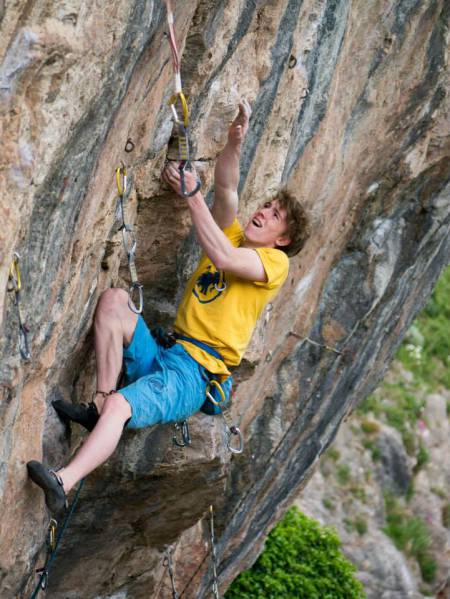 Ellis Butler Barker climbing on Brian F8c+. Photo by Tom Wright
Ken Palmers did the first ascent of Brian F8c+ 12 years ago and Ellis's repoint is the first known repeat of the route. We're not entirely sure at this stage, but we think that this may also be the first time that an 18 year old Brit has climbed that grade although Malcolm Smith did Hubble at a similar age. Either way, it's both a significant repeat and a darned good effort for Ellis who has been on excellent form all winter working through the card both in the South West and in Spain where he recently on-sighted an F8b.
He commented on his blog, "Overall I spent roughly 10 sessions on the route and I had around 8 redpoint attempt this year but I'm not sure how many last year. I'm so happy to do this route and it hasn't been an easy process, its by far the longest I've spent on a project and it required me to be a little more tactical with my climbing which is something I haven't really done before. I've really enjoyed the whole process but it's nice to get the route done. I have also been told that this is the youngest ascent of an 8c+ by a Brit. I was told Malcolm Smith was 18 or 19 when he did Hubble (although this is likely 9a) which makes me the same age or a year younger! I owe a huge thank you to Jamie and Charlotte for the support on the route; the Quay for the training facilities and also Mammut and Five Ten for the kit which gets me up these routes!"
Click through here to read Ellis's full account of the process on his blog…
Ellis is sponsored by Mammut and Five Ten