Steve McClure completes in-a-day Yorkshire Triple Crown
July 21st; 2017
A little over a month after completing Rainman (F9b), Steve McClure has back in action in Yorkshire to knock-off the Triple Crown. Following a gut-busting wrecking day on Tuesday – a.k.a. the recce – Steve clipped the lower-off at the top of The Groove at Malham at around 7pm yesterday.
Steve on the lower-off of The Groove having completed the YTC. Photo Euan Ryan/Finalcrux Films
"That was a lot closer than I would have liked" Steve said having completed the YTC. Clearly Steve didn't find it a total path and hence it wasn't the forgone conclusion that many might have expected. Having redpointed Rainman (F9b) just recently Steve is in great shame so on paper it might seem that redpointing three 8a+'s in a day should have been a stroll in the park for Steve. Steve explained his strategy: "I've done all the routes before – some a long time ago – but I didn't want to work them to death before going for them in a day; I was looking for a real challenge were the outcome was uncertain".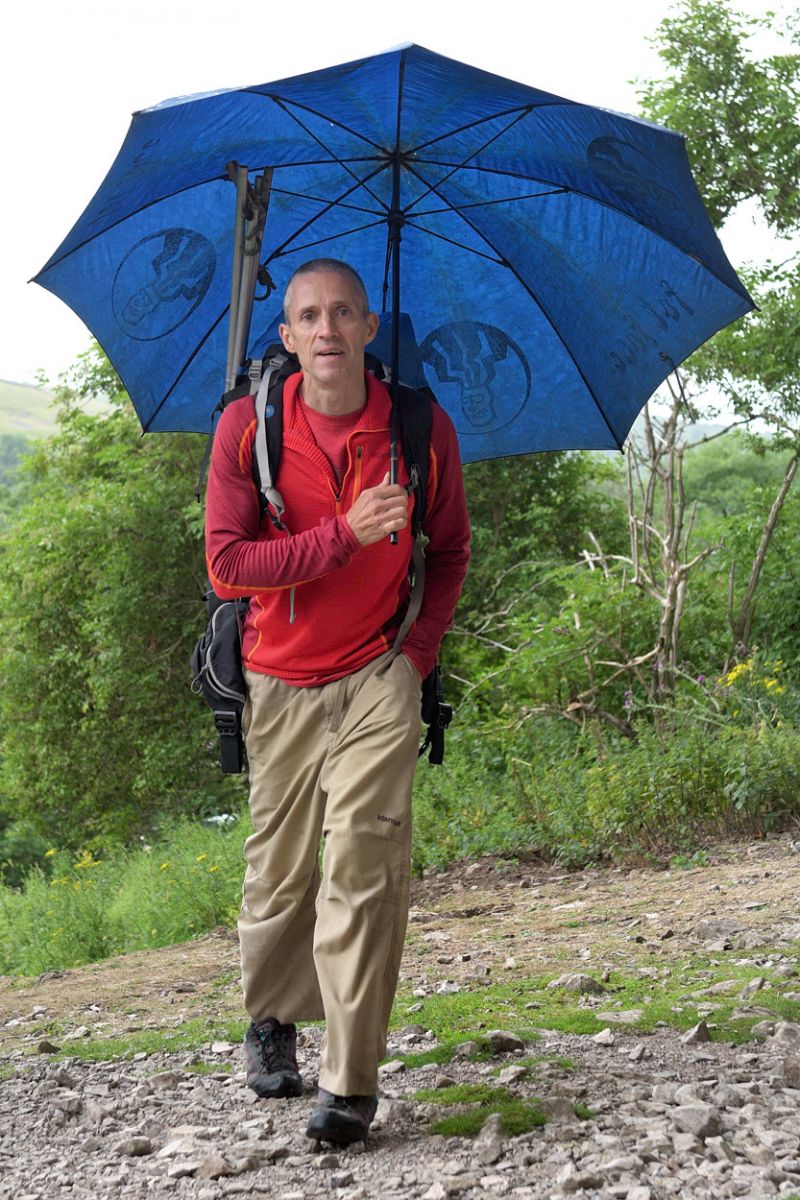 Steve arriving at Kilnsey yesterday. Photo Keith Sharples
Steve doing a piece to camera before redpointing Urgent Action at Kilnsey. Photo Keith Sharples
Steve set-aside two days for the challenge; Tuesday and yesterday. The run-in for Tuesday wasn't ideal – Steve had a full day of route setting at The Foundry; "it's been boiling hot and my skin has been falling off all-day; Yorks 3 will be epic" he told CLIMBER. Also, a crucial foothold was broken off Urgent Action doing the course of Monday making the initial section on that harder. Arriving at the crag by 11am the temperature was already high as Steve confirmed: "Just arrived at crag. No chance – 23 degrees already. I'll check it out today and try on Thursday"! However, ever the climber, Steve redpointed Urgent Action and then moved round to Gordale. Supercool took two redpoints – the second in the full sun! That too has lost footholds recently making it significant harder. Finally, Steve arrived at Malham to be greeted by boiling hot rock that despite being in the shade for hours was still way too hot. Nevertheless, Steve worked The Groove and then took a burn on redpoint at about 9pm. "I got to the rest but just couldn't shake the pump out of my forearms" he said. Leaving the mid-height rest he fell almost immediately! So much for a recce day!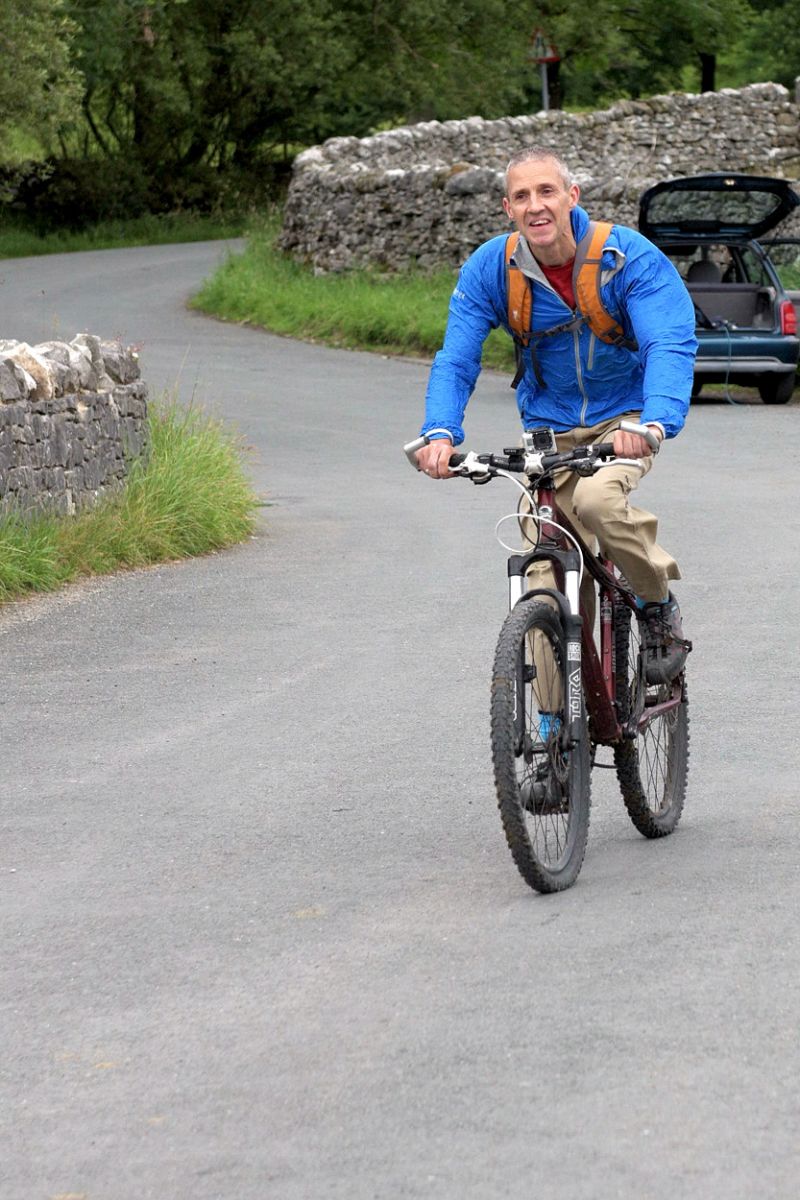 Steve arriving at Gordale having biked over from Kilnsey. Photo Keith Sharples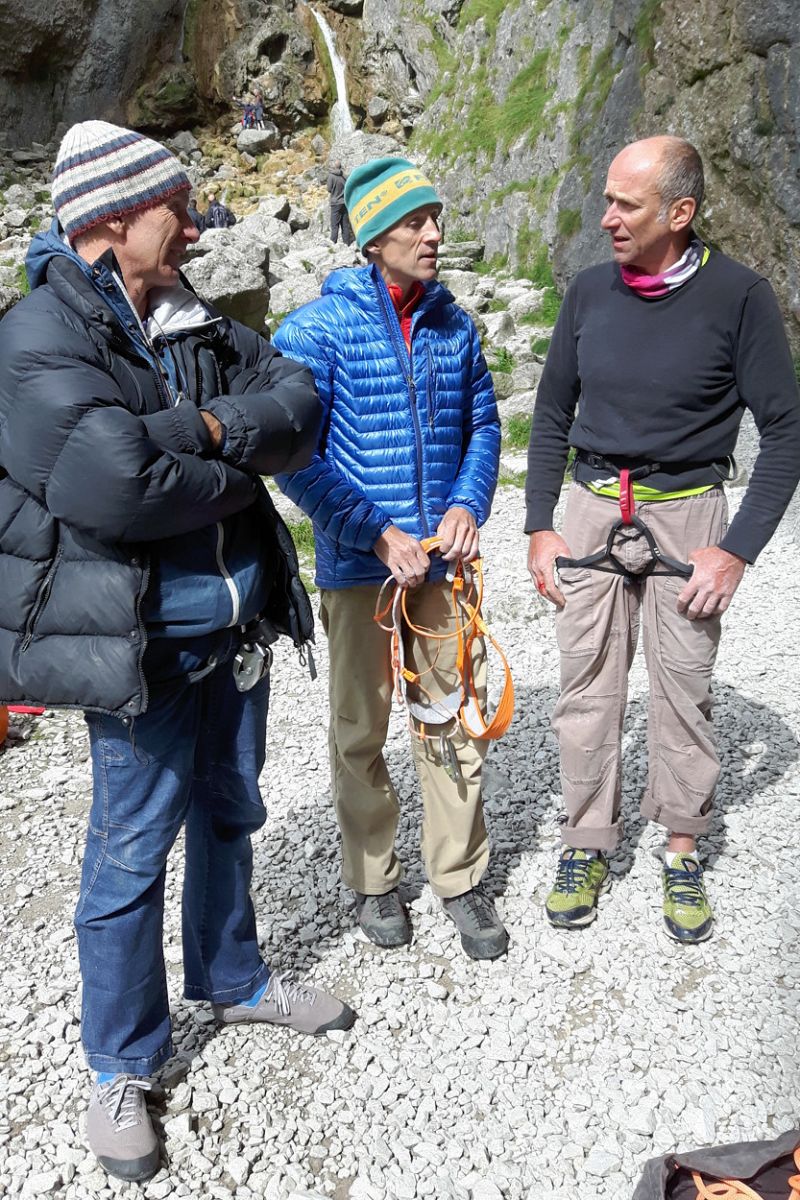 Steve talking to some supercool guys – Chris Gore (left) and Martin Artkinson (first ascensionist) at Gordale having redpointed Supercool. Photo Keith Sharples
Yesterday's condition for Steve's 'send' day were much better. Urgent Action was duly completed within 45minutes of arriving at the crag! Gordale was utterly Baltic with a nasty wind blowing through the gorge and driving temps into sub-optimal 'freezing hands'. However, Supercool went down first redpoint as well. By 5pm Steve was at Malham just as The Groove was going into shade. Connies were prefect – but Steve was feeling the pressure and the strain; "no better than 50-50" was Steve's self-assessed odds – remarkably long all things considered. Steve took a long shake-out at the mid-height rest and duly topped out at about 7pm completing the YTC.
The YTC comprises the three biggest and best F8a+ on the Yorkshire Big Three crags; Urgent Action at Kilnsey (Pete Gomersall 1989) , Supercool at Kilnsey (Martin Atkinson 1987) and The Groove at Malham (John Dunne 1988). Famously, Simon Nadim first flashed both Urgent Action and The Groove back in his hay-day in 1990. Steve himself flashed Urgent Action and Supercool when he did them around the turn of the millennium. There are strong rumours – currently unconfirmed – that the YTC has been completed previously by Andy Mitchell. Steve cycled between the crags as well.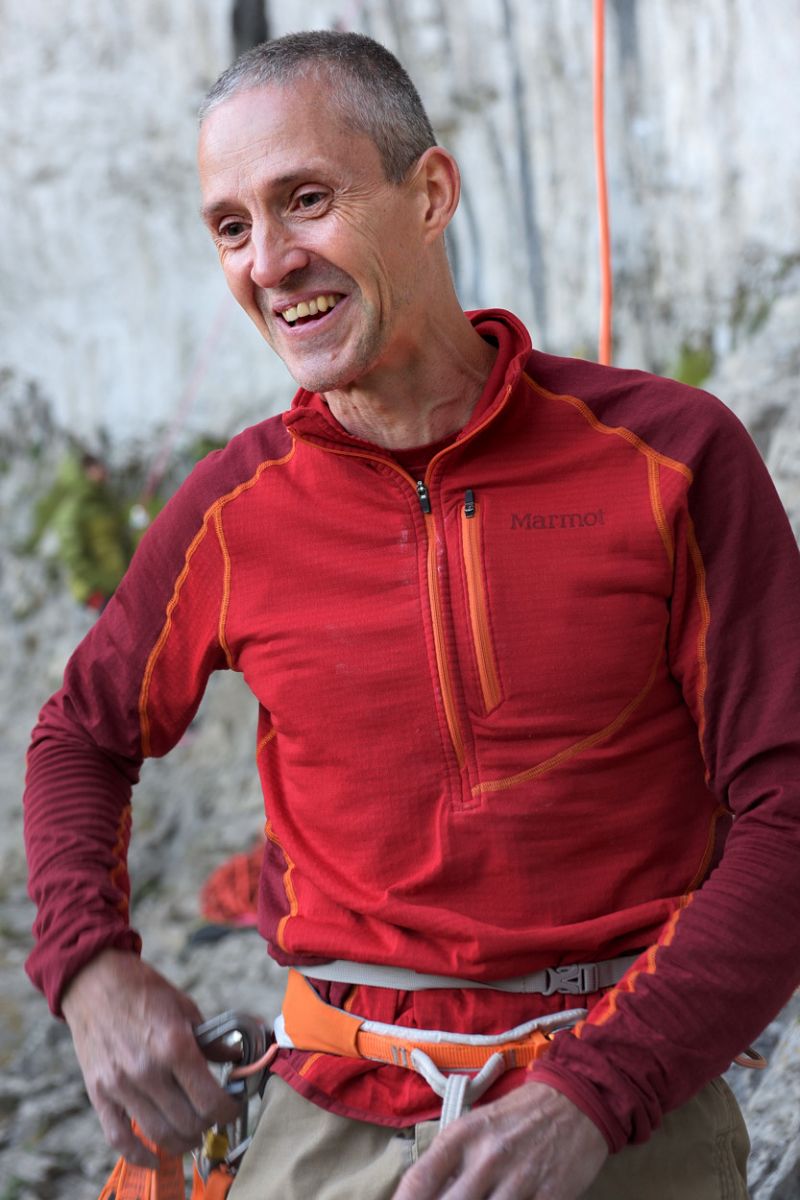 "That was close" – Steve having redpointed The Groove at Malham. Photo Keith Sharples
Euan Ryan/Finalcrux Films was on hand filming the action for BMC TV so watch-out for the film when it's released in the near future. Click through here to see Euan's/Finalcrux FB page or his website portfolio here