Stefano Ghisolfi gets second ascent of Bibliographie
The Italian ace, Stefano Ghisolfi, has just made the second ascent of Bibliographie (F9c) at Ceuse.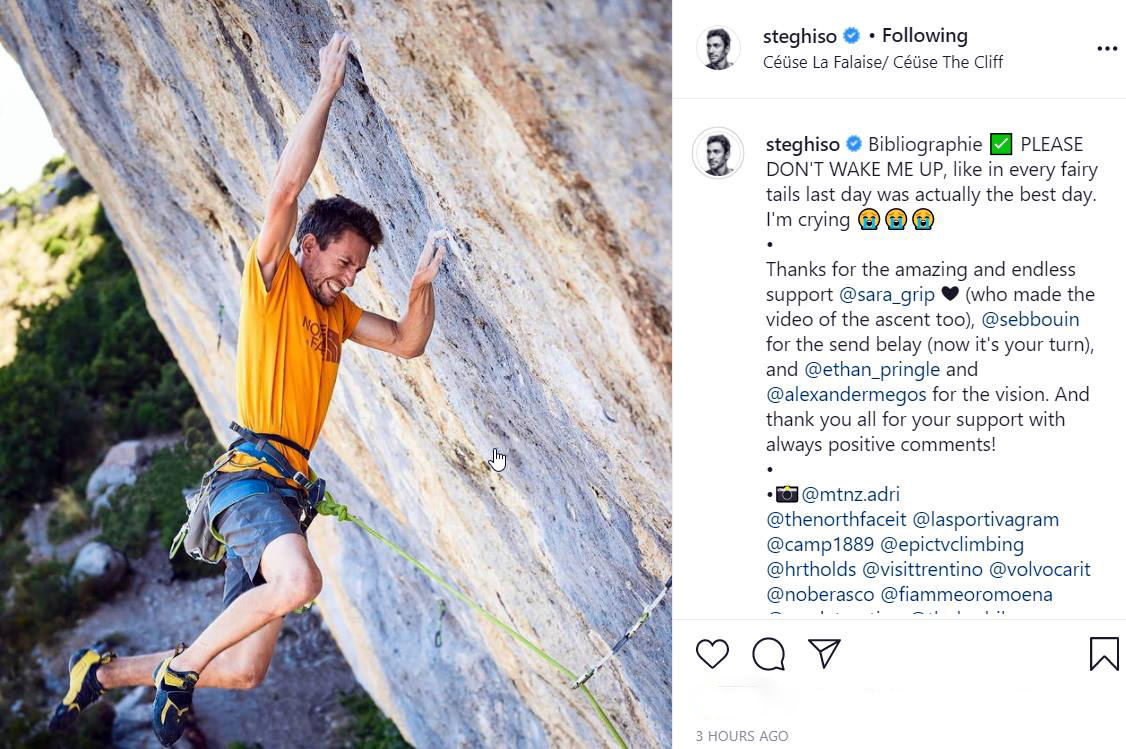 Having finished outside the qualification for Tokyo Games, Stefano Ghisolfi has been concentrating and working hard on Bibliographie at Ceuse. Originally climbed last year by Alex Megos, Bibliographie climbs a parallel and harder line to Chris Sharma's Biographie (F9a+).
Posting on Instagram Ghisolfi wrote; "Bibliographie ✅ PLEASE DON'T WAKE ME UP, like in every fairy tails last day was actually the best day. I'm crying 😭😭😭"
Stefano, as well as a number of other top climbers, has been trying the Megos testpiece over the summer. He's been charting his progress in a series of videos, The Climbing Diaries, which he has released on his YouTube channel. Sara Grip, Ghisolfi's partner, has captured his ascent; downstream they'll release a video so watch this space.
Previously, Ghisolfi has repeated two F9b+'s; Alex Mego's Perfecto Mundo at Margalef and Adam Ondra's Change at Flatanger. Ghisolfi has yet to comment on the grade for Bibliographie but assuming he doesn't suggest a downgrade Bibliographie is Ghisolfi's hardest route to date. He becomes the third climber worldwide to climb F9c after Ondra and Megos.

Seb Bouin, who belayed Stefano Ghisolfi on his successful attempt today, has also been trying the route. Likewise, Dave Graham has put some time into Bibliographie linking some sections. Previously, Graham repeated Biographie in 2007. Jorge Diazrullo has also spent a month over the summer on Bibliographie but was ultimately forced to leave somewhat chastened posting "it was more difficult than I thought…"