Smiler Cuthbertson passes away
May 4th; 2019
Sad news emerging late this week is that Smiler Cuthbertson has passed away.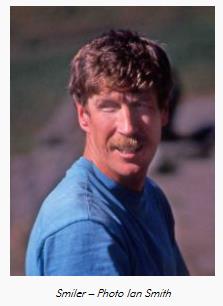 Dave Cuthbertson – known as Smiler for obvious reasons – was a well-known and active member of many clubs as well as a retired member of a number of guiding organisations.
Like many climbers, Smiler started out on the gritstone edges after which he moved to the North Wales scene and hence onto the alpine ranges where he successfully repeated 'The Big Six'; the Eiger, Matterhorn, Grande Jorasses, Aiguille de Dru, Cima Grande and the Piz Badile. His list of ascents includes many in the biggest and most remote mountains of the world including the Himalaya, Peru, Alaska and Russia.
Smiler qualified in 1990 and subsequently operated as a member of both the British Guides (BMG) and the International Guides (IFMGA).
Smiler was also member of numerous clubs including The Alpine Club, The Alpine Climbing Group, Scottish Mountaineering Club, Fell and Rock Climbing Club, Austrian Alpine Club and the Climbers' Club of which was a past President.
Following his retirement he continued to enjoy many climbing trips both at home and overseas which he organised with numerous climbing friends from his base in Scotland.