Slovenian double as Garnbret and Kruder both take boulder gold in Moscow
April 15th; 2019
In a Slovenian double, Janja Garnbret and Jernej Kruder took the golds at the IFSC WC bouldering event in Moscow over the weekend.
Janja Garnbret taking her second gold of the season in characteristic back-to-back wins
The IFSC action went east to Moscow over the weekend for the second leg of the WC bouldering season and the first speed event of the year. Both events attracted increased competitor numbers as the athletes once again sought to broaden their experience ahead of Tokyo.
Jernj Kruder flashing M4 to take the win in Moscow
Following the opening round in the bouldering in Meiringen the previous weekend, Garnbret and Ondra looked like strong favourites for another win. Back-to-back wins for Garbret in the women's event – although obviously super impressive - are nothing new but the winners in the men's events are traditionally much more varied; every event in 2018 for example, was won by a different competitor. But if anyone could score back-to-back wins in the men's it would surely be Ondra?
Qualification on Saturday saw Janja Garnbret on-fire; with five tops and zones in five attempts she topped her group. Emily Phillips had another storming result coming in second in Group 1 a whisker ahead of Shauna; both finishing with five tops and five zones albeit in 9 + 7 and 9 + 8 attempts respectively. A further five other athletes also finished with five tops and zones in that group but all had more attempts. Fanny Gilbert took the top position in Group 2; the only one to get five tops/zones in that group. The women's semi-final on Sunday was brutal however and the number of tops was greatly reduced. Climbing really well Shauna finished the semi's in first place with two tops and three zones; second-placed Janja Garnbret coming in just behind taking a few more attempts to get the same number of tops/zones. Jessica Pilz, Fanny Gilbert, Lucka Rakovec and Futaba Ito took the remaining final places; remarkably Futaba Ito's making the finals cut with just three zones!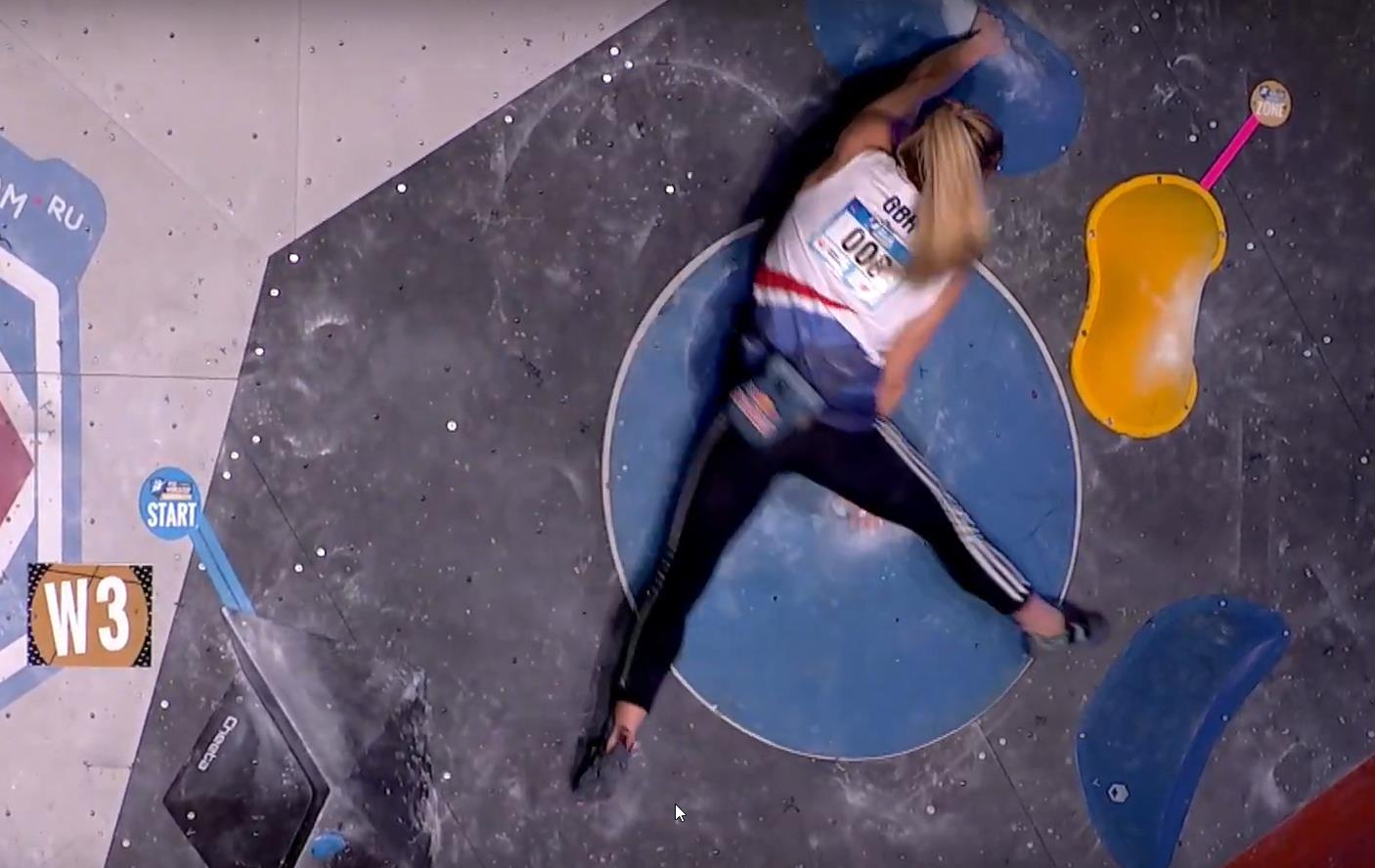 Shauna taking second place
The men's qualification round saw a total of seven climbers all finishing with five tops and zones although remarkable man-of-the-moment Adam Ondra had an absolute nightmare of a round. Seemingly rattled from the get go by the first bloc Ondra only just made the semi's finishing in tenth and final place in his group having had an absolute nail-biter watching to see if he could hold onto his tenth place or whether any of the later climbers would condemn him to an early exit. Jernej Kruder on the other hand had an absolute peach of a round finishing with five tops and zones in only seven attempts; "I had a zero gravity day" he said later! As is so often the case, Ondra however, totally dominated the men's semis and was the only climber to top all four blocs; in cvontrast Kruder finished the semi's in sixth!
The women were first out for the finals. In contrast to the semi's, tops came more freely – almost too freely; all six women, for example, topped the second problem. The business end of the final, W3 and W4, both had parkour style cruxes which favoured a more dynamic style. Whilst Garnbret almost literally bounced her way up the wall flashing both W3 and W4 in her flamboyant 'go-for-it' style. Shauna however opted for a more studied, careful and less dynamic approach. Whilst Garnbret flashed both, Shauna climbed W3 and W4 on her second attempt on each. With a different style to W3 and W4 Shauna might have held onto the lead but as it was Janja Garnbret just pulled ahead to take the win forcing Shauna into second ahead of fanny Gilbert in third. Nevertheless Shauna is back competing at the highest levels.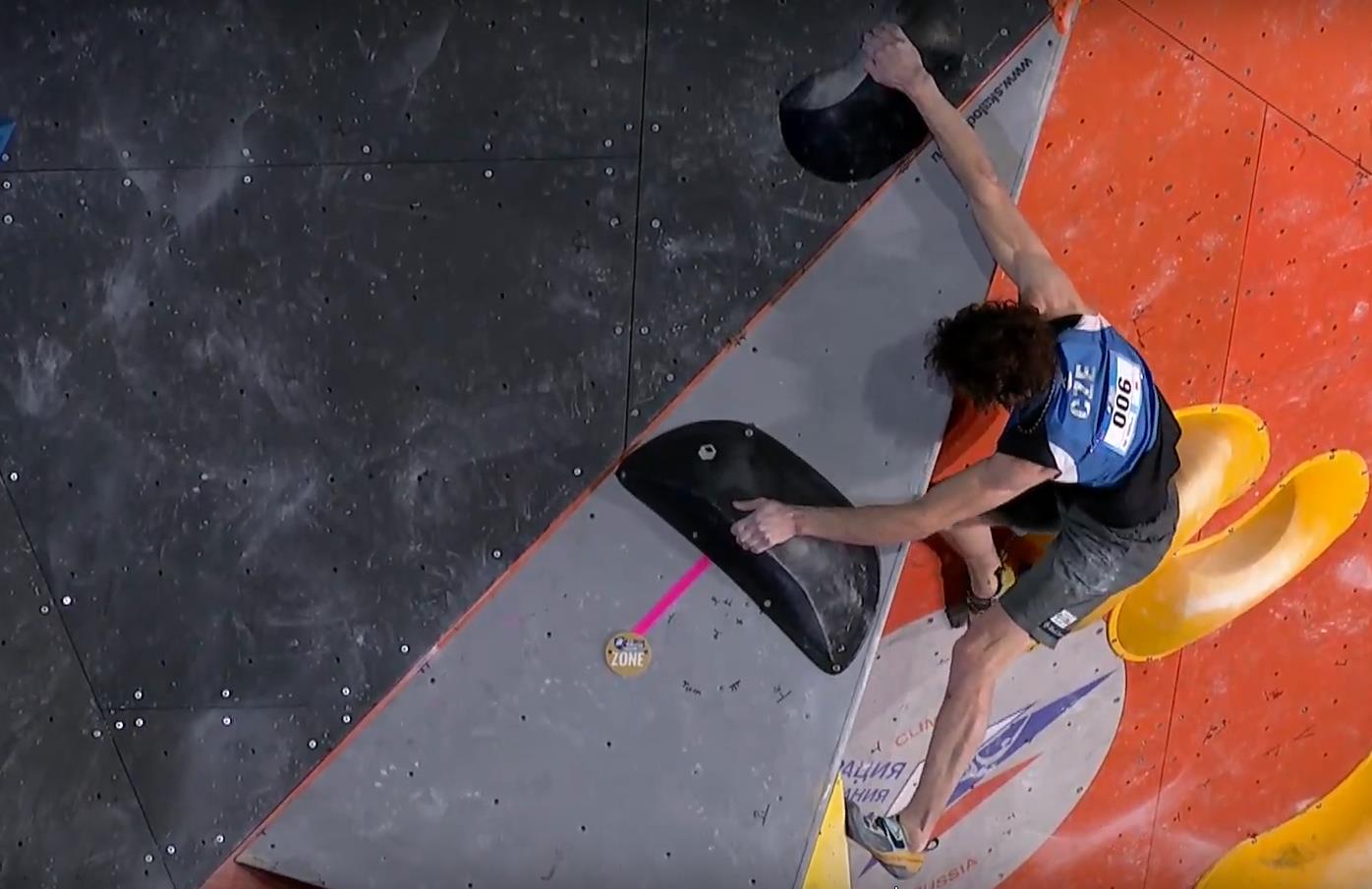 Adam Ondra taking second
The men's final was also a frenzied, top-rich round in which Ondra and Kruder just managed to stay ahead of the young 16 year-old Japanese climber Yoshiyuki Ogata. Once again M4 was central to Ondra's campaign; although instead of a gimme jam crack he faced a compression-style bloc. Climbing first Kruder came out and destroyed M4; Ondra had to do it in three goes or less to take the win. Making an unforced error Ondra's first go was frustrating waste. His second and third goes were better but taking the zone with his right hand rather than his left hand made it very difficult to progress. In the end Ondra didn't top M4 and it cost him dearly; Kruder took the win forcing Ondra into second. Ogata took third.
Moscow Results
For the full results, including those for the speed event, click through here to go to the IFSC website.