Slew of hard first ascents in Europe continues
Tuesday 24th November 2015
Nov 24th; 2015
The send train – as they say - is running amuck in Europe with a number of hard first ascents (F9a to F9b and Font 8c+) coming from Pirmin Bertle, Jakob Schubert and Gabriele Moroni as well as a bunch of significant repeats being chalked up by Edu Martin, Stefan Carnati and Mina Markovic.
It seems likely that the more favourable weather together with the close of the comp season has triggered a massive outdoor effort and not surprisingly the projects are falling faster than usual it seems. These routes are all in addition to the hard routes we've reported on previously – namely the two new F9bs by Ondra and Ghisolfi (here), a new F9a by Megos (here) and the fourth ascent of Chilam Balam (F9a+/b) by Dani Andrada (here).
Pirmin Bertle on Meiose (F9b).
Pirmin Bertle has added considerably to the Swiss collateral by sending Meiose (F9b) and Drop a Line (Font 8c+), just days prior to departing on a mega trip. Bertle writes at length on his blog (here) about both ascents – as well as the grades he's given his projects. Meiose is a link-up of two other routes - Chromosome Routes X and Y (both F9a) which he did in 2012. Bertle's success on Meiose comes after what can only be described as a considerable number of days on the route – 150 tries since 2011! Meiose includes two Font 8b bloc sections as well as considerable amount of what Bertle calls 'pure resistance' climbing. Bertle has historically spent considerable time and effort on his previous first ascents – some of which have been repeated and confirmed at the grade - by Ondra. He suggests that Meiose is now Switzerland's hard route.
Pirmin Bertle on Drop a Line (Font 8c+).
Prior to sending Meiose, Bertle did Drop a Line (Font 8c+). The hardest of the six projects at that venue, Bertle proposes a Font 8c+ grade based on other blocs he's climbed recently. Both ascents come after a considerable period away from the cutting edge during which time he suffered ill health (bone marrow edema).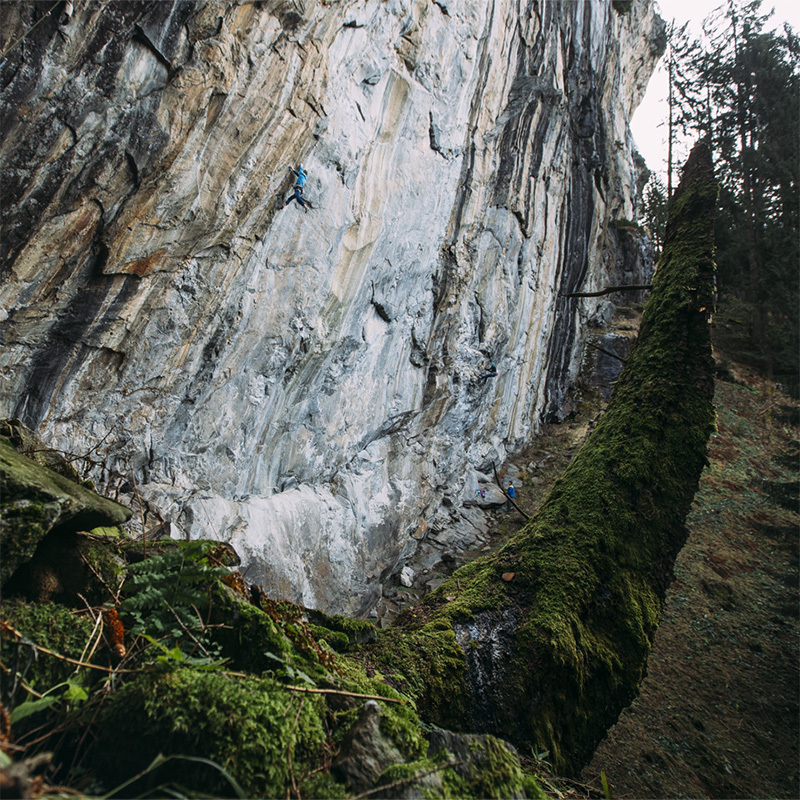 Photo by Elias Holzknecht / Woodslave Productions
Across the border in Austria, Jakob Schubert has freed Companion of Change (F9a) to give the first route of that grade at Zillertal. Schubert's ascent came after repeating Thor's Hammer (F9a+) in Flatanger earlier in the summer and finishing the lead world cup in third. In Schubert's own words; "I didn't waste much time after Kranj and went pretty much straight to Zillertal to try a long-standing project at Bergstation." Schubert has been trying this line for some time and having come close to sending it last year it was; "one of my big winter goals to finally finish it". Schubert did Companion of Change on his third try of the day. Schubert had this to say about the grade; "I'm going with 9a on this one, although it felt really hard and could be 9a+, too. Let's see what repeaters will say."
Photo by archivio Gabriele Moroni
Finally, for the moment at least, we can report Gabriele Moroni's first ascent of Sid Lives (F9a) at Nago, Arco on the northern shores of Lake Garda. Alongside Massone, Nago is one of Arco's best known crags although its popularity comes from the wealth of mid-grade routes rather than its harder test-pieces. Sid Lives, along with Manusta (F8c) and some other hard routes, is on the initial sector. This area has been the focus for hard climbing in recent years after visiting Marcus Bock established the first hard routes a few years ago. According to Planet Mountain (click here to read their report), Gabriele Moroni, first repeated some of the harder routes then bolted a Hubble-esque project at Nago. Initially however, Moroni was unable to sort the crux moves out and he left his project. Since then Stefano Ghisolfi bouldered out the crux and so doing inspired Gabriele Moroni to return. On his recent visit Moroni was able to do the moves and then start redpointing. Success came relatively quickly afterwards on Sid Lives which is said to have a Font 8b as its crux. In total, Sid Lives is 20 moves long although the wall is massively steep at 40 degs overhanging.
We'll bring you details of the hard repeats – including a F9a by Stefan Carnati, the 17-year old Italian – shortly so stay tuned…