Showtime with Karin Magog
Thursday 27th August 2015
Aug 27th; 2015
As we reported yesterday, Karin Magog topped out on Showtime F8b over the weekend.
Karin Magog, usually climbing with Steve Crowe, is a regular on the sport climbing scene both in the Yorkshire Dales as well as Europe. Her tick-list evidences her obvious capabilities as well as a gritty determination to get the job done. Her harder European victories include El Infierno F8b/+, Golpe de Gas F8b, Aonvolsna F8b, A Muerte F8a+/b, La Montana Magica F8a+/b and ATP 3 F8a+/b. In this instance however, we're concentrating on her Dale's ticks where, as reported, she has just added Showtime F8b to an already impressive list which included Huecool F8b and the first ascent of Stolen F8b. In addition to a whole rake of F8a+ and F8a redpoints, Karin has also on-sighted half a dozen or so F8a. And lest we forget, Karin is also an extremely capable trad climber with many hard routes to her credit.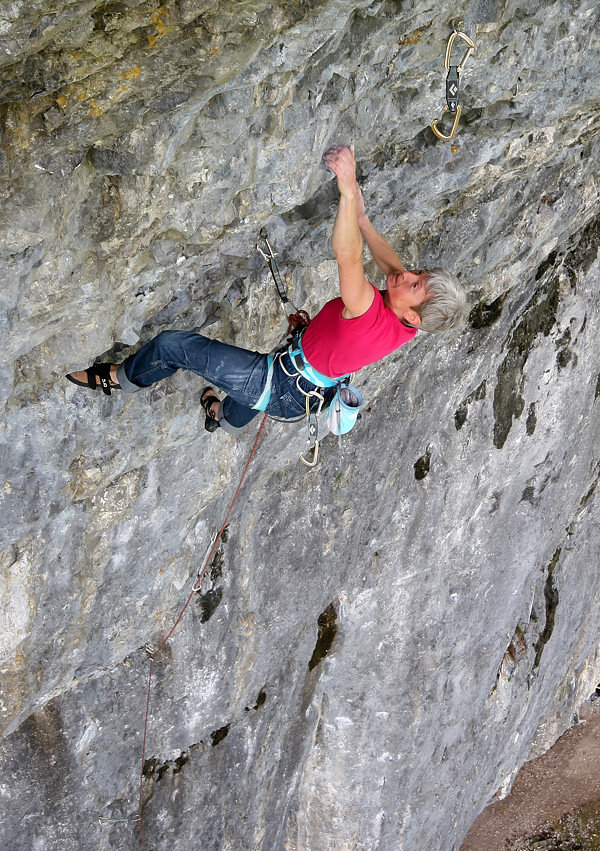 Karin Magog on the upper section of Showtime. Photo Steve Crowe
Like many who climb in the Dales over the summer, Karin is a frequent visitor to Kilnsey. In 2006 she took Steve Crowe's Cold Steal F8a and extended it to the top of the crag to give Stolen F8b – one of the few F8b first ascents in the UK to be done by a women. Now however, Showtime has come under hammer. CLIMBER have been in touch with Karin for the full details…
Great effort on getting Showtime ticked – not least because of the seepage from the recent rain. That must have been rather worrying as a number of climbers have been washed-off their routes by the rain/seepage.
I was a bit worried about the seepage. The route took a long time to dry and I knew once the rain started that I was running out of time. Fortunately I got it done on Sunday as when we went back on Tues some of the crucial pockets were wet.
The Directissima Area at Kilnsey – Stolen and Showtime take the wall beneath the left-hand end of the main overhang. Photo Steve Crowe
You are no stranger to the Directissima Area of Kilnsey having done the first ascent of Stolen F8b back in 2006. Was there something specific that attracted you to Showtime or have you just fancied that route since doing Stolen?
I've wanted to do Showtime for a long time, way before I did Stolen, but due to the long moves on it I felt it was literally out of my reach. I settled for an ascent of the lower wall (now written up as Halftime) back in 2004 I think.
Can you described the climbing on Showtime and perhaps compare it to that on other routes on that section of Kilnsey like Stolen. Give us a flavour of the type of climbing where it's cruxy or more Euro-style endurance-based.
The other routes at the left-hand end are more endurance based and a bit techy, definitely my preferred style. Showtime is much more about power endurance with three very distinct crux sections with shake-outs in between. The bottom wall is very thin and technical, the middle crux is pretty burly and involves a big move off an obvious flake then the top comes down to a very big slap off a particularly small undercut and a tiny crimp. I spent 3 days dropping this move before I finally latched the break.
Is Showtime one of the stand-out hard routes and if so why? Was there one route that you're most pleased to have ticked and why?
Showtime was perhaps the most satisfying as until recently it seemed impossible. I had a couple of runs up it last year and eventually made some progress on some of the big moves which offered a glimmer of hope that it may actually be do-able. It's a great feeling to succeed on something that you know really tested you.
The picture you posted on FB showed a pretty big split in one of your fingers – was that from Showtime?
Yes it was. The final couple of crimps are pretty small and sharp and you really have to bone them. I split the tip on Thursday initially so was only able to have one attempt that day. I knew when I went back on Sunday that my skin won't last so I really went for it, managing to slice my finger pretty well in the process. Fortunately it paid off as I don't think I could have done the bottom wall with tape on.
Are you still doing as much trad climbing as you have done in the past and do you find that sport climbing endurance helps with the trad?
Due to various circumstances we've been doing a lot less trad over the past few years. I did a handful of E5's last year but haven't done any trad at all this year. Showtime isn't the best route for training endurance so I reckon I would probably get a bit pumped placing the gear at the moment.
You've been climbing at that level and have ticked several F8b's now so what's your next objective? Freakshow perhaps – assuming that's still dry?
Freakshow is looking pretty wet at the moment but even so I think it's a bit out of my league. The crucifix move looks particularly wild. There's a few routes down in Spain that I've got my eye on though.
CLIMBER would like to thanks Karin for the Q&A and Steve Crowe for the use of his photos.