Shauna Coxsey to contest Kranj World Cup Lead event
Wednesday 25th October 2017
Oct 26th; 2017
With a little over a week before the closing date for entries for the final 2017 World Cup Lead event in Kranj, Shauna Coxsey has thrown her hat into the ring as a starter.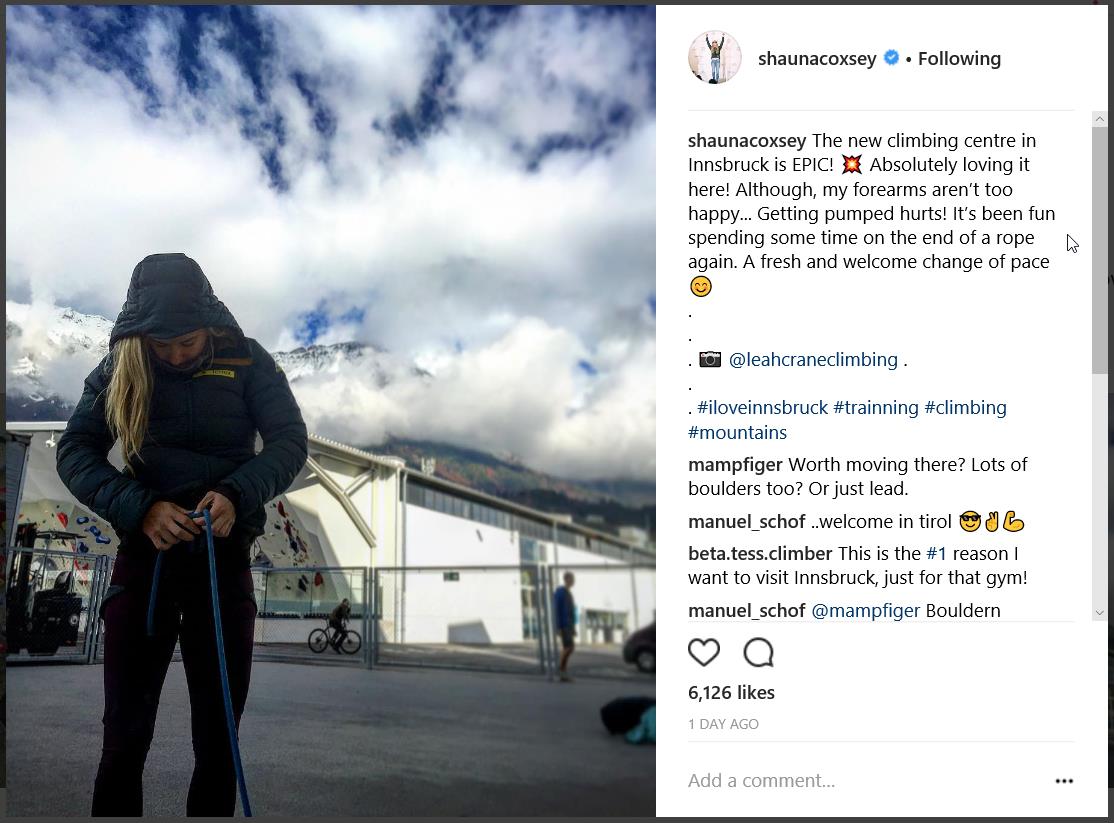 Shauna's Instagram post from Innsbruck
For two-time World Cup Boulder champion, Shauna Coxsey, it'll be her first appearance in a lead comp for some time. However, it's not a total surprise as those that follow Shauna on social media will know given she's been tying-in at the latest and greatest Euro comp wall at Innsbruck in Austria as well as a number of walls in the UK recently.
She had previously declared her intention (click through here for that report) to bid to complete at Tokyo. Shauna will be lining up against a number of her usual bouldering rivals like Akiya Noguchi and Miho Nohaka at Kranj as they try their hand in the final lead comp of the year as they prepare for the forthcoming Olympics in Tokyo in 2020.
In addition to Shauna, Molly Thompson-Smith, currently in 8th place in the overall standing, Hannah Slaney (in 28th) and Jennifer Wood (in 52nd) will also be starting. Jim Pope (currently in 36th) and Will Bosi (in 46th) will be in Kranj for the men's team.
Click through here to see the other starters at Kranj for the Nov 11-12th comp.