Shauna Coxsey takes third consecutive gold at Chongqing whilst Tomoa Narasaki wins men's event
May 3rd:2016­­
Hot news from the third round of the IFSC World Cup bouldering is that golden-girl, Shauna Coxsey, took her third consecutive win in 2016 at the Chongqing event over the weekend whilst the men's gold went to Tomoa Narasaki of Japan.
Shauna Coxsey on her way to topping W4 and taking her third win from three events in Chongqing. IFSC video grab.
Shauna's dream start to the 2016 World Cup bouldering season continued as she, once again, won the women's event to take her third gold from the first three comps of the season. The 2015 boulder queen, Akiyo Noguchi, upped her game considerably in Chongqing to take second place and provide the only real competition to Shauna. The Coxsey-Noguchi head-to-head went down to the wire with the last problem providing the decisive result in Coxsey's favour. Had Shauna not topped W4 then the result would have been switched around. In the end, both Coxsey and Noguchi collected three tops and four bonuses but Coxsey's hit-rate was significantly better than Noguchi's collecting her tops in 7 rather than 13 attempts and her bonuses in 8 rather than 13 goes. Miho Nonaka picked up the third podium position with a single top (in three attempts) and two bonuses (in four). Frenchwomen, Melissa Le Neve, running second to Shauna in the overall standings, failed to make the finals as did Fanny Gilbert (third in the overall standings) and as a consequence both fell farther behind Shauna in the points in the overall standings – see later. UK competitors Michaela Tracey and Leah Crane finished in 10th and 17th place respectively.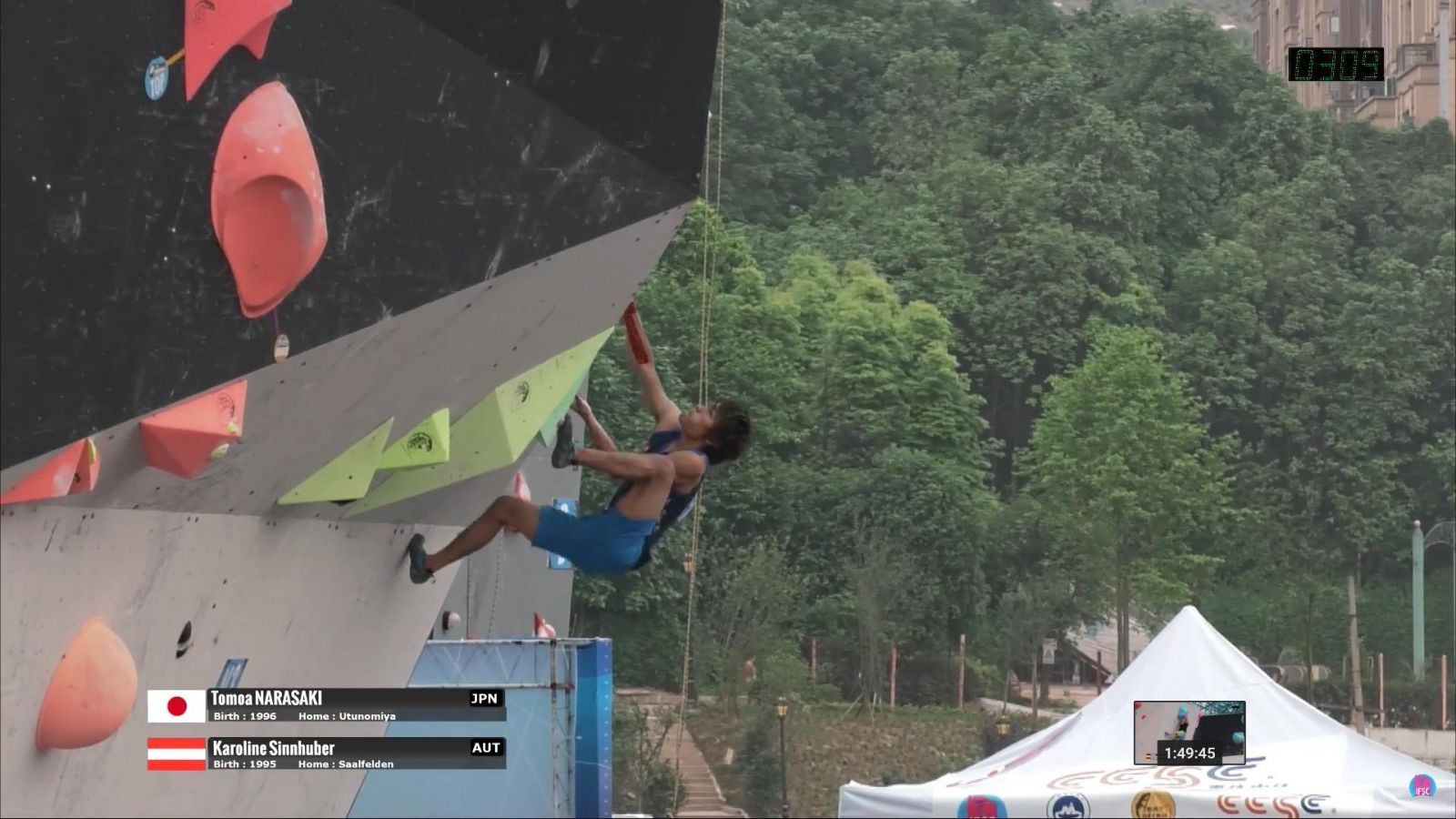 Tomoa Narasaki wining the men's event in Chongqing. IFSC video grab.
The men's event continued with its weekly churn in the podium places as once again a completely different set of climbers took the top three places to those that had podiumed in the previous round in Kazo. Tomoa Narasaki ran-out a clear winner in Chongqing with three tops (in eight attempts) and three bonuses (in four) whilst Jan Hojer picked up second place and his first podium of the season with two tops (in three attempts) and four bonuses (in 13). Korean climber, Jongwon Chon collected third place podium position just behind Hojer with the same number of tops and bonuses but falling behind having taken more attempts. Overall leader, Alexsey Rubtsov made the final but finished in fifth place whilst last weekend's winner Rustam Gelmanov failed to make to cut and finished in 9th. Sean McColl once again finished in seventh just missing out on the final whilst the UK's Tyler Landman finished in 15th.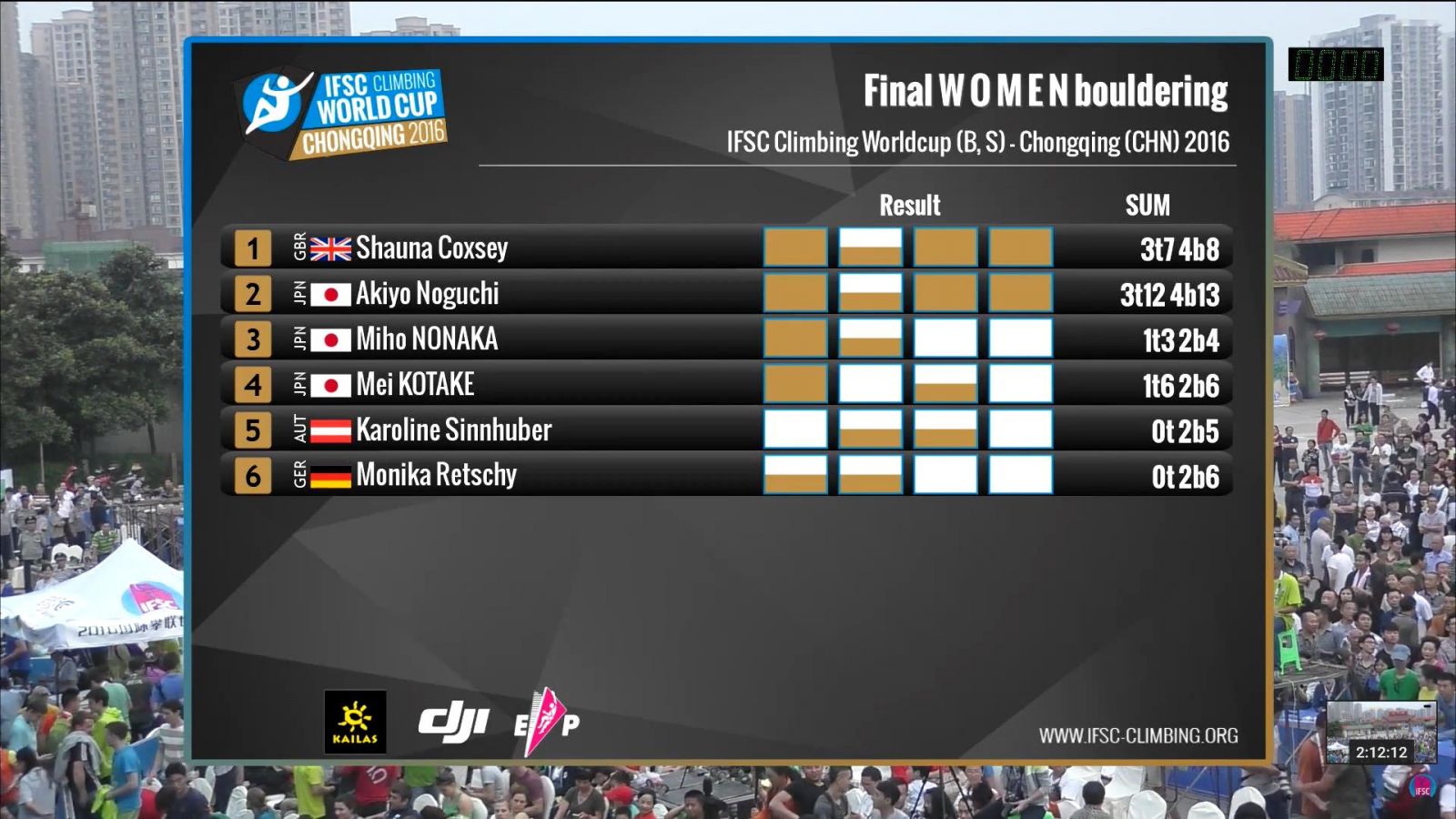 Women's Results in Chongqing.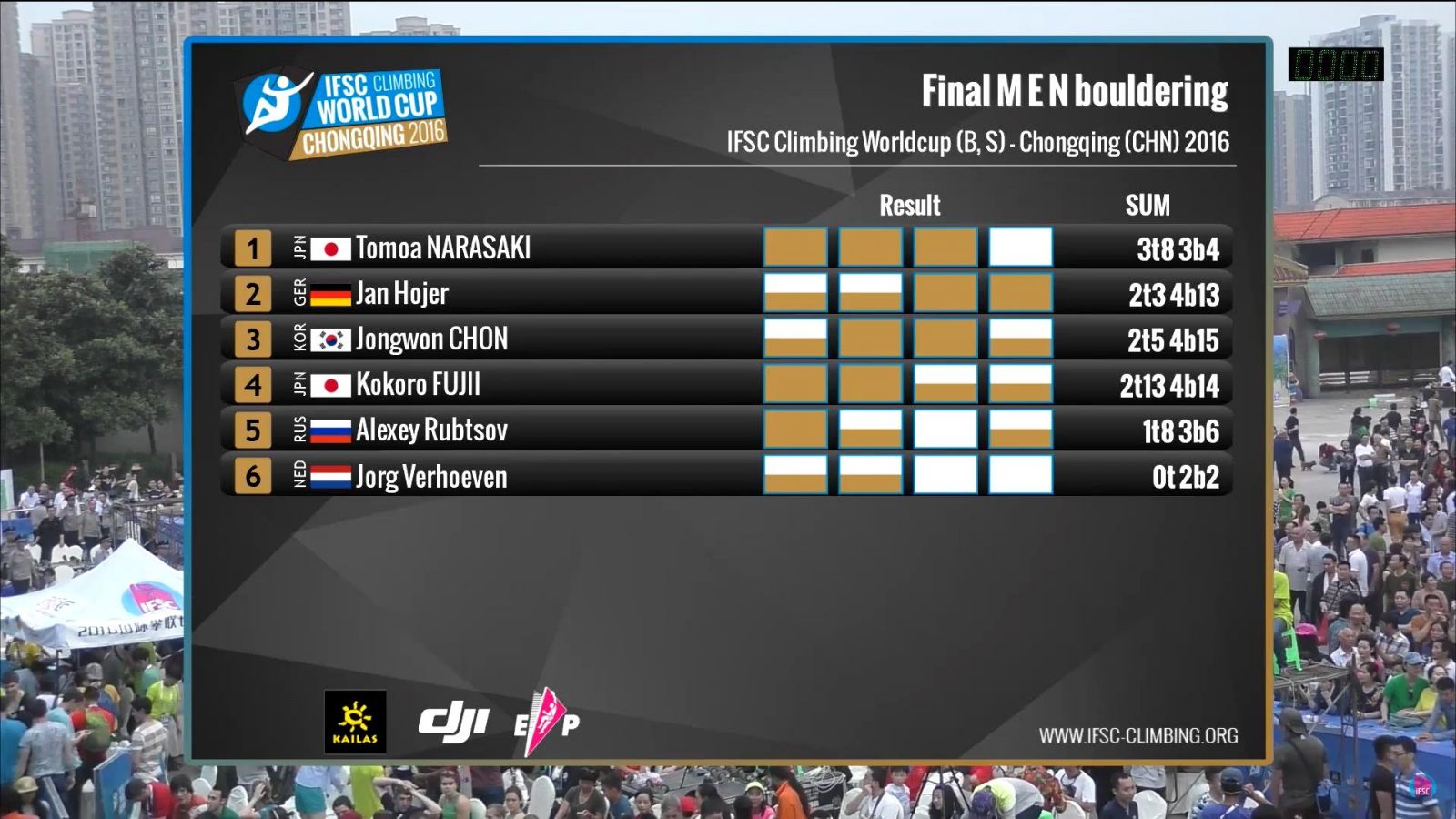 Men's Results in Chongqing.
The overall standings in the women and mens events could hardly be more different. Run-away leader in the women's stream remains Shauna Coxsey now with a considerable lead on a perfect 300 pts score ahead of Melissa Le Neve (203 pts) and Miho Nonaka (154pts). Akiyo Noguchi is now in fourth overall place (147 pts) with Fanny Gilbert slipping back to fifth (131 pts). Michaela Tracey lies in sixth (117 pts) and Leah Crane is in 12th overall (71pts).
Over in the men's event the top two have changed places after Chongqing with Alexey Rubtsov in first with 177 pts and Rustam Gelmanov in second on 165 pts. Kokoro Fujii meanwhile is hanging onto third place overall with 155 pts although Jan Hojer with 152 pts is pressing hard behind him. Chongqing winner Tomoa Narasaki is in fifth with 138 pts whilst Tyler Landman is in 9th overall on 97 pts.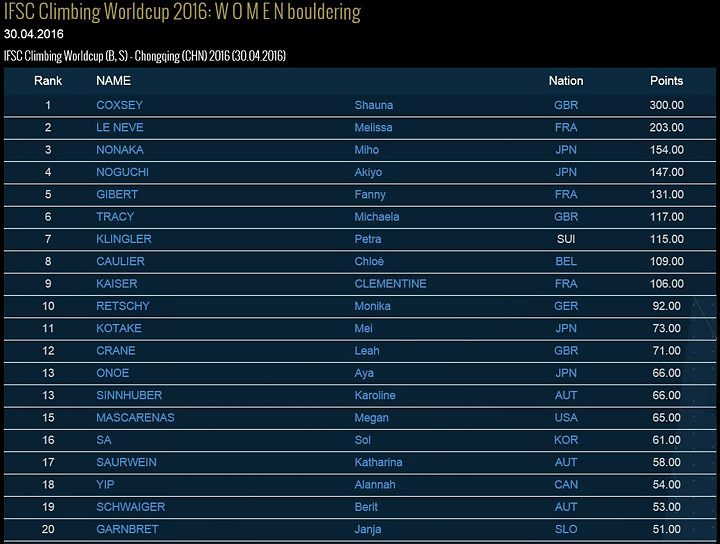 Women's overall standing after Chongqing
Men's overall standing after Chongqing