Shauna Coxsey takes the win at La Sportiva Legends
Monday 27th November 2017
Nov 27th; 2017
Shauna Coxsey wrapped up a great year on the competition circuit by taking the win at the 2017 La Sportiva Legends in Stockholm over the weekend.
Shauan Coxsey, 2017 WC Bouldering Champion and La Sportiva Legend
This year's comp, the seventh annual La Sportiva Legends, comprised four redpoint blocs which the competitors had worked last Thursday plus a single on-sight bloc. Under La Sportiva Legends rules, the competitors each try the problem in rotation up to a maximum of three goes each. Not surprisingly, the difficult was very high on the worked blocs. Strongman and co-presenter, Alex Megos along with the setters, talked about the blocs in turn providing a useful in-sight to the weird and wonderful concoctions that were on offer.
The comp switches each year between male and female and for 2017 the ladies were back in the spotlight. Joining World Cup bouldering champ Shauna Coxsey for the comp were Petra Klinger, Melissa le Neve, Stasa Gejo, Katja Kadic and Fanny Gibert.
Bloc 1, featuring a plethora of half-moons, was clearly a powerful number and stopped all but Fanny Gibert.
Fanny Gibert flashing B1
Bloc 2, a left to right rising traverse on black and white dual texture volumes, saw now less than four of the athletes topping out – three, Melissa, Stasa and Shauna nailing it on their first attempt.
Melissa dispensing with B2
Nearly half way through the comp there wasn't a deal to separate the climbers – the top two, Melissa and Stasa having one top whilst Shauna in third place also had one top in one go but was trailing behind having taken three goes to pick up her two bonus holds.
Bloc 3 was clearly designed to sort out the best of the best and Shauna along turned on the power to get the flash. Stasa also topped but took multiples goes to do so and Petra came within a whisker only to fall off the final move. At the end of B3 Shauna had moved up into clear position ahead of the field and was starting to look dominate once again.
Stasa finishing off B3.
B4 was an inspired piece of setting given it featured both delicate and super-powerful moves as well as amazing core/conditioning strength. In essence, Shauna bossed-it from the get go. Her third flash meant that she pulled further away from the other competitors. Fanny and Petra both topped B4 on their second goes.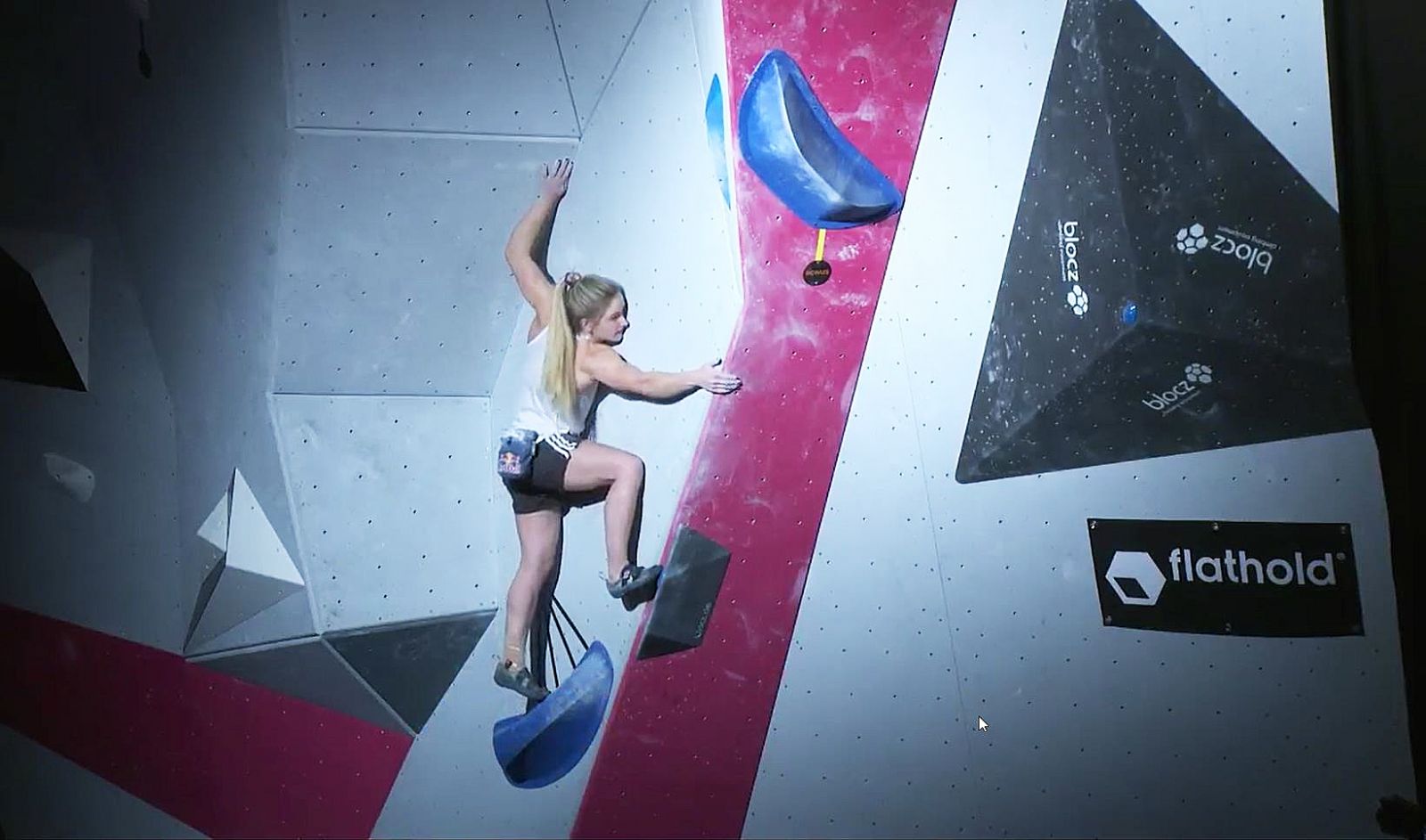 Shauna crusing B4.
So, at the end of the four worked blocs Shauna and Stasa had three tops each albeit Shauna had scooped hers in only three attempts whilst Stasa had taken five. Fanny was in third with two tops in five goes. Stasa was the only athlete that could stop Shauna talking the win but would have to top the on-sight bloc in two or less goes than Shauna. The pressure was on! It quickly became apparent that the final bloc – which featured a mahoosive truncated cone – was a savagely powerful shoulder press; not exactly what Shauna would have wished for given her shoulder surgery last year. As it was neither Shaua nor Stasa topped B5 – that pleasure went to Petra alone!
Finally then, Shauna took the win with Stasa coming in second and Petra ousting Fanny to take third place. The audience were especially appreciative of all the efforts although Shauna was clearly disappointed that she'd not topped the final bloc – so much so that her pulled her boots on after the comp had finished and duly sent it!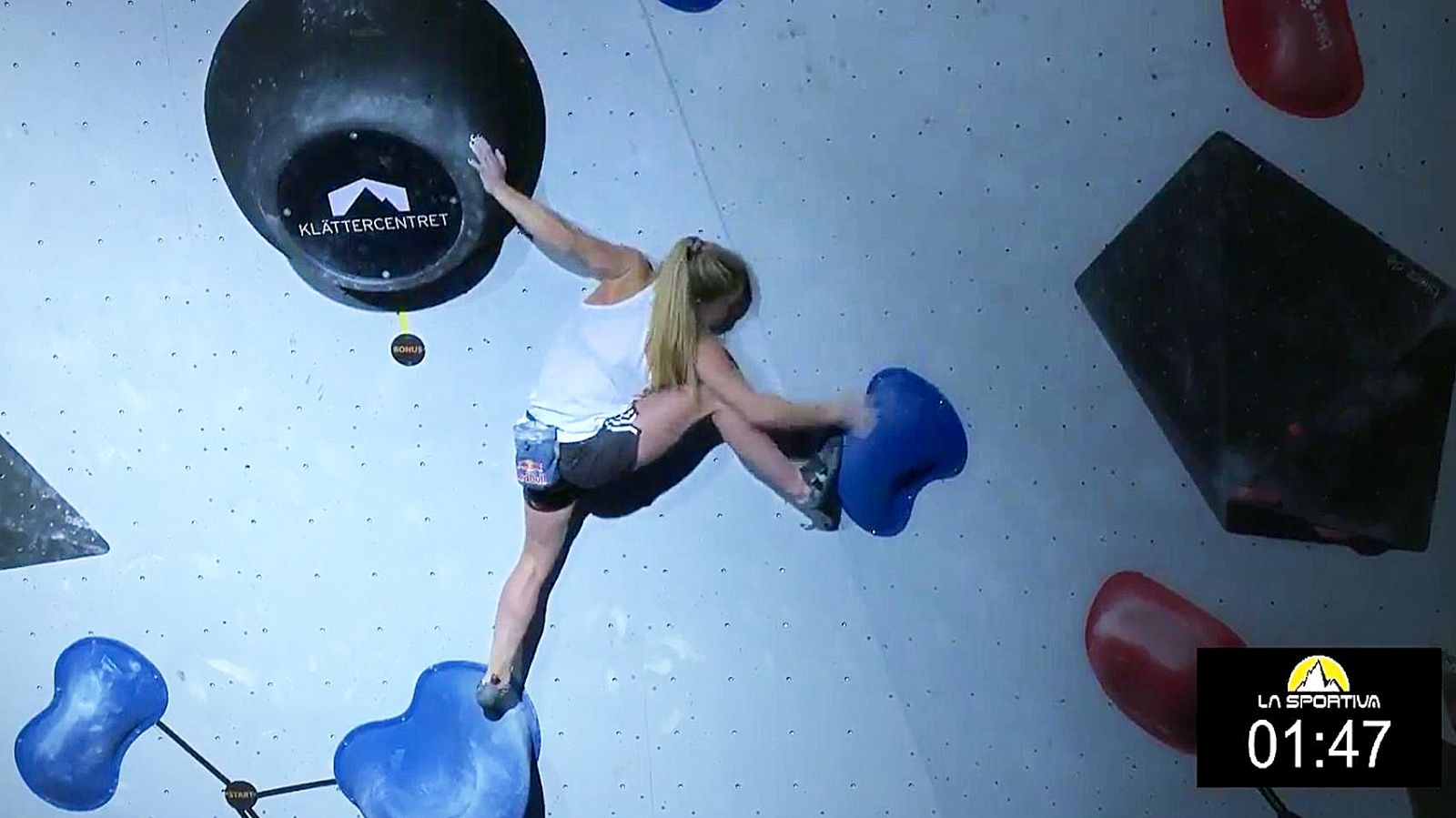 Shauna and that shoulder move on the on-sight B5.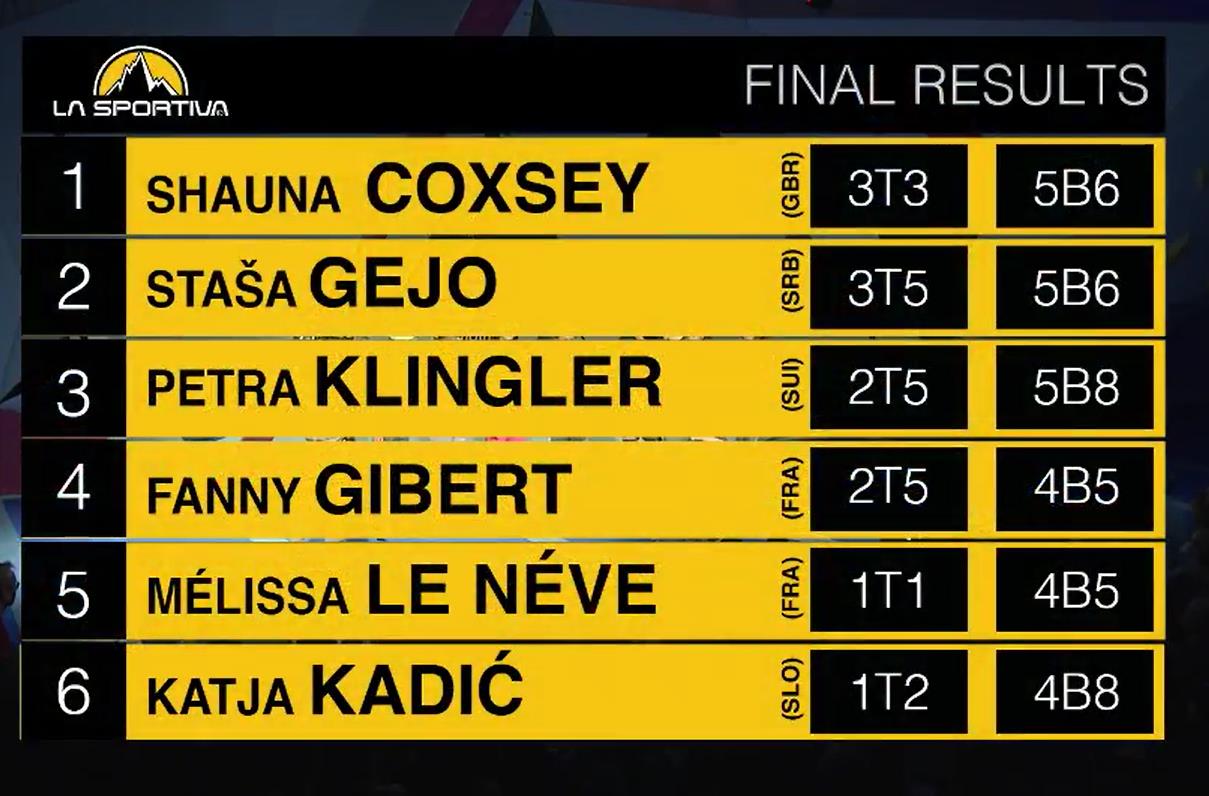 The final results of the 2017 La Sportiva Legends.
Watch the La Sportiva Legends here...