Shauna Coxsey takes 2016 WC title and Mascarenas and Fujii win in Vail
June 14th; 2016
Despite winning the fiercely-contested Vail leg of the IFSC Boulder World Cup over weekend, Megan Mascarenas and Kokoro Fujii were overshadowed by Shauna Coxsey whose second place finish was enough for her to take the 2016 IFSC Boulder World Cup Championship outright.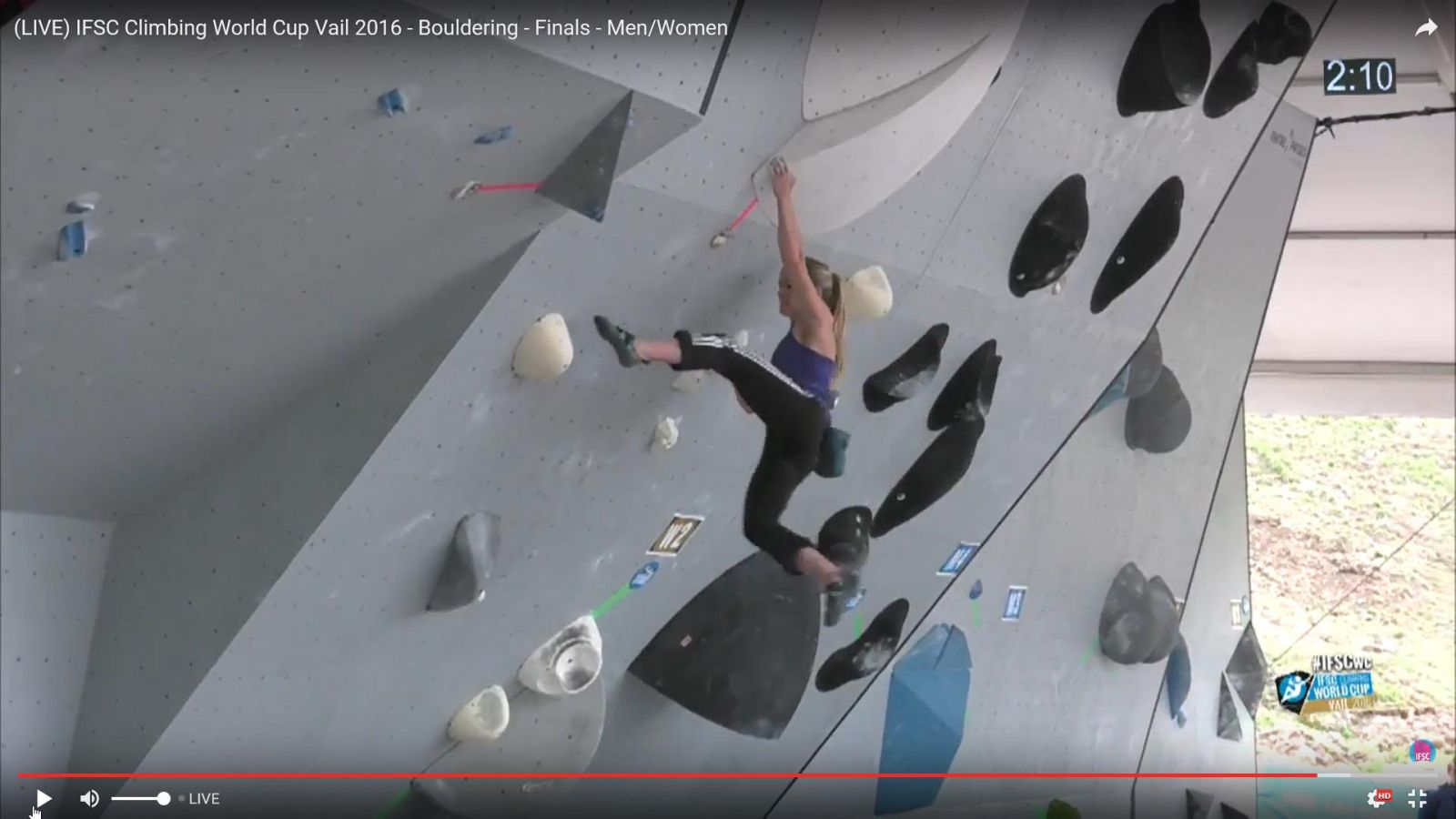 Shauna Coxsey flashing W2. Video grab
As usual, a large crowd turned out to watch the all-star cast at Vail and no doubt a majority were hankering for success for the USA competitors. Perhaps attracting the biggest interest were last year's winner Megan Mascarenas and the power-house Alex Puccio. Alex's return to the WC circuit has been eagerly anticipated following her forced retirement last year with knee problems following a short but very awkward and damaging fall. That said, no one in the crowd could have doubted for a second that would-be champion Shauna Coxsey - to say nothing of Miho Nonako, Melissa Le Neve and Anna Stohr - would be looking to spoil the USA party.
Megan Mascarenas flashing W4 to retain her Vail crown and take gold. Video grab
Vail is well-known for being a tough comp thanks to the altitude and heat. Add to that the tough blocs and the 2016 Vail event wasn't for the faint-hearted. As it was, neither Jan Hojer nor Nathaniel Coleman survived qualification in the men's event so it was obviously tough out there – a fact that was reiterated by Dave Barrans during his subsequent co-commentary stint and Shauna Coxsey on FaceBook. Michaela Tracey got through to the semi's alongside Shauna although Leah Crane's comp ended at qualification stage.
The semi's were equally punishing with lots of big names failing to make the cut for the finals. Miho Nonaka and Alex Puccio pulled in three tops apiece with Mascarenas, Coxsey, Le Neve, Stohr each collecting two. Shauna's progression into the final was something of a nail-biter as she secured her semi place by doing the final bloc right on cue – one more attempt would have been one to many! Over in the men's, a particularly difficult dyno on M1's caused considerable stress for many – even those that topped out racked-up considerable number of attempts. Team GB competitors, Tyler Landman and Dave Barrans, sadly didn't make it past the semi's although they were in revered company with the likes of Daniel Woods, Martin Stranik, Jorg Verhoeven and Jongwon Chon who also crashing out.
Rustam Gelmanov styling his way up M3. Video grab
The women's finalists were pretty well strung-out by the setters. Alex Puccio, seemingly suffering from a neck injury which she'd picked-up somewhere on-route to the final, didn't climb anywhere near her best – neither did Miho Nonaka nor Melissa Le Neve. Anna Stohr, on the other hand, climbed more like the old Anna Stohr and come in third; a welcome return to the podium for the seasoned competitor. Shauna started well but didn't look at all happy with the bonus hold on W3 and eventually left the stage with time still on the clock. Megan Mascarenus pulled a top out of the bag on said bloc and hence took a well-deserved lead into the fourth and final bloc. Climbing before Megan, Shauna missed a starting hold out on W4 and had to start over again thereby blowing her chance at a flash. She made no mistakes on her second go and topped out a few seconds later but it wasn't enough as Megan Mascarenus prompted hiked W4 pulling out the flash and hence winning the comp and successfully defending her Vail title. However, Shauna's second place gave her more than enough points to amass an unassailable lead over Miho Nonaka, her second-placed rival in the overall championship rankings, and hence finished the comp as the IFSC Boulder World Cup Champion for 2016.
The men's event looked especially brutal. The number of tops was well-down – only Kokoro Fujii managed to top two problems, sufficient to take the win. Fellow Japanese team-mate, Tomoa Narasaki, just edged ahead of Russian Alex Rubtsov by taking less attempts to collect his four bonus holds so Narasaki finished in second and Rubtsov in third. Yoshiyuki Ogata, a third Japanese climber finished in fourth place which bodes well for the future for the Japanese squad given that was only his first every World Cup final. Rustam Gelmanov and Sean McColl finished in fifth and sixth respectively.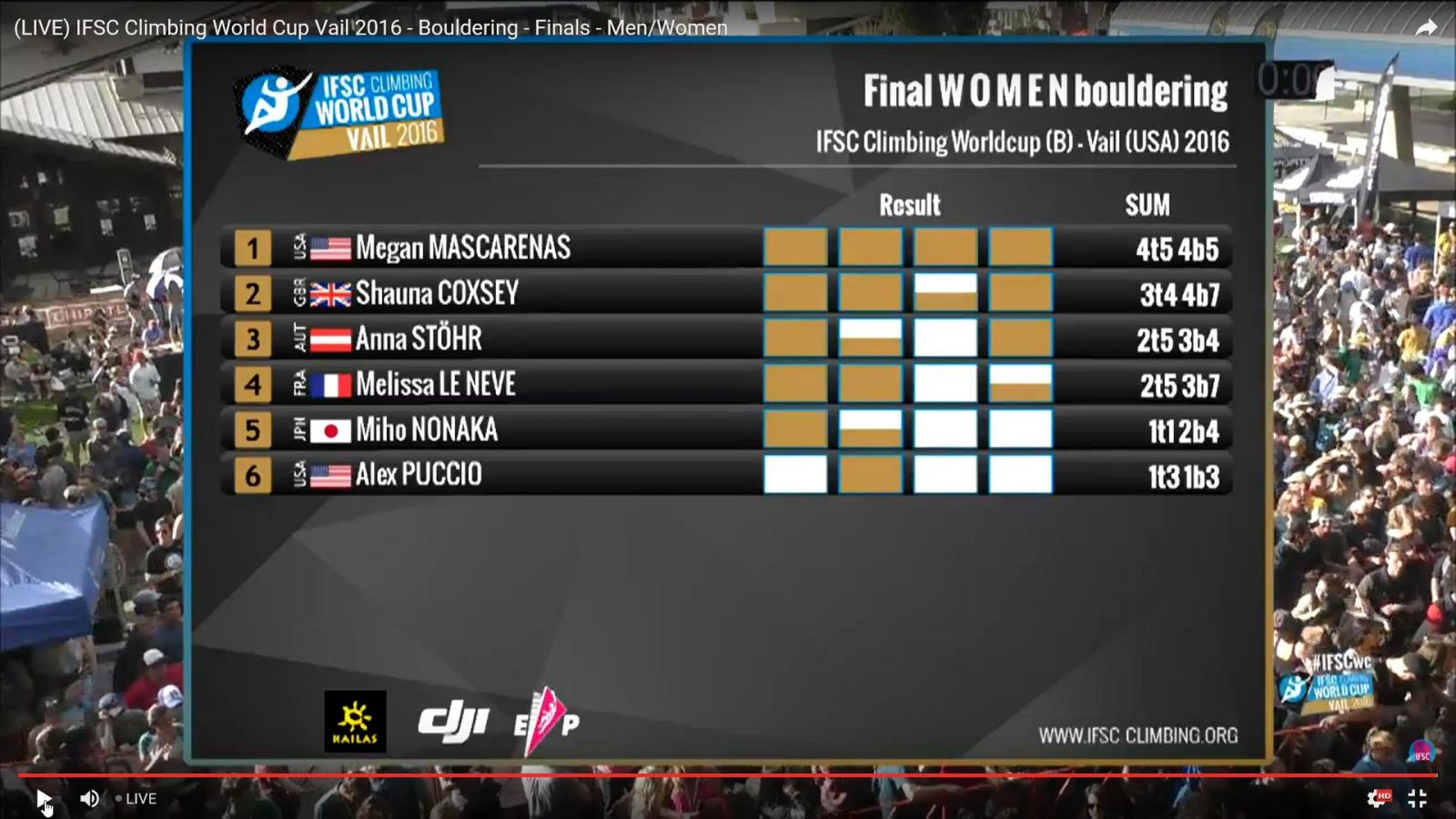 Women's results from Vail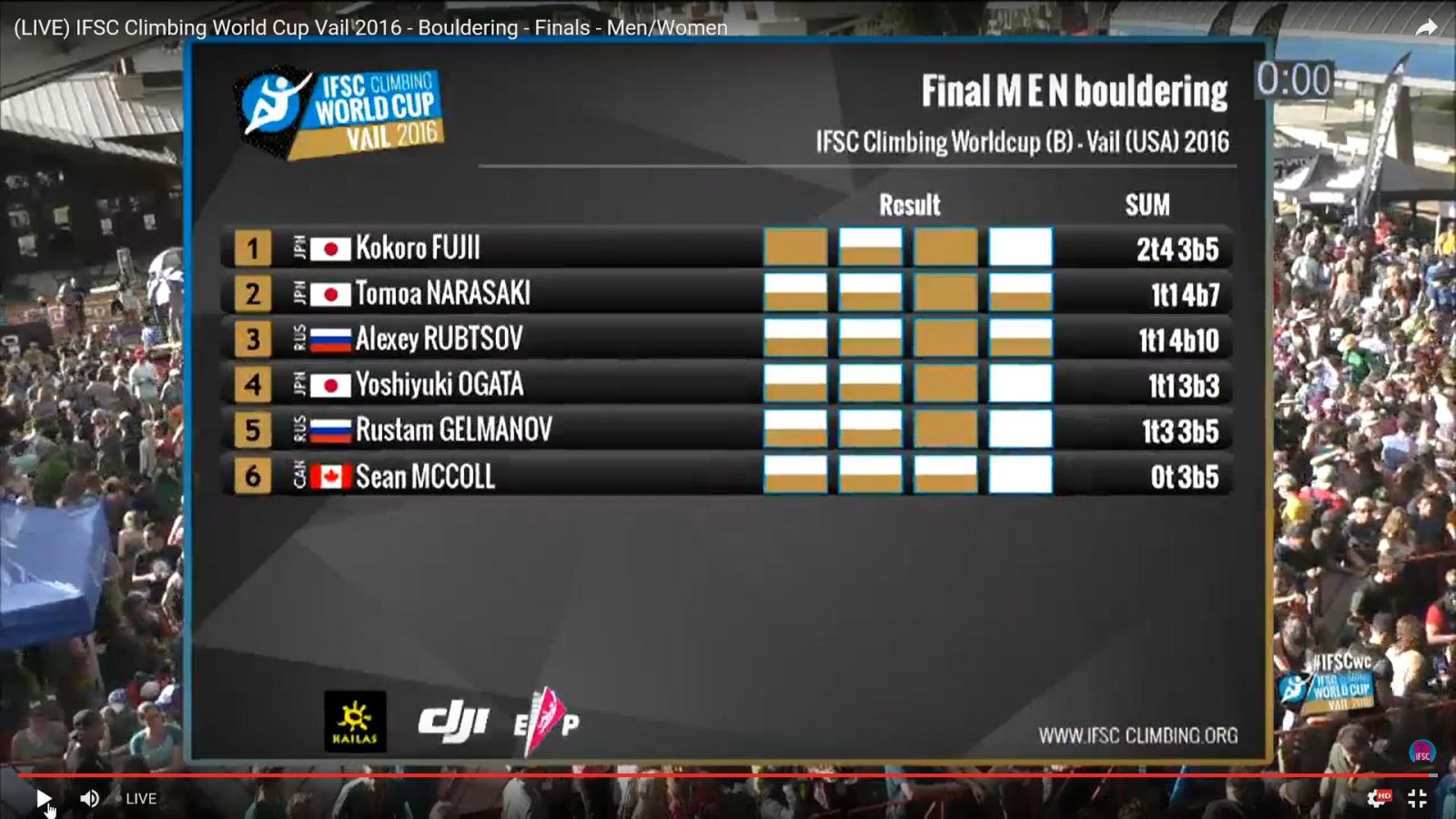 Men's results from Vail
With only one event remaining in the 2016 circuit the women's event is all about second and third place now that Shauna has lifted the title of the year. Miho Nonaka (370 pts) and Melissa Le Neve (353pts) are both well-placed to contest for second place but Akiyo Noguchi (299pts) is still a threatening presence close behind. Brits Michaela Tracey (159pts) and Leah Crane (134pts) currently lie in joint 10th and 15th place respectively.
Over in the men's stream, the title race is far from over given Kokoro Fujii (389pts) leads his fellow countryman Tomoa Narasaki (378pts) by a mere 10 points. Alex Rubstov (327pts) and Rustam Gelmanov (270pts) appear to be vying for third place. Top-placed Brit is Tyler Landman (131pts) in 14th with Dave Barrans (61pts) in 24th. Overall, Team GB (865pts) is in third place in the national standings behind France (1071pts) and Japan (1443pts).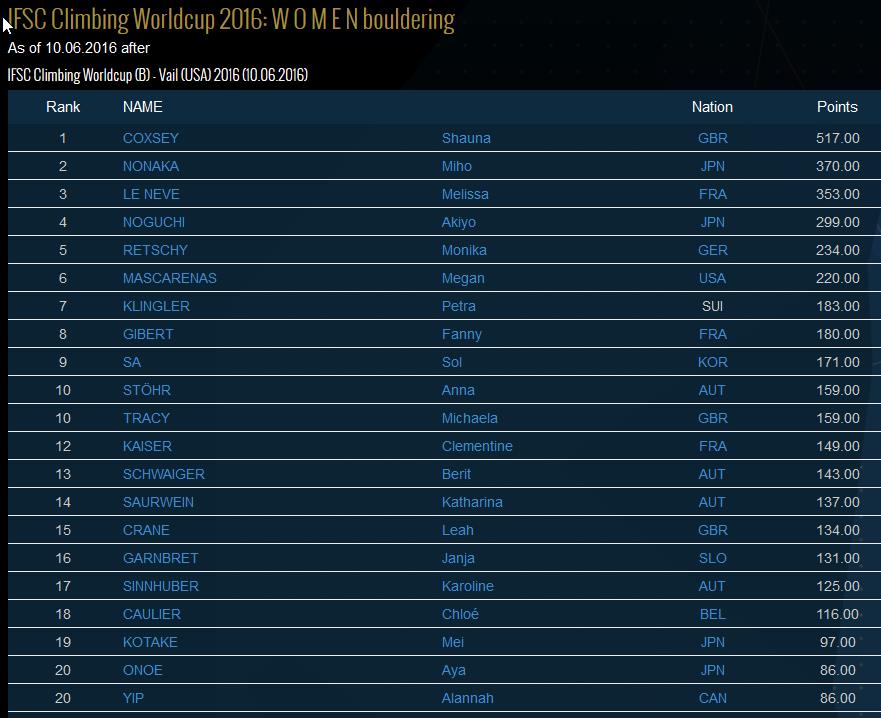 Women's Overall standings
Men's Overall standings
The final 2016 event will be in Munich over the 12-13th August.