Shauna Coxsey and Tyler Landman are British Bouldering Champs for 2015
July 14th, 2015
In a closely-contested two-day World Cup-style event Shauna Coxsey and Tyler Landman took the British Bouldering Championship titles over the weekend at the Cliffhanger Outdoor Festival in Millhouse's Park, Sheffield.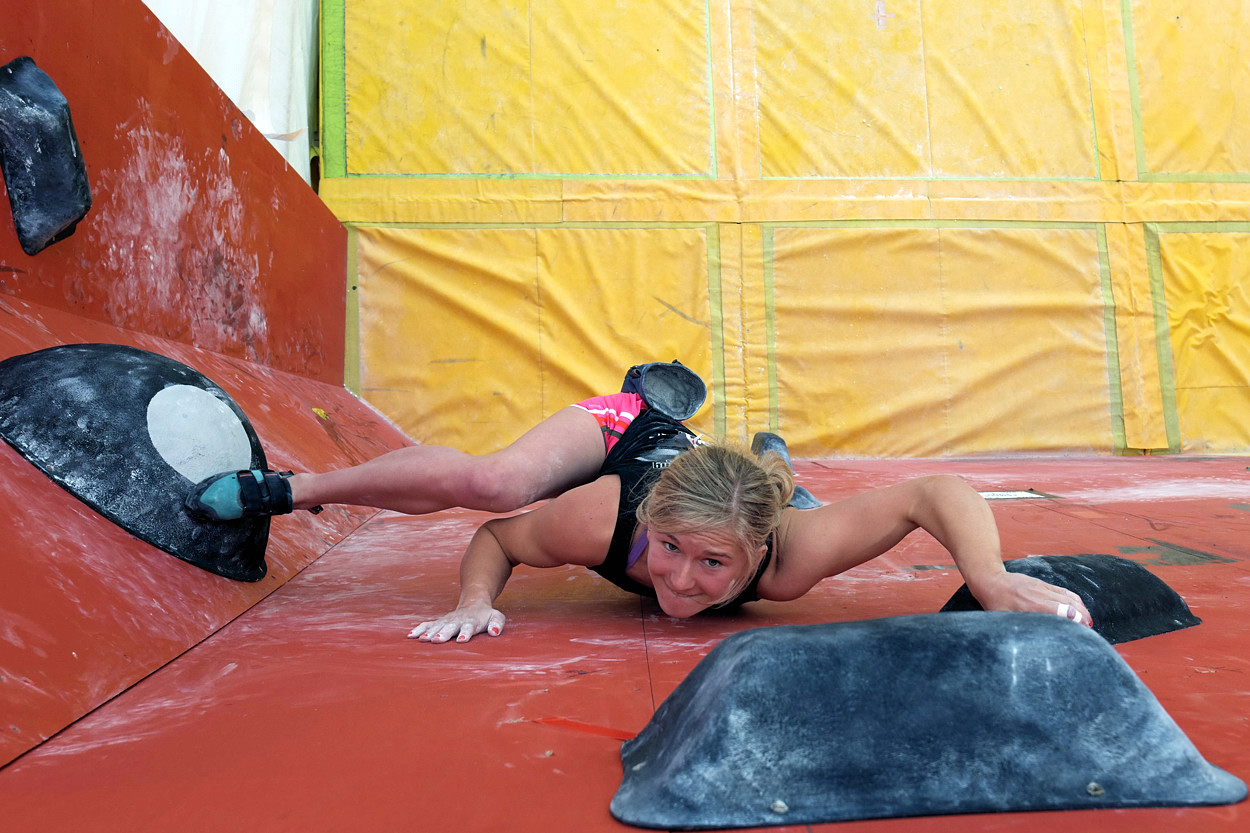 Shauna Coxsey eyeing up the final holds on F2 – midway through her four-in-four perfect performance.
The BBC's made a welcome return to Cliffhanger, after a year away in 2014, and for once the weather – which has wreaked havoc in the past years at Cliffhanger – played ball. Saturday saw the qualification round where then competitors were whittled down to the twenty best male and females for the semi's and the final rounds on the Sunday. Make no mistake, the standard was tough given strongmen like Stuart Littlefair, Mike Adams and Gavin Symonds didn't make the cut and were eliminated.
Tyler Landman finishing off M2
Following the semi's the finals were all down to just four blocs to sort the field out. As usual the setting team dished-up a veritable mix of the delicate and powerful – roughly speaking there were two slabby/vert blocs and two steeper blocs towards the centre of the wall. The setters know that today's competition climbers are so strong that it's not enough to go small and steep – hence the mixture of dirty vert and blob-city action amongst the blocs as well as some dynos and down-and-out techie stuff in the corners. The finalists all had an observation period during which they could inspect the problems and plan their four-minute strategy per problem.
James Garden getting all his points of contact onto the starting volume on M3
Most noticeable about the competitors was the number of young guns within their midst – many emerging from the junior classes and hungry for their share of the metalwork!
Leah Crane giving it her all on F3
Dave Barrans and Shauna Coxsey – as previous champs – were clearly seen as strong contenders but bouldering dark-horse, Tyler Landman, was back in the UK and cranking well and fellow World Cup competitor, Fanny Gilbert - currently studying in Sheffield, was always going to pose a real threat for Shauna. As it was, Shauna climbed all four blocs on her first go to take the top slot and the BBC for another year. Dave Barrans, despite finishing strongly suffered on the slabby, dead-point crux on M1 and came in second behind a victorious, super strong Tyler Landman.
The final results were as follows:
Men
1 Tyler Landman
2 Dave Barrans
3 James Garden
4 Orrin Coley
5 Nathan Phillips
6 Billy Ridal
Women
1 Shauna Coxsey
2 Fanny Gilbert
3 Leah Crane
4 Diane Merrick
5 Jennifer Wood
6 Molly Thompson-Smith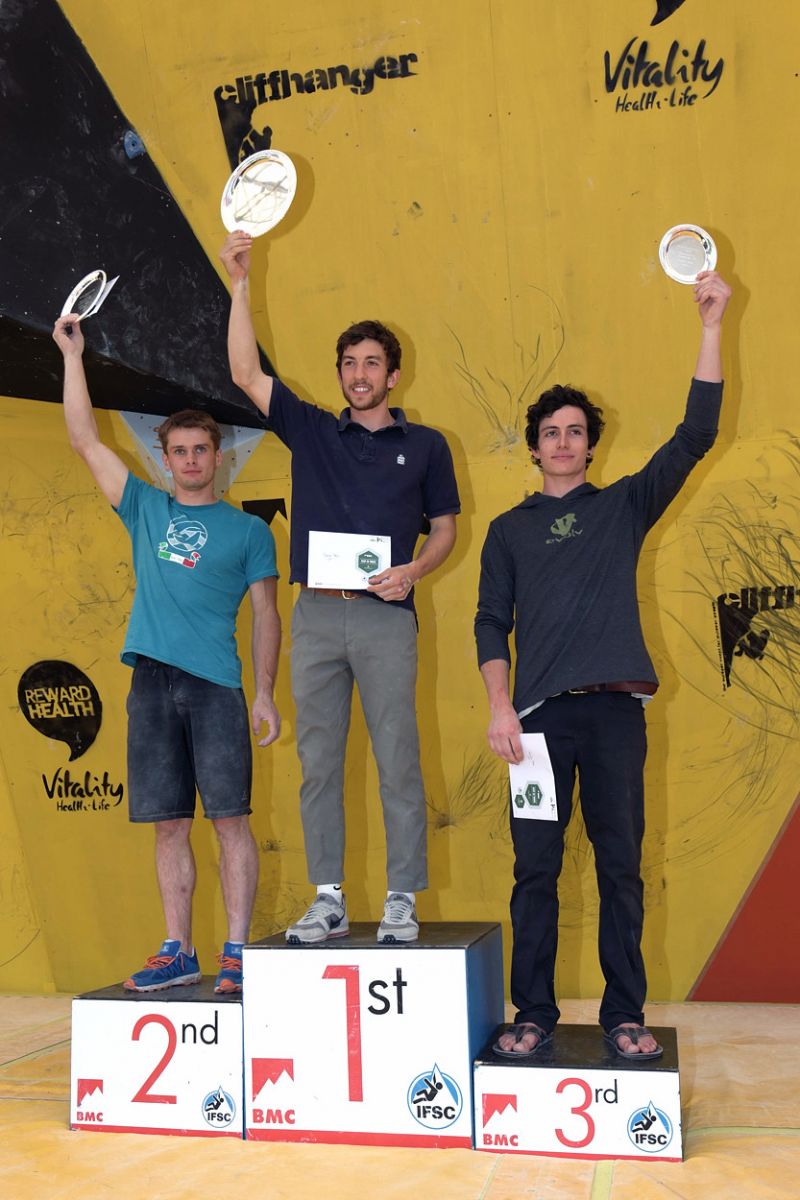 Men's Podium
Female Podium
All photos from Keith Sharples. To see a full gallery for the finals click through here to go the Keith's blog…