Shauna Coxsey and Tomoa Narasaki crowned World Cup Bouldering Champs after Munich
Aug 15th; 2016
Shauna Coxsey and Tomoa Narasaki were crowned worthy overall winners of the 2016 World Cup Bouldering series after the concluding round in Munich over the weekend.
Shauna Coxsey flashing W3 to take second place in Munich to extend her winning margin having already won the 2016 Championship in Vail. Video grab IFSC
Shauna Coxsey had already built-up sufficient points that she went into the Munich comp with an unassailable lead. Yet despite having the title in the bag, she came out fighting hard for the gold in Munich. Finishing the qualification round with a perfect five tops in five attempts Shauna shared the lead with four other athletes. By the semi's Shauna again topped all the blocs albeit taking one more attempt that Miho Nonaka who posted the perfect four from four score showing that she was pushing hard. Akiyo Noguchi, Melissa Le Neve and Stasa Gejo all topped four blocs too demonstrating that there wasn't a lot between all the women's competitors going into the deciding final. The final proved decisive however, Noguchi, Le Neve and Coxsey all topped two problems and the metalwork would have gone to the climber with the least attempts and/or count-back had Miho Nonaka not forged ahead with the sole successful top on a super-tech slab to take the top podium position. Shauna edged out Noguchi into third on count-back. Leah Crane's persistance resulted her an 8th place finish - her best yet.
Tomoa Narasaki topping M4 to take first place at Munich and seal the 2016 championship. Video grab IFSC
With the men's title still very much up for grabs it was Alex Rubtsov and Alban Levier that finished joint top in the qualification with perfect five from five scores. Frenchman Mickael Mawem posted a threatening score in the semi's finishing with four from four – the only athlete to do so – although Tomoa Narasaki, Jongwon Chon and Alxey Rubtsov were all in close formation just behind taking a few more goes to get their respective four tops. The finals proved decisive however with Rubtsov taking third, Chon taking second and Narasaki the top slot with four tops including an impressive top on M3 - another super thin bloc – the only athlete to do so.
With the 2016 overall World Cup title already Shauna's, the women's comp was all about the second and third places. Not surprisingly, Miho Nanoka took second place finishing with 446 points – 114pts behind Shauna who finished with 560pts. Melissa Le Neve finished in third with 368pts edging out Akiyo Noguchi with 352pts. Leah Crane finished in 11th overall on 164pts ahead of Michaela Tracey in joint 12th with 159pts.
Women's 2016 podium
The men's stream was much closer with the 2016 overall winner, Tomoa Narasaki, finishing on 462 pts ahead of Kokoro Fujii in second on 395pts and Alexey Rubtsov in third on 372pts. All-rounder, Sean McColl, finished in 6th with 244pts which is an incredible score for someone that spreads his time across lead, speed and bouldering comps and will surely place him in contention in Tokyo in four years. British interest came from Tyler Landman who finished in 17th on 131pts, Dave Barrans who finished in 28th on 61pts and Nathan Phillips in 47th with 24pts.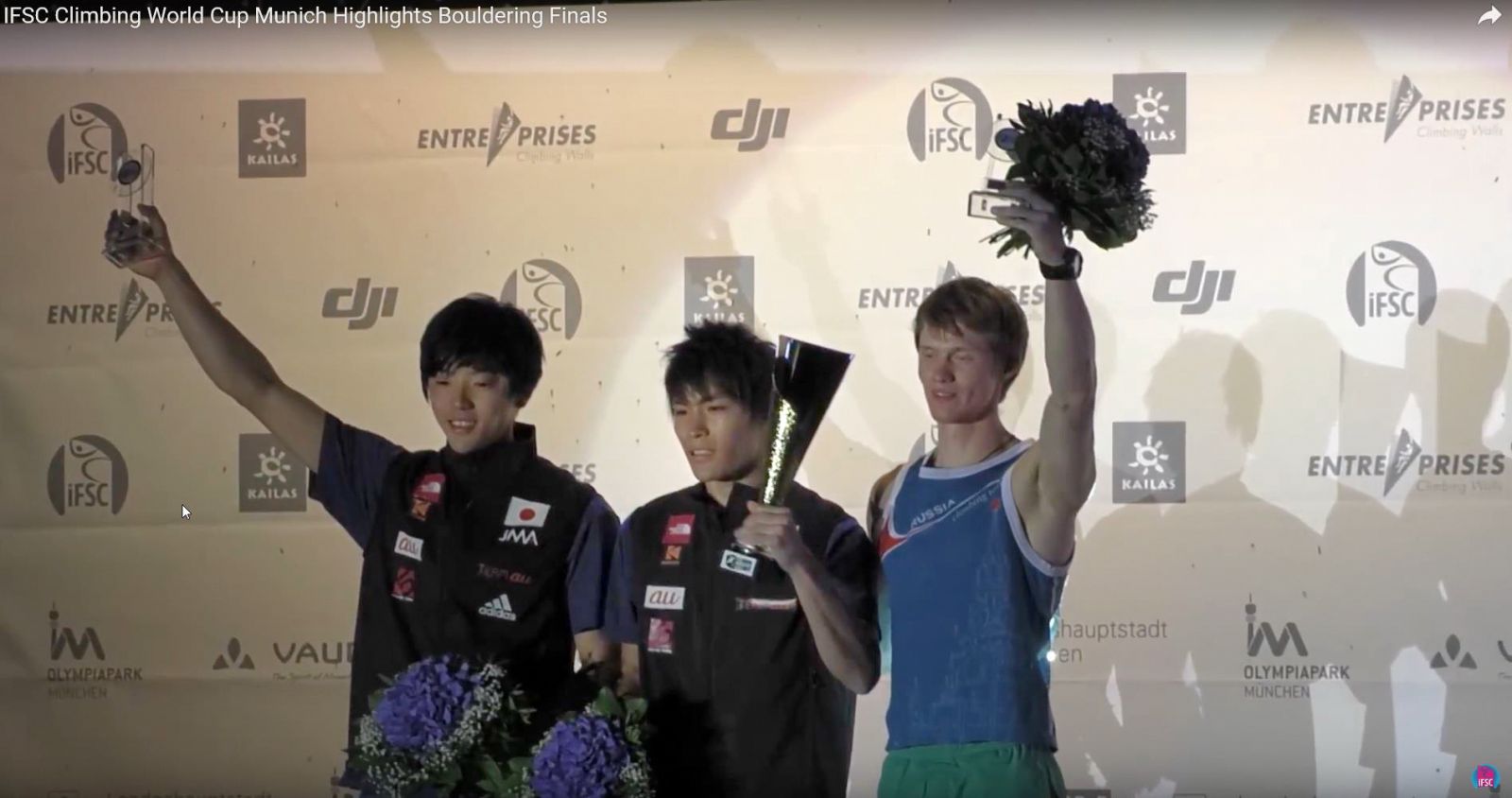 Men's 2016 podium
On the team front Team GB finished in third place on 1087 whilst France finished in second on 1347pts. The run-away winners for 2016 however, were Japan with 1964pts.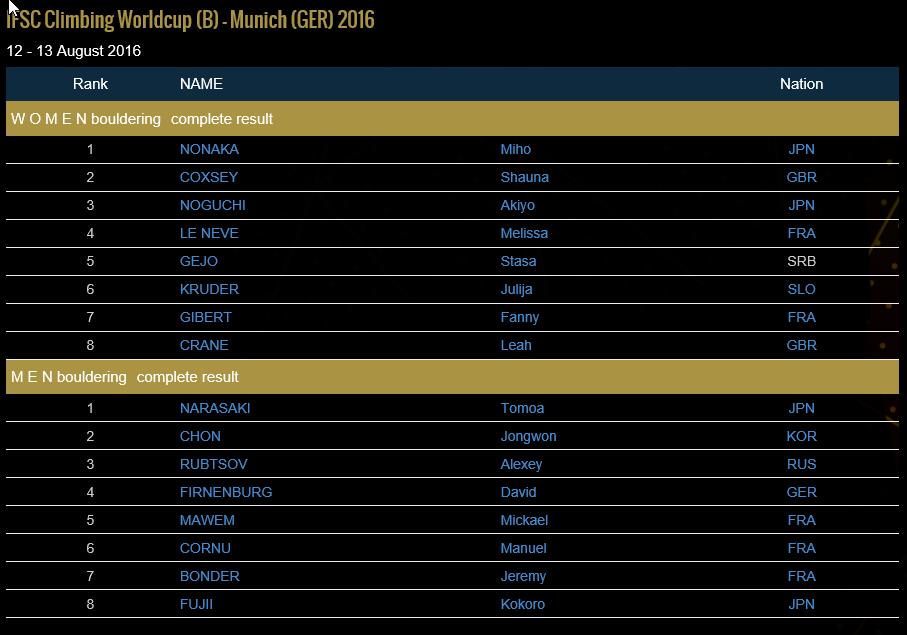 Munich results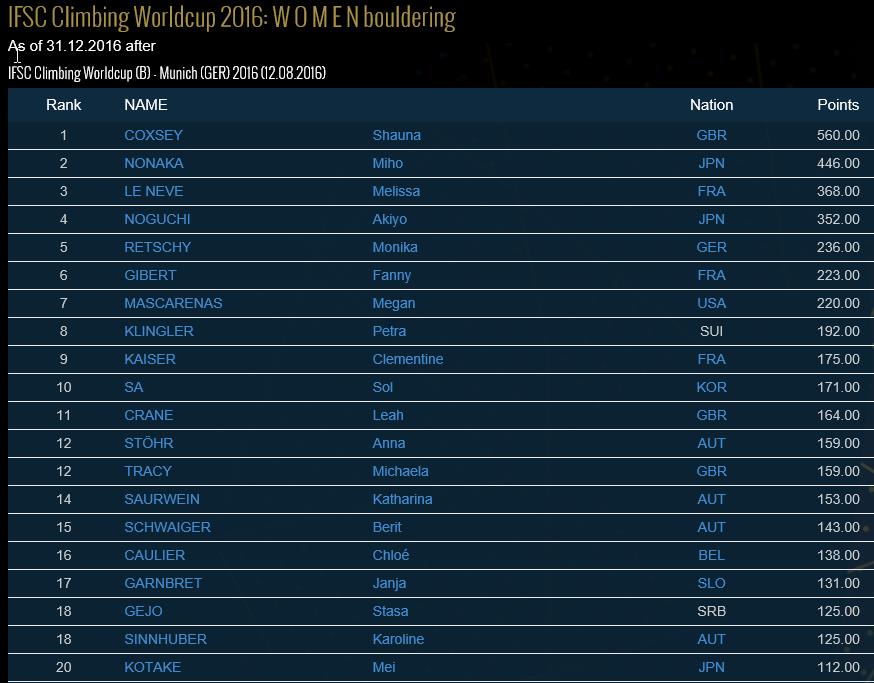 2016 Women's Overall Top 20 Results
2016 Men's Overall Top 20 Results