Shauna Coxsey and Matt Cousins are the 2016 British Bouldering Champs
July 11th; 2016
Shauna Coxsey and Matt Cousins took the top podium positions yesterday at the British Bouldering Championships.
Shauna Coxsey in dominating form and a worthy/expected winner. Photo Keith Sharples
Cliffhanger Festival, traditionally the venue for the BBC's, was held for the first time in the city-centre of Sheffield rather than in either Graves or Millhouses Park has previously. A large and enthusiastic crowd were on hand to watch and appreciate the action.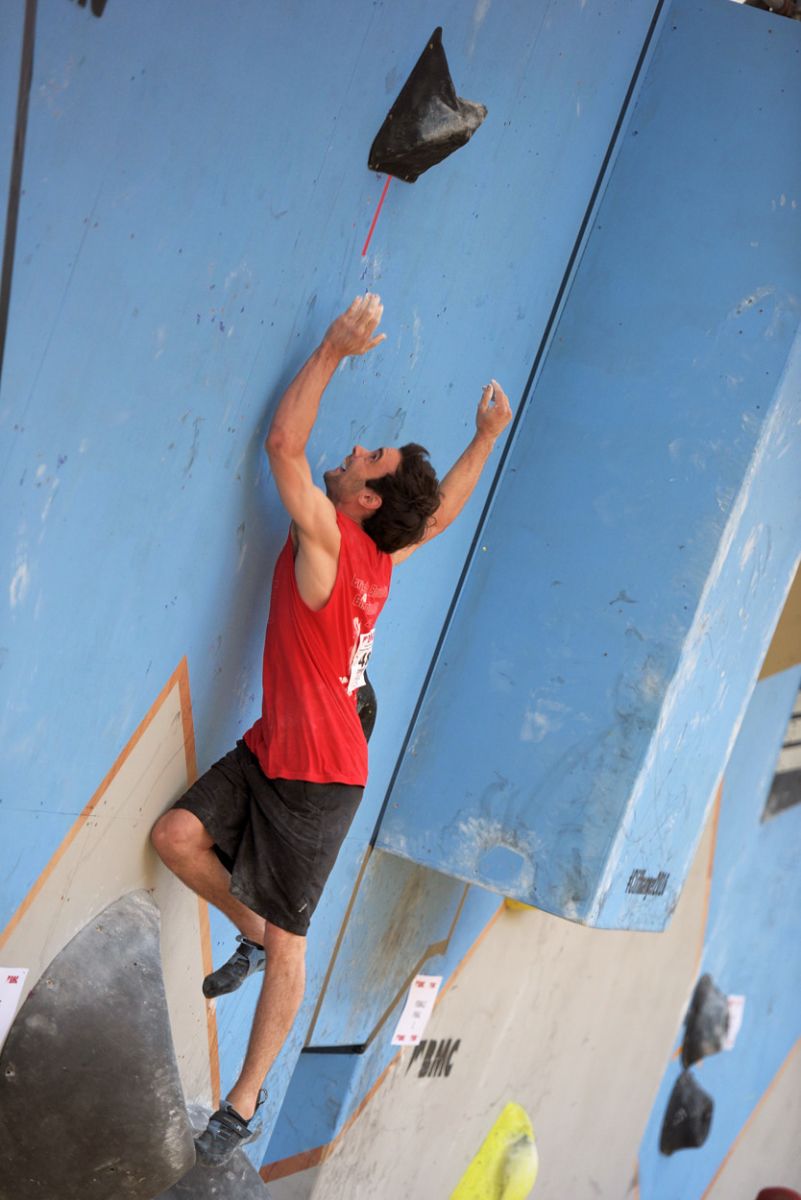 'Flying' Matt Cousins took his first and deserved BBC title. Photo Keith Sharples
Not surprisingly Shauna Coxsey posted almost flawless scores over the three rounds; a single semi-final bloc taking her a second attempt and therefore denying her a clean sheet throughout. Both Molly Thompson-Smith and Leah Crane where hot on Shauna's heels in the qualification round but it was Michaela Tracey and Tara Hayes that provided the opposition in the semi-final round. The finals however were totally Shauna's. Her performance clearly demonstrated why she's the 2016 World Champion. Shauna alone scored four tops – in four attempts; Tara Hayes pulled in two tops (in eight attempts) and Leah Crane took third place with a flash on the second problem. The other finalists, Michaela Tracey, Gracie Martin and Jo Neame all topped one problem apiece. Gracie Martin and Jo Neame should be especially delighted with their performance both making the national finals for the first time.
Shauna Coxsey flashing yet another final bloc. Photo Keith Sharples
The men's comp wasn't dominated in quite such fashion. Dave Barrans, Matt Cousins and Orrin Coley topped the qualification rounds with Dave returning a perfect five tops in five attempts. By the end of the semi's Matt Cousins had pipped Dave Barrans to take top position and Nathan Phillips had edged into third. The finals saw three climbers all pull three top apiece; Matt Cousins taking four attempts, Nathan Phillips taking five and Orrin Coley taking six goes. It was close but decisive results. Dave Barrans didn't maintain his opening scores and finished in sixth behind Billy Ridal and James Garden who finished in fourth and fifth respectively.
Women's Podium. Photo Keith Sharples
Men's Podium. Photo Keith Sharples