Shauna Coxsey and Jongwon Chon take Vail golds
June 12th; 2017
After a month-long break in the IFSC 2017 World Cup bouldering, Shauna Coxsey and Jongwon Chon took gold in the fifth leg in Vail, USA.
Shauna Cosxey flashing W4. Video grab of IFSC Live Stream
A strong field featuring plenty of climbers from the USA – although none from France – gathered in Vail over the weekend for what is one of the favourite events in the World Cup Bouldering calendar. It was a high scoring event with plenty of tops and volumes. Once again, Team Japan posted a strong overall performance scooped up an impressive tally of podiums – four from six. In fact no less than nine of the top 20 places across both men and females events went to the Japanese climbers! However, Shauna Coxsey and Jongwon Chon held firm in the face of strong opposition to take gold; albeit they were chased by the pack right down to the final problem in the finals.
Shauna Coxsey didn't have it all her own way however, in fact she had a tough qualification round coming in some way off the top spot. Janja Garnbret and Alex Puccio both posted convincingly qualification scores beatng Coxsey in the preocess. That was reversed however for the semi's when normal service was resumed by Coxsey. As it was, Garnbret failed to make the cut for the finals – a failure that hurts her prospects in the overall standings as we'll report later. Akiyo Noguchi, now finding her stride in the 2017 season, Miho Nonaka and Alex Puccio pushed Shauna Coxsey all the way in the final but they had to settle for second, third and fourth respectively and could only watch as Shauna once again turned on the style and with it scooped up yet another gold, her tenth World Cup bouldering win, with a total of three tops. Shauna's training partner, Leah Crane, made her first semi of the year finishing in joint 18th. Michaela Tracy also made the semi's and finished in tenth – just a single place behind 16-year old Brooke Raboutou who was in her first ever WC comp.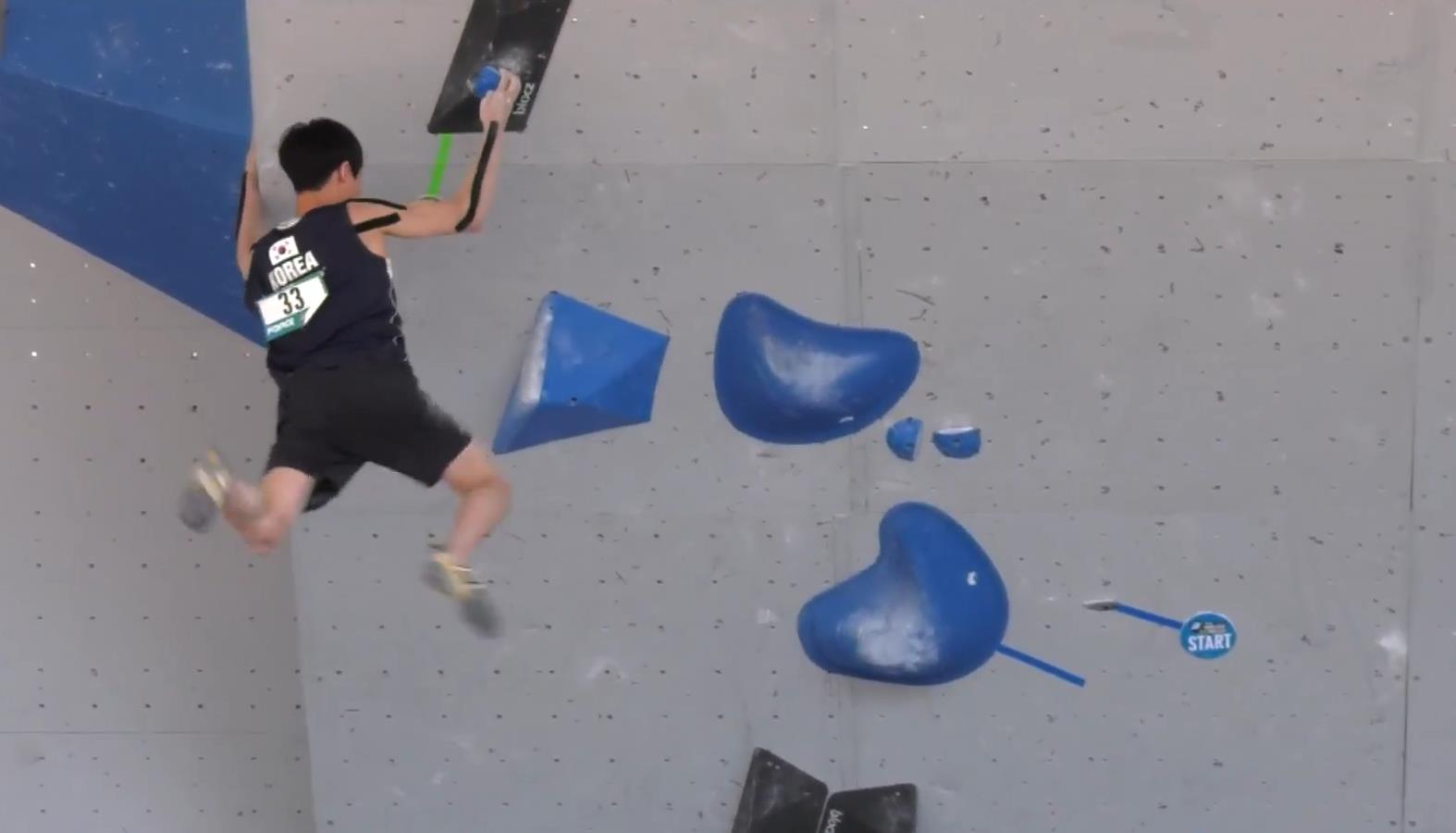 Jongwon Chon on W4. Video grab of IFSC Live Stream
The men's event also saw considerable changes in fortune across the three rounds and that event too went down to the last problem of the final. However, Jongwon Chon once again proved the victor taking just 9 attempts for his four tops. Meichi Narasaki and Yoshiyuki Ogata picked up second and third edging Aleksei Rubstov out into fourth. Overall leader Keita Watabe finished in 6th. British competitor Tyler Landman, made 17th whilst Shawn Raboutou (Brookes brother) made 25th.
Vail Positions
After Vail Shauna Coxsey (435pts) has re-established a sizable lead over Janja Garnbret (370pts) of 65pts. In third and fourth place respectively, Miho Nonaka is on 297pts whilst Akiyo Noguchi is on 260pts. It seems highly likely that the podium places for the season should come from this group. Michaela Tracy (164pts) is in seventh place whilst Leah Crane (26pts) is in 31st.
In the men's standings Keita Watabe remains in first place on 332pts but his lead has been whittled away by Jongwon Chon (326pts). Aleksei Rubtsov (307pts) is in third place whilst Tomoa Narasaki (286pts) is in fourth and Kokoro Fujii (254pts) is in fifth place. Again, overall podium places should be from climbers in this leading group. Tyler Landman (62pts) is the highest placed Brit in 20th place followed by Nathan Phillips (25pts) in 34th and Dave Barrans (5pts) in 46th.
The climbers will now travel to Mumbai for the next on June 24th and 25th.
Watch the highlights from Vail below…