Shauna Coxsey and Jongwon Chon take gold in Innsbruck
May 23rd; 2016
After a temporary blip in Mumbai Shauna Coxsey was back on the top of the podium in Innsbruck over the weekend sharing the limelight with men's winner, Jongwon Chon.
Shauna Coxsey flashing W1. Video grab from IFSC feed
It was Shauna's fourth gold from the five comps already held this season. She takes a commanding lead into the month-long break before the final two events which start with Vail in mid-June. Over in the men's comp, the 2015 overall champion, Jongwon Chon, took his first gold of the season.
Shauna Coxsey on W3. Video grab from IFSC feed
We have become so accustomed to Shauna dominating the women's comp circuit this year that Shauna's 9th place in the Mumbia event came as something of a shock. Everyone assumed that Shauna would bounce straight back and get back onto the podium but the semi's in Innsbruck did go all her own way not least because local hero, Anne Stohr, stepped up to the mark to make life difficult for Shauna. By the end of the semi's both Anna and Shauna had tied finishing in joint sixth. That being the case they both went forward into the finals. Akiya Noguchi, last year's champion has been improving of late so much so that she topped the semi's. Further British interest in the semi's came from Leah Crane and Michaela Tracey who finished 15th and 17th respectively.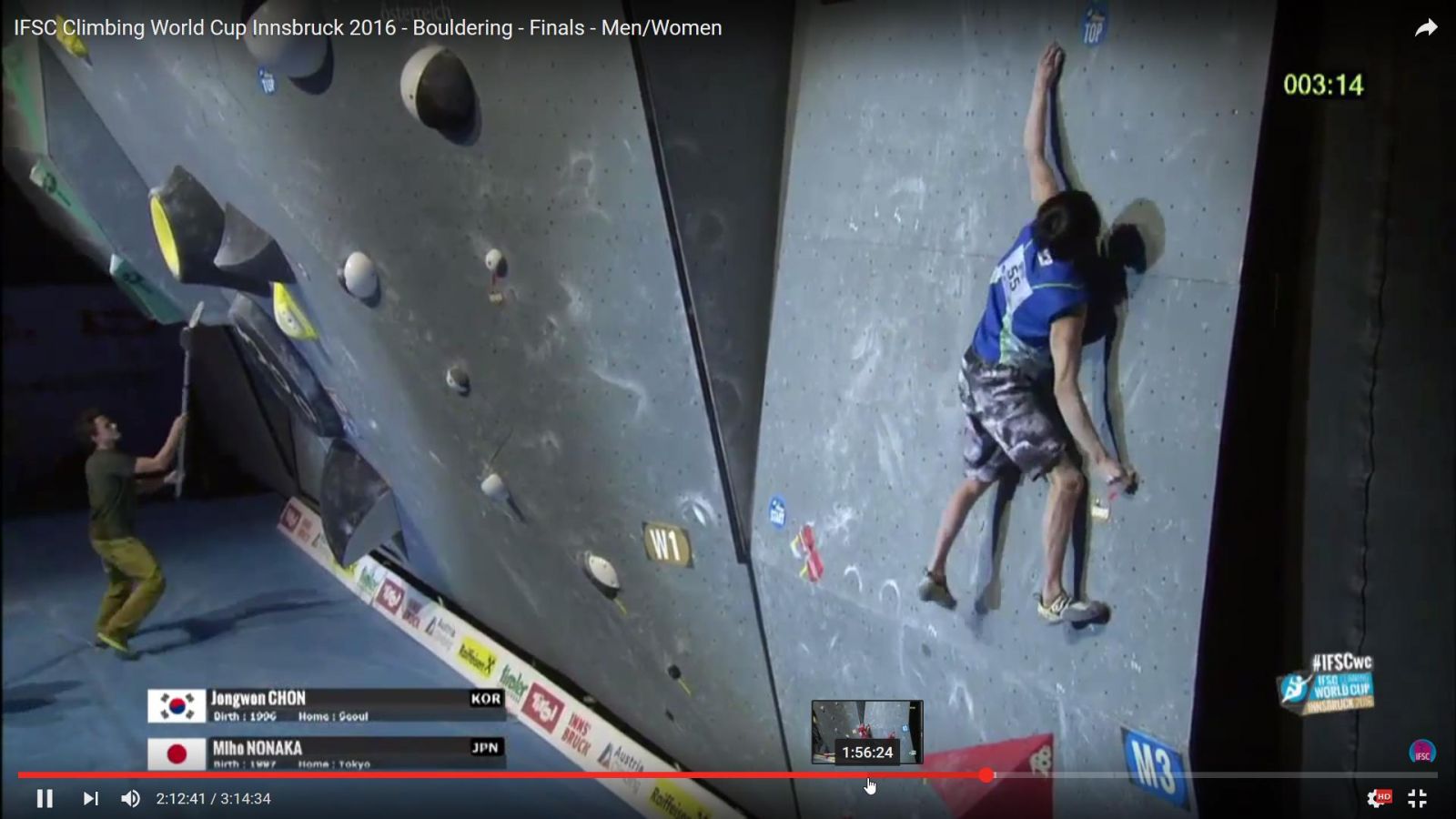 Jongwon Chon on the 'slabby' M3. Video grab from IFSC feed
The men's qualification rounds were no less anxious affairs. Rustam Gelmanov, Jan Hojer and our own Tyler Landman crashed out without even reaching the semi's. Nathan Phillips however, had a storming qualification round finishing that in 2nd place although sadly he was unable to replicate that form in the semis which he finished in 17th place. David Barrans also made the semis where his two tops and three bonuses were enough to give him 12th place overall – his best result of the season. However, it was Canadian Sean McColl who, upping his game considerably, who topped the semi's to enable him to progress into his first final of the season.
As the finals kicked-off it was clear that Shauna had a steely determination about her climbing. Reading the first two blocs with what seemed near clinical precision Shauna dispatched both with obvious displays of power. Getting the perfect start, Shauna was soon sitting on two tops from two attempts. However, Megan Mascarenus seemed hell's bent on spoiling Shauna's party and she likewise flashed both W1 and W2. W3 caused quite a stir not least because a double-dyno was needed. Whilst none of the women competitors flashed W3, four topped out - Ann Stohr actually doing it twice as her first top was disallowed when she accidently kicked the wall 'out-off'-bounds'. Going into the final bloc it was still very much all to play for. Ever the professional, Shauna promptly flashed W4 to stamp her authority on the final and take the win. Whilst it wasn't a run-away victory, Shauna's hit rate was decisively better than her rivals as the final results show and hence her win was decisive. The Slovenian Janja Garnbret and Japanese Miho Nonaka finished 2nd and 3rd respectively with each taking 10 and 13 attempts for their four tops whilst Shauna nailed them in eight attempts. Megan Mascarenus finished in fourth edging local Anna Stohr out into fifth place but that was a significant improvement for her – especially in front of her local crowd - in what has been a challenging year.
Innsbruck Results
The men's comp wasn't as close as many this year have been and by the midway point Jongwon Chon was looking pretty unassailable. In the end he was the clear winner topping three blocs – the only male competitor to do so. Both Tomoa Narasaki and Sean McColl climbed well to take 2nd and third place respectively.
The overall standings with only two events remaining look decidedly upbeat for Shauna who now has a clear and decisive lead of 118pts over second placed Miho Nonaka (319pts) and Melissa Le Neve (298pts). Farther down the standings Michaela Tracey is in 10th (135pts) and Leah Crane 13th (124pts). Over in the men's things remain very tight. Overall leader Tomoa Narakai leads by just 9pts over Kokora Fujii in 2nd (289pts) and Alexey Rubtsov in 3rd (262pts).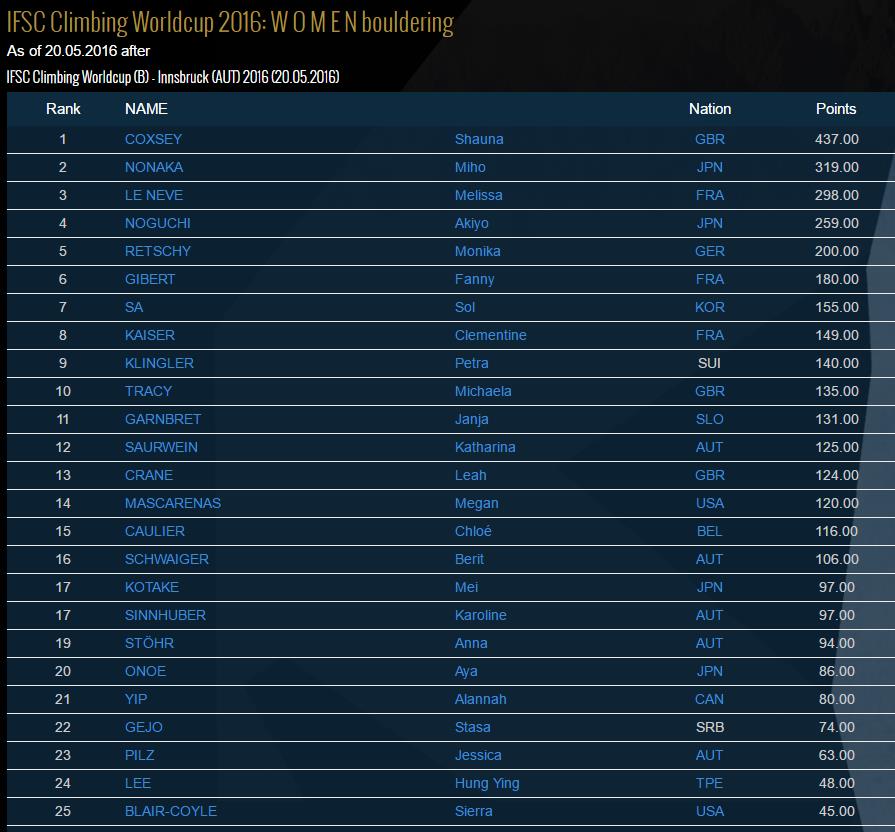 Women's current standings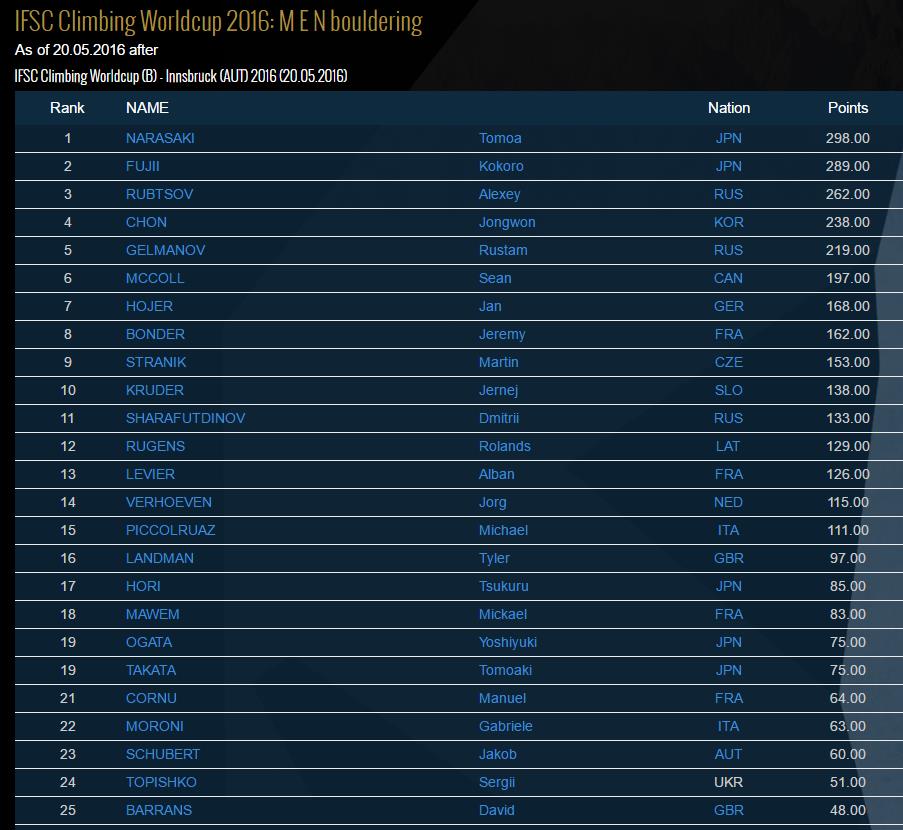 Men's current standings
Finally, watch the finals below.