Shauna Coxsey and Alexey Rubtsov take gold in the final IFSC Bouldering World Cup comp in Munich
Aug 17th; 2015
In a thrilling final night at the Munich bouldering comp, Shauna Coxsey returned a perfect four-from-four scorecard whilst the men's final comp was taken by outsider Alexey Rubtov (Russia).
Shauna 'flashing' Coxsey, on her four-from-four rout in the Munich Finals. Photo IFSC/Eddie Fowke
The final round in Munich last weekend was held nearly two months after the previous round in Haiyang (China). Held in Munich's Olympic stadium, a venue which seems to generate a great atmosphere, the final round was always going to be a close run event for the men with any one of the top men being suitably poised to take gold and hence win the overall 2015 World Cup Championship. Not so in the women's comp however, as Akiyo Noguchi has a massive (100 points) lead so the Munich event was all about resolving silver and bronze.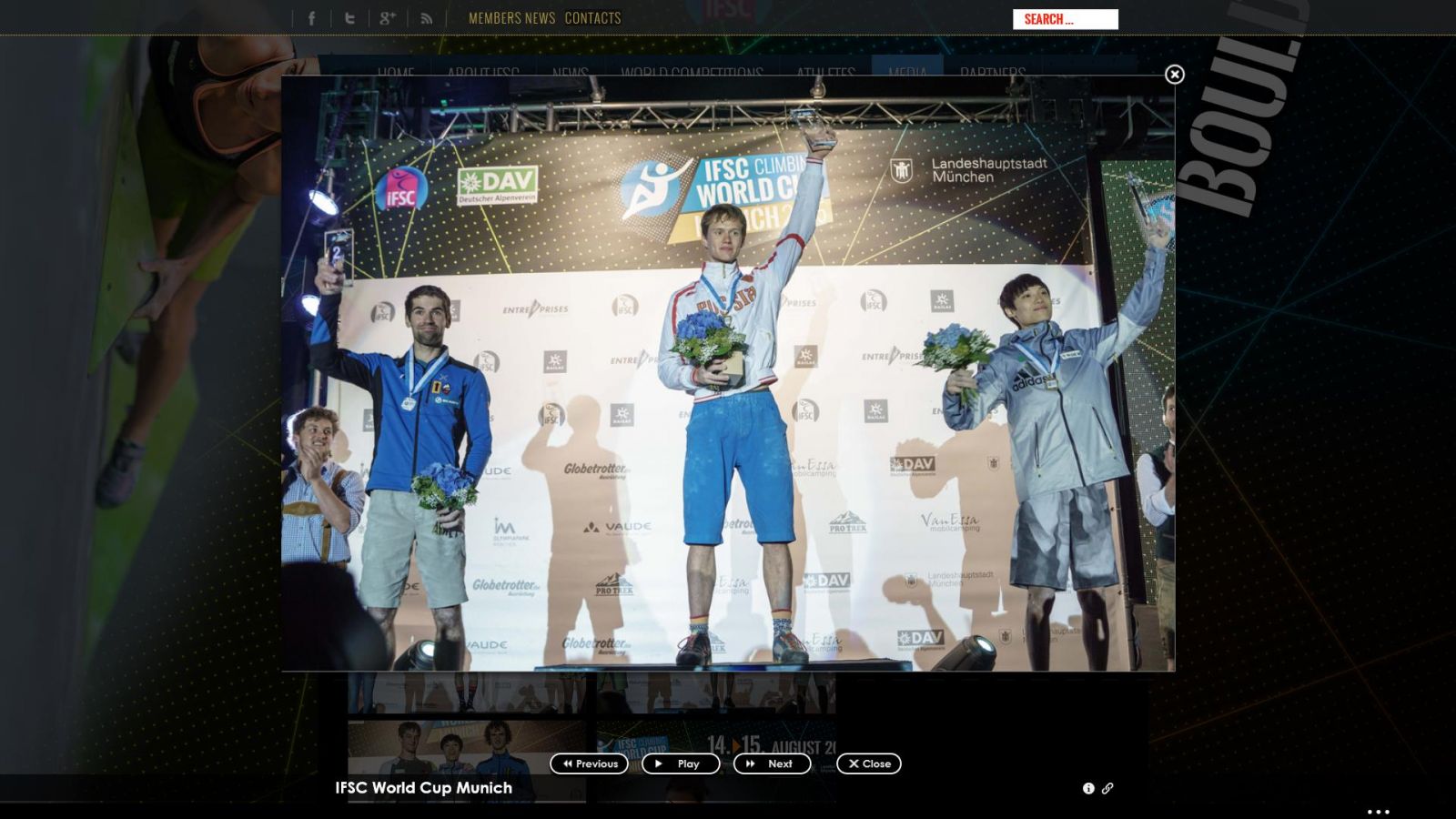 The Munich Men Podium. Photo IFSC/Eddie Fowke
In the men's comp, strongmen Ondra and Hojer were only a few points off the pace although neither had look invincible during the previous rounds with both men missing out on finals in at least one of the previous comps. But with so much at stake, surely both would be pulling-down like demons. Perhaps surprisingly, Jongwon Chon (Korea) was highest place prior to the event. The bloc setters managed to upset the apple cart however, and Ondra falled to make the final. Despite what might have seemed a clear run-in opportunity, Hojer finished in fifth place in the final tough round. Finishing as the only blocmiester to top two problems, Russian outsider, Alexey Rubtsov, took gold with Ondra's fellow Czech competitor Martin Starnik picking up silver and Jongwon Chon third. Farther down the pecking order, USA rookie strongman Nathanial Coleman finished in 11th place. British interest was topped by British Bouldering Champion, Tyler Landman, who finished in 29th, followed by Barrans (37th), Phillips (43rd) and Ridal (55th) in the massive 121 competitor field.
The Munich Women Podium. Photo IFSC/Eddie Fowke
With Noguchi assured the overall victory, it was down to Shauna Coxsey, Fanny Gilbert (France) and Megan Mascarenas (USA) to see which two would make the podium and what colour of metalwork they left the stage with. The usual strong contenders, Alex Puccio and Anne Stohr were both abscent through injuries sustained throughout the season. On the night, Coxsey outclassed her opposition with a clean 'four-from-four' slate. Silver and bronze were hotly contested between Gilbert and Mascarenas but it was Gilbert that got the edge on Mascarenus to take the silver. Noguchi finished in fourth. Further British interest was supplied by Tara Hayes who finished on 16th and Leah Crane in 49th.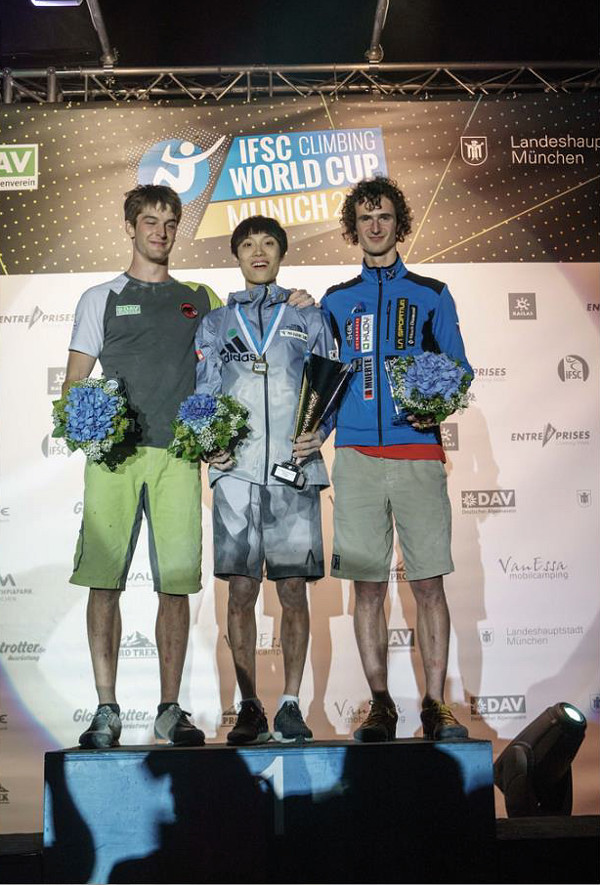 The overall 2015 Men Podium. Photo IFSC/Eddie Fowke
The overall 2015 men's title was collected by Jongwon Chon (Jap) with, Jan Hojer (Ger) coming second and Adam Ondra (Czech) a close third and emerging US hotshot, Nathanial Coleman finishing in forth.
The overall 2015 Women Podium. Photo IFSC/Eddie Fowke
The overall women's title was collected by run-away winner, Akiyo Noguchi (Jap) with Shauna Coxsey picking up silver for the second year running and Milo Nonaka (Jap) collecting bronze. USA contender Megan Mascarenas coming in fifth.
To watch the final in Munich see the video below.