Shauna Coxsey and Alexey Rubtsov take gold in Meiringen, Switzerland
April 17th; 2016
Saturday April 16th saw Shauna Coxsey and Alexey Rubtsov took gold in the opening round of the 2016 bouldering World Cup event in Meiringen, Switzerland.
Shauna Coxsey securing a flying start to her 2016 Bouldering World Cup challenge. Video grab off IFSC.
Team GB was well represented; regulars Shauna Coxsey and Leah Crane were joined by Michaela Tracey. Over on the men's side, British Bouldering Champion Tyler Landman was joined by Dave Barrens. Social media was awash with exciting posts ahead of the opening round of the 2016 Bouldering World Cup.
The semi's provided considerable entertainment not least in the men's event in which Tyler Landman put in an amazing performance to finish in top place – outgunning all the best boulderers in the world such as Hojer and McColl. Over in the women's event Shauna Coxsey didn't have it all her own way finishing in 6th place just two places ahead of Michaela Tracey in 8th.
The Saturday night finals saw however something of a reversal of fortunes for Team GB athletes. Shauna showed the rest of the women and world just how well she is climbing at the moment topping three blocs in five attempts. Melissa Le Neve and Megan Mascarenas topped two and one bloc each whilst the rest of the finalist Akiyo Noguchi, Jana Garnbrett and Clemeintine Kaiser failed to score a single top between them. Michaela tacey and Leah Crane finished in 8th and 11th respectively. Shauna was a clear and popular winner and was – rightly – very pleased with her excellent start to the 2016 season.
Over in the men's event things were much tighter. All three podium places scored two top each whilst the remaining three finalists got a top each. In the end Alexey Rubtsov, third at the end of the semi's, pulled up to top slot and was joined on the podium by Martin Stranik and Jorg Verhoeven. Sadly, Tyler Landman slipped back to sixth place but that was a highly credible performance with the likes of Hojer and McColl finishing in 9th and 20th respectively. Dave Barrans finished in 16th.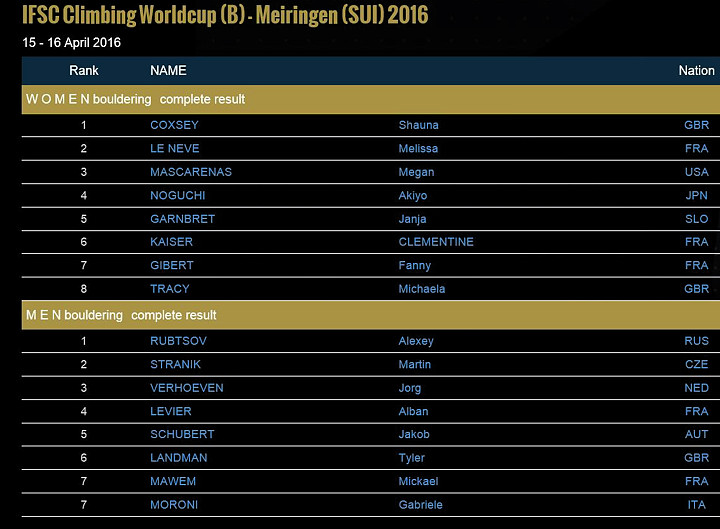 The final places at Meiringen.
Watch a short clip of the highlights from Meringen below.