ShAFF 2015
March 22nd, 2015
Adventure films addicts have been on a high this weekend rubbing noses with the film stars and film makers at the tenth annual film festival that is ShAFF – the Sheffield Adventure Film Festival.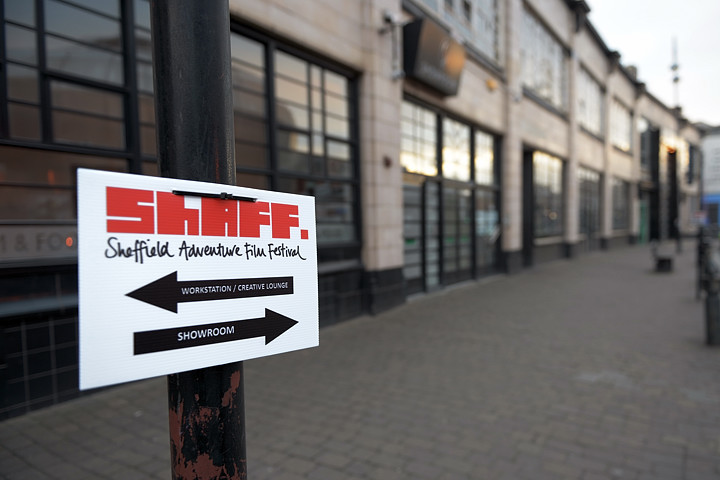 This way to ShAFF 2015. Photo Keith Sharples
Sheffield, dubbed the outdoor capital of the country, has long held a strong appeal for those interested in the great outdoors and ShAFF helps cement that view further. Festival founder and director Matt Heason, and his team, pulled together an amazing number of adventure films, speakers and exhibitions for the tenth festival.
Although Sheffield is well known as a leading climbing destination, the cycling and running in the Peak District is also a firm attraction. Not surprisingly then that the films on show major on climbing, cycling and running. However, ShAFF also included surfing, kayaking and skiing films as well.
ShAFF's lecture programme, which included some seriously big name stars, meant that anyone who wanting to get close-up and personal with their favourite athletes was well catered for. From the climbing world Steve McClure needed no introduction. Ultra and endurance runners, Ricky Lightfoot and Nikki Kimball, were joined by record breaking fell runner Steve Birkinshaw. Paralympic cyclist, Karen Blake and former women's ruby captain Catherine Spencer talked about their adventures, travel editor, writer and author Phoebe Smith talked about the wilderness experience whilst Andy Kirkpatrick wrapped up the weekend's lectures talking about risk play. In addition, professional trials rider, Danny MacAskill talked about his latest adventures including riding the Cullin Ridge.
Paul Diffley and Chris Prescott during the film makers Masterclass. Photo Keith Sharples
ShAFF also featured a retail hall, a photo competition and exhibition and a second-hand equipment mart as well as an industry hangout. In addition to the main film festival, ShAFF 2015 also included a Festival Fringe at which industry specialists gave free talks for the public and invitation only parties for our filmmakers, sponsors, athletes and volunteers. A film masterclass 'The Art of the Documentary Interview' was given by Paul Diffley and Chris Prescott of Hot Aches Productions.
As with all film festivals the awards for the various films categories were hotly contested. In addition to the usual categories, awards for four new categories (Best Soundtrack, Best Women In Adventure Film, Rapha Best Road Cycling Film and Sixt Rent A Car Best Made in Sheffield Film) were also given for this year's ShAFF. The full list of ShAFF 2015 winners are as follows:
Best Film – Grand Prize - DamNation
Silver - The Barkley Marathons: The Race That Eats Its Young
Bronze - Valley Uprising
Judges Special Mention: Derby Crazy Love
The Climbing Works Best Climbing Film (Gold) - Stone Free
Silver - Project Mina
Bronze - Redemption
'Steve Peat' Best Biking Film (Gold) - Danny MacAskill - The Ridge
Silver - Lines of Lofoten
Bronze – Road Bike Party 2 - Behind the Scenes
The Rapha Best Road Cycling Film (Gold) - Come On, Eileen
Silver - Old Grey & Fast
Bronze - Davis & Connie
Best Running Film (Gold) - The Barkley Marathons: The Race That Eats Its Young
Silver - Finding Traction
Bronze - Just Keep Running
Best Ski & Board Film (Gold) - Vasu Sojitra – Out On A Limb
Silver - Almost Ablaze
Bronze - Sugar Mountain
Best Adrenaline Film (Gold) - El Sendero Luminoso
Silver – The Balloon Highline
Bronze - Wedge
Best Short Film (Gold) - Jack
Silver - Movement Of Three
Bronze - iPaddle
The Boulder Creek International Best Spirit Of Adventure (Gold) - In The Frame
Silver - Megamoon
Bronze - Nobody's River
The Sixt Rent A Car Best Made in Sheffield Film (Gold) - No Sleep Till Bakewell
Silver - Forged
Bronze - A Front Door Adventure
Best Women in Adventure Film (Gold) - Finding Traction
Silver - Come On, Eileen
Bronze - Derby Crazy Love
Best Artistic Film (Gold) - Vermillion
Silver - Ghost Peleton
Bronze - Afterglow (full length)
Best Soundtrack (Gold) - Derby Crazy Love
Silver - DamNation
Bronze - A Front Door Adventure
Talking about the 'Best Film' awards Matt Heason, festival supremo, said: "It's interesting in a year characterised by lots of short films, the best three films were judged to be feature length documentaries."
"This year's Grand Prize winner DamNation is a rare film in that it combines great cinematography with a superb soundtrack, and also a really important message. The Barkley Marathons was my personal favourite of the festival this year. I think I benefited from not knowing anything whatsoever about the race or the devious course, and was drawn in by some very competent filmmaking and a cracking story. Valley Uprising has been described as the 'Riding Giants' of climbing and is a well-deserved runner up showcasing the history of climbing in Yosemite." Matt Heason added the following comments about Derby Crazy Love – the Judges' Special Mention: "Derby Crazy Love was a close contender for the Grand Prize award coming high up on the judges' shortlists. It won our Best Soundtrack (Gold) award and Best Women In Adventure (Bronze) award and we have therefore given it a Special Mention as a recommendation to the ShAFF audience to go and see it."
Talking about the climbing films, Stone Free (Gold), Project Mina (Silver) and Redemption (Bronze) ShAFF Judge, Claire Carter, said: "Our three winning films unearthed the personal drives of three very different British climbers. Stone Free finds Julian Lines alone and solo in vast Scottish vistas. Quiet and considered, Line's provides a refreshing subject matter for Alistair Lee's typically impressive cinematography. Jen Randall encourages her subject to do the talking in Project Mina and captures an unguarded, personal perspective through the noise and flash of the international competition scene. In Redemption, Paul Diffley tells the story of a unforgiving climbing tribe, as James Pearson attempts to redeem his appallingly un-British lack of understatement. Will they let him back on the Grit? You'll have to wait for Redemption 2.
For the judges' comments about the films that won the other categories click through here to go to the ShAFF website…
Finally, SteepEdge has teamed up with ShAFF to offer visitors the opportunity to download the ShAFF films and more at a 30% discount. This offer is valid until the 24th April 2015. Click through here to go to the SteepEdge page on the ShAFF website…