Seo and Ondra take lead golds at Kranj
Monday 30th September 2019
Sept 30th; 2019
The 2019 IFSC Lead WC resumed this weekend at Kranj with Chaehyun Seo and Adam Ondra taking the golds.
Chaehyun Seo taking her third win of the 2019 season and building up an impressive lead in the lead rankings
A month after the World Championship and the first Olympic qualification event at Hachioji, the athletes returned this weekend to Kranj, Slovenia for what surprisingly is still only the fourth IFSC lead World Cup event of the 2019 season! If it seems a heck of a long time since the 2019 World Cup season started with the bouldering event in Meiringen back in early April then spare a though for the athletes especially those interested in the 'combined' whose 'season' are now in their sixth month and it won't be over until the second Olympic qualification event in Toulouse in the beginning of December!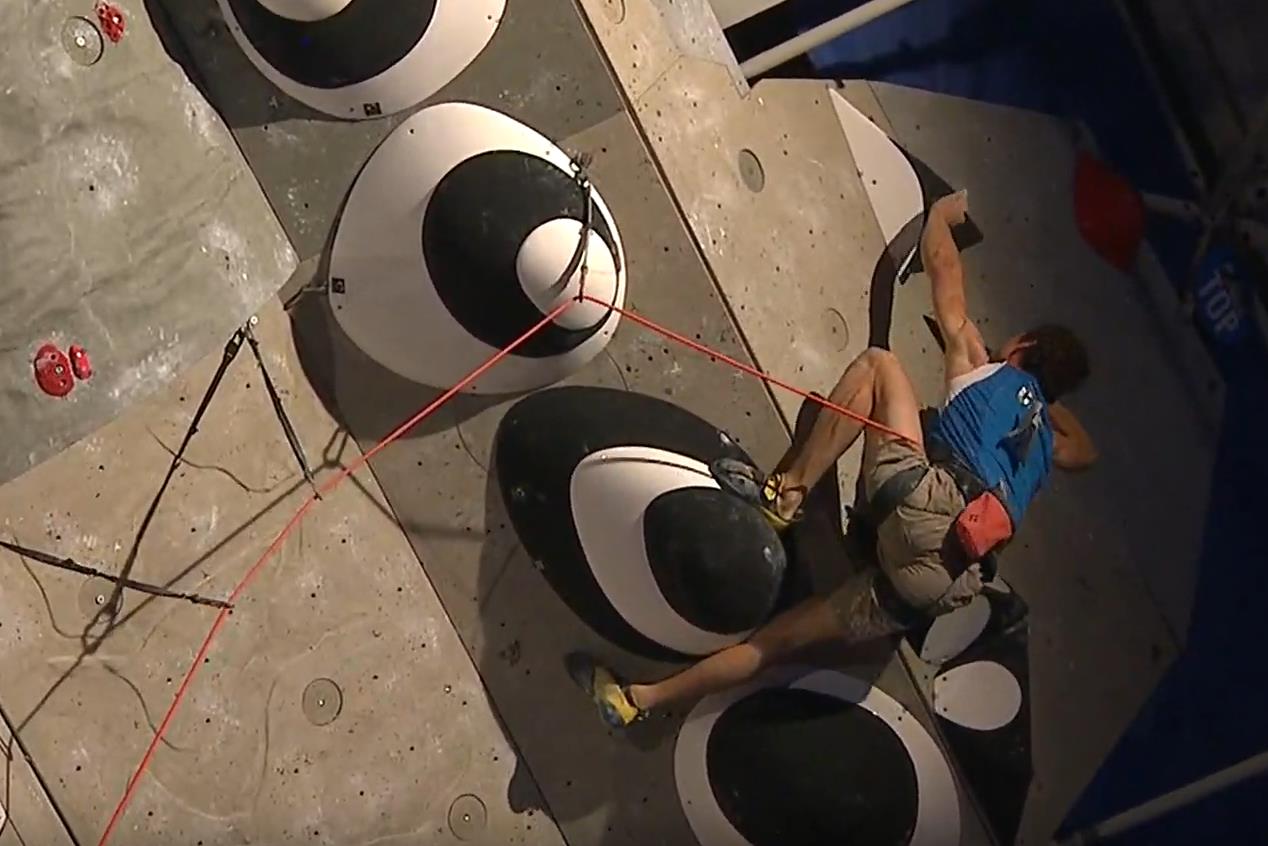 Adam Ondra providing a superb performance and the only top in the men's final
As we've already reported, a number of athletes have already qualified for the Tokyo Games at Hachioji. Some of that esteemed cohort are continuing with the remaining lead and speed World Cups – others, like Shauna Coxsey for example, have decided to sit-out the rest of the WC events and train for the Olympic showdown next August. Numerous others, remarkably Adam Ondra included, having not qualified at Hachioji have little option but to press-on with the remain lead and speed WC's in an attempt to boost their ranking points sufficiently to finish the 2019 WC season amongst the 20 highest-ranking athletes (yet to qualify for Tokyo) who will be invited to Toulouse to contest the next six Olympic qualification places on offer.
Kranj, one of the longest standing events of the IFSC WC lead competition year, typically provides an enthralling event in the calendar. Last year, head setter Christian Bindhammer and his team set a number of enthralling routes full of showpiece moves such as jumps and bat hangs in both the semi and the final rounds. Whilst this year's routes also had a number of jumps included, the women's routes were high on technical difficulty and the men's generally more physical.
Starting on Saturday, the qualification round involved many tops: no less than 14 tops in the women's and 15 in the men's across the two qualification routes. Ai Mori took the top spot in the women's ahead of Janja Garnbret in second and Anak Verhoeven in third. Over in the men's, Adam Ondra, Kai Harada, Stefano Ghisolfi , Alberto Gines Lopez and Kokoro Fujii all finished with double tops and hence it was a five-way tie for the top spot.
Sunday's semi-final round for the women produced a shocking result. Ai Mori and Lucka Ravovec finished in joint first with the season debutant and leader Chaehyun Seo in third. Remarkably however, Janja Garnbret had something of a disaster and fell off relatively low on the wall to finish in 13th; well off the pace and hence out of the final! It's the second time in the 2019 lead season that Garnbret failed to get into the final but this, in her home country, will be especially painful. She left the stage looking especially dejected. As if to prove a point, Adam Ondra finished the men's semi with a decisive lead over Jakob Schubert and Kai Harada.
Team GB had no less than four athletes in the semi-finals and it was Hamish McArthur who finished highest in 19th after an accomplished performance following his successful outing at Arco a month ago in the Youth Championships. Sadly, Jim Pope and Will Bosi couldn't match McArthur's high point and both fell lower down finishing in 23rd and 26th respectively. Over in the women's semi, Molly Thompson-Smith finished in 27th place.
The finals kicked off with the women's event which included two Slovenian and three Japanese climbers in total. The route snaked around the left arête before pulling onto the headwall after which the climbers faced a tricky short down-climb on what proved to be a decisive bulge. A number of the shorter climbers battled a bit with some longer reaches but it was Chaehyun Seo who looked the most convincing and was awarded 34.5+ and took the win with the smallest margin ahead of Jessica Pilz and Lucka Rakovec who finished in second and third with 34.5 and 34+ respectively! Remarkably, Chaehyun Seo's win was her third from just four IFSC Lead WC's she's now entered – ever! Seo now has an impressive lead in the 2019 WC rankings and will be extremely difficult to beat. If, as seems highly likely, she continues with her current form then winning the overall 2019 IFSC WC Lead in her debut season will be very impressive indeed.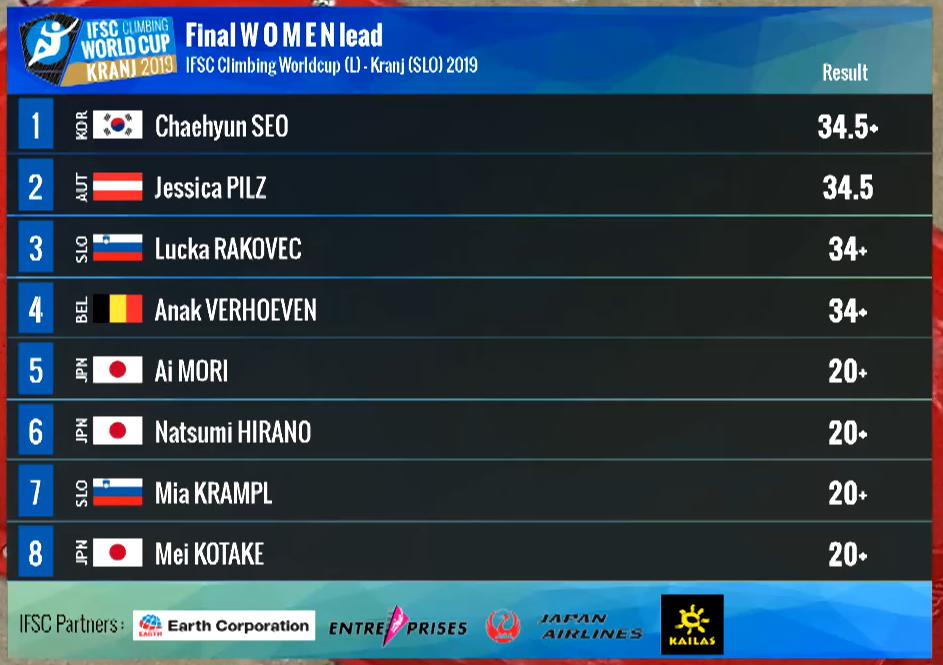 Women's Kranj results
Christian Bindhammer and his team of route setters served up a particularly aesthetic final route for the men comprising mainly of a series of circular black and white dual texture holds throughout. A pair of slopers low-down on the route caused a number of the competitors considerable discomfort; Martin Stranik and Jakob Schubert both falling fowl of them whilst others stormed past without so much as batting an eye. Sean McColl, climbing in his usual super-charged manner, set a very respectable high point and came in fourth. Kai Harada and Alberto Gines Lopez just pipped McColl to take second and third respectively. The stage was therefore set for Adam Ondra to show the packed Kranj crowd exactly what he was made off when he emerged to climb last. Ondra's performance was excellent; reading the route well Ondra climbing faultlessly and milked the rests like the brilliant lead climber he is. He alone topped out in a stand-out performance; the crowd were fully appreciative of his achievement and he was clearly delighted with his win. There's no doubt that his lead game is masterful but his Olympic aspirations hinges on his speed ranking after the sixth and final speed WC of 2019 which is at Xiamen. Hopefully however, he'll make the cut for Toulouse and then qualify at that event; however, in the world of competition climbing nothing is certain so stay tuned!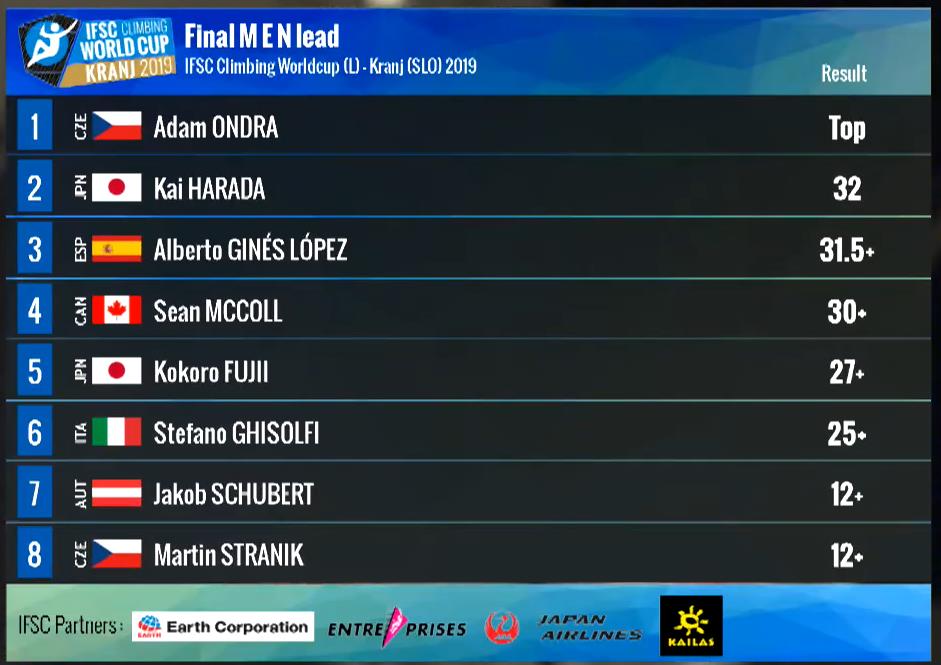 Men's Kranj results
Watch the final's below…