Second massive earthquake strikes Nepal
May 12th, 2015
News is breaking that a second major earthquake has hit Nepal just over two weeks since the shattering quake on April 25th which caused wide-spread destruction and killed over 8,000 people.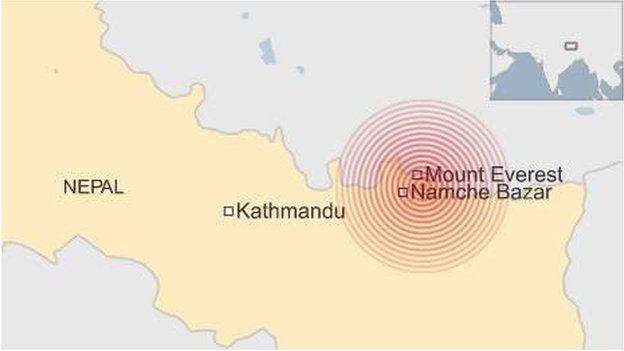 BBC Graphic showing location of latest quake
The epicentre of the latest quake – reported by the US Geological Survey as 7.3 – was close to Everest in Namche Bazar, a small town close to the Chinese border and some 52 miles from Kathmandu. This second major quake occurred at a depth of 11.5 miles, deeper than the previous quake which was 9.3 miles deep.
The quake hit at 12:35 local time – 07:50 GMT – causing strong tremors to be felt in the capital Kathmandu. Tremors have been reported as far away as Delhi, the capital of India, as well as Dhaka, the capital of Bangladesh.
@Northmen PK, a source of information during the last quake, is reporting that teams active in the Laprak area are reporting in ok. Currently, there are no reports of casualties in the mountains.