Second major winter line for Pete Harrison
Thursday 22nd January 2015
Jan 22nd, 2015
As winter returns to the UK Pete Harrison climbed The Charlatan (IX, 9), a major winter line on Clogwyn Du, his second in as many months after Wide Asleep (X, 9) which he climbed just before the New Year.
Harrison, who climbed The Charlatan with Simon Frost on January 19th, has – not without good reason – been was very enthusiastic about his latest line which he described as "Another totally brilliant route on this amazing cliff. I'm still buzzing, this one's a classic in the traditional sense of finding a line of least resistance through steep terrain. The Charlatan has two hard pitches and a final shorter easier pitch to top-out. It takes the obvious steep prow right of centre of the crag. A number of strong teams have been vying for the first ascent, and Harrison himself had tried the line a few years ago with Rob Pitt.
Pete commented to Climber, "Ahhhh!!!! I'm still buzzing, this one's a classic in the traditional sense of finding a line of least resistance up steep terrain. Wide Asleep is in your face deliberately nails. This is more mountaineering-classic.
Dave Garry tried the first pitch twice last Saturday, falling low down on his first go, and then falling from turning the arete when a hold broke on his second attempt. I then climbed this first pitch clean and set up a belay at the base of the corner. The weather turned very stormy while I was on the pitch, with very strong winds and white-out and, with darkness approaching, Dave didn't fancy following and I didn't argue either, so I abbed from the belay and we walked out to Ogwen.
I was super-keen to return and finish the job on what was obviously going to be one of Wales's classic mixed routes, so Monday saw me and Si Frost driving back to Ogwen for a midday start following school-run duties for Si.
I climbed the first pitch cleanly again. Si then took over the lead and started up the corner above but he still had his xmas arms on and after a couple of attempts was soon done in from the pumpy first pitch and attempting to solve the puzzle above. We pulled the ropes, swapped ends on the cramped stance, and I fired the pitch first go to a belay on the large terrace atop the cliff. A short grade 5 step saw us celebrating on the summit after establishing another totally brilliant route on this amazing cliff."
Pete Harrison on The Charlatan (IX, 9). Photo SImon Frost
Harrison's previous route, Wide Asleep (X, 9) was done just before the New Year with Ian Parnell. Despite the obvious difficulties involved Harrison managed to climb Wide Asleep on-sight – a very impressive ascent and one of the few routes climbed at this level as a first ascent. Wide Asleep is said to contain 'a toxic mix of pumpy, insecure and bold climbing' and had been attempted by Calum Muskett, and by Dave Almond and Simon Frost two winters ago.
Pete had this to say, "Am still a bit knackered and blown away, amazed at how it went onsight like that. I feel like I want to write loads about how much that meant to me after going through a process of getting back into shape following surgery on my back last year, when I was doubting the outcome. But it'll all just be guff to anyone but me.
Certainly one of the best moments in climbing I've ever had - a perfect 10 in terms of satisfaction. I can't think of many situations when I can honestly say I've given somewhere approaching 100% effort and it's just been enough to stay on and get up. That it happened on a hard new route which I've eyed-up and wondered about for a while makes it very rare. Also the first time in my life I've had an experience of 'observing from deep within."
Pete Harrison on Wide Asleep (X, 9). Photo Geoff Bennett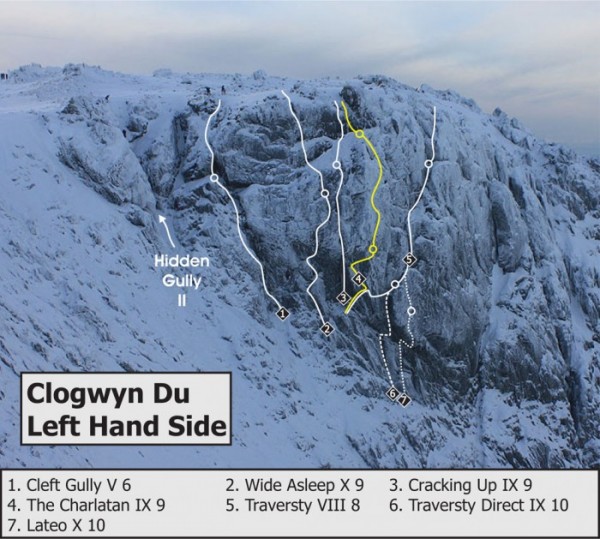 Clogwyn Du Routes. Photo: V12 Website
With these latest routes from Pete Harrison Clogwyn Du now has a very high concentration of super-hard winter routes including two grade X's, three grade IX's and three grade VIII's. For more details including route descriptions for both The Charlatan and Wide Asleep click through here to the V12 website.