Second ascents for The Perfect Mirage and Freakshow
Aug 16th, 2015
As expected – and just days after the first ascents - the second ascents of both The Perfect Mirage F8a/+ and Freakshow F8c have gone down this weekend.
Mick Lovatt on the second ascent of The Perfect Mirage. Photo Iain MacDonald
Ironically, Mick Lovatt – nick-named The Perfect Man – nabbed the second ascent of The Perfect Mirage at Gordale proving that you can't keep a good man down! Mick Lovatt was not only Adam Lincoln's belayer on the first ascent last weekend but he was the first ascensionist of Mirage nearly 20 years ago.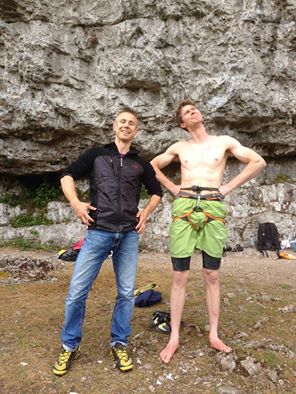 Neil Gresham (left) and Alex Barrows – first and second ascensionists of Freakshow. Photo Neil Gresham FB
Meanwhile, over at Kilnsey, Alex Barrow got his hands on the top of Freakshow after narrowly missing out last week when he fell off right at the top. On this occasion, and following the heavy rain at the back-end of last week, Alex had to dry the penultimate hold out with a towel en-route, an impressive touch from the self-acclaimed stamina-monster.