Seb Bouin climbs France's hardest single pitch and multi-pitch routes within a week
Tuesday 10th September 2019
Sept 10th; 2019
Seb Bouin is absolutely on fire at the moment having done the first ascent of what is now thought to be France's hardest single pitch route La Rage d'Adam (F9b/+) last week and then repeated Hossana (F8c max), France's hardest multi-pitch climb just yesterday.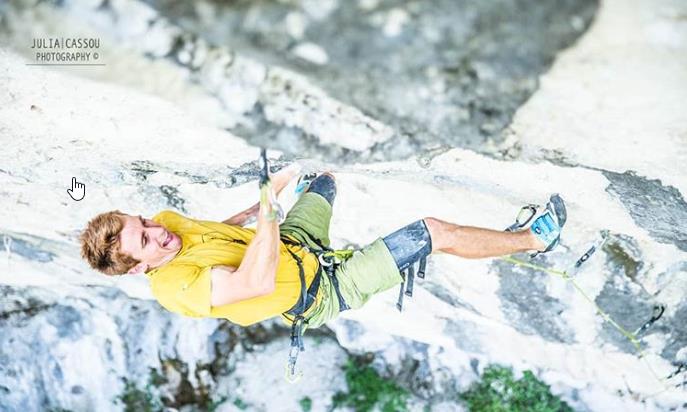 Seb Bouin on La Rage d'Adam. Photo @julia.cassou
Last Wednesday Seb did the first ascent of what he believes is now France's hardest sport route, La Rage d'Adam F9b/+, to the Ramirole sector in the Verdon Gorge. Having climbed Mamichula (F9b) at Oliana in spring this year Seb then returned to the Hanshallaren Cave at Flatanger where he made the second ascent of Adam Ondra's Move F9b/+. Since then Seb has been concentrating on an old project on the Ramirole Sector in the Verdon; something which both he and Adam Ondra have both tried in the past.
Seb explains the background of the route and his interest: 'This route was bolted few years ago and this year, this route was a big objective for me.' He then describes the route in detail: 'The difficulty is not so long. Firstly, there is a first short F8c of 6 quickdraws to reach the boulder crux problem. This boulder is HARD. It's around 10 amazing moves on little pinches and undercuts on a very overhang area of rock. Then there is 25 meters of "easy" climbing of around F8b.'
Back in 2015 Seb had encouraged Adam Ondra to try the line and he found it very hard as he has confirmed: 'It was a summer day of 2015, conditions felt quite good though and Seb showed me this project that he had briefly tried before. He mentioned hard boulder problem and when I arrived there, even after 20 minutes I did not really imagine any possible sequence that could make it more climbable. After even minutes hanging in the bolts, I came up with some crazy gaston beta, but I could not do the moves either and dismissed the route as too hard to be climbable in the near future.'
Seb wasn't sure about the grade of La Rage d'Adam saying; 'I am quite uncertain about the grade, this route is not so much my style, and I have not so much experience in this grade. It could be hard 9b or 9b/+. I will propose 9b/+, waiting repetitions to confirm or adjust.' Despite only having tried Seb's project for a short time Adam Ondra appears to be in no doubt that La Rage d'Adam is very hard. From Seb's perspective if the best rock climber in the world has been on your project and found it hard you might as well let him explain how hard he felt it was. Here's what Adam said about the news that Seb had completed his project: 'Well, Seb did not give up, came back, got some better beta, got super strong and finally sent it this year! My guess is that it could be 9b/b+, if not even harder, based on my one and only experience of the route - which felt HARD!'
Bounin's addition of La Rage d'Adam to Ramirole in the Verdon Gorge means that there is a remarkable number of test-pieces to that particular sector.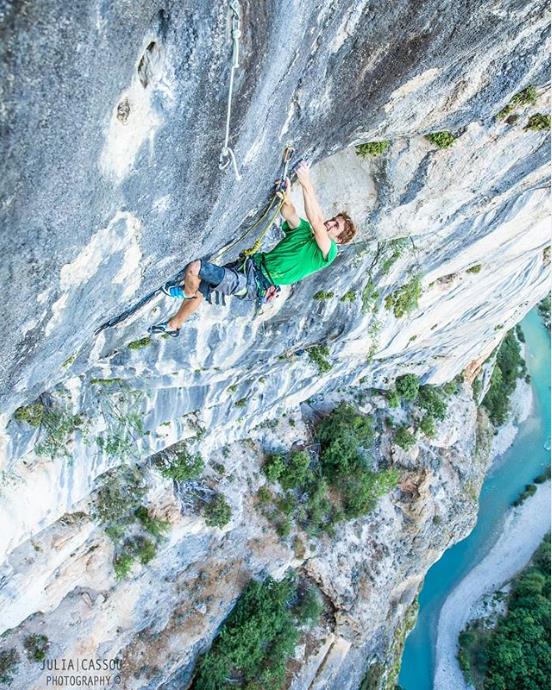 Seb Bouin on the crux of pitch 3 on Hossana. Photo @julia.cassou
However, Seb wasn't content with the first ascent of La Rage d'Adam and having been inspired by the recent 'combined' format in the World Championships in Hachioji he came up with the idea that once he had completed La Rage d'Adam he would then attempt to repeat Hossana, France's hardest multi-pitch route, also in the Verdon, in the same week.
Having done La Rage d'Adam last week, Seb rested and then attempted Hossana yesterday. Hossana is a five pitch route with pitches running at F8b/+, 8b, 8b, 8c and 7b+.
Seb explains how it went yesterday: 'Everything went perfectly, I didn't fall during this day ðŸ˜. That is not often 😅.' He then explains how he tackled Hossana: 'This route is really amazing by the quality of the rock and the overhang. If you like tufa climbing and huge lines, this is paradise! I was a bit stressed for the first pitch (8b/+) and not warmed enough. Yet, for the others pitches everything went well. I did two first pitches (8b/+ and 8b) in one in order to spend less time in the global route. There is a big three after pitch 1, so you can rest by your own before pitch 2. Then there is pitch 3 with a big traverse (the longest pitch of the route). The next pitch is the supposed 8c. This is the most overhang pitch of the route. It's amazing that this wall is climbable. There is big holes and little tufas. I didn't find this pitch so much harder than the ones before. After that there is a last 7a to join the top.'
Follow Seb Boui on his Instagram page here…