Sam Hamer completes Top Fifty Eastern Grit classics
Wednesday 22nd April 2015
April 22nd, 2015
Earlier this week, Sam Hamer ticked-off the last few routes on his personal quest to complete the Top Fifty best routes on Eastern Grit.
Sam's Top Fifty Ticklist
Sam's first ever guidebook was Rockfax's 2001 Peak Gritstone East. Back in 2005 he climbed Croton Oil (HVS) at Rivelin Edge. Not only was that Sam's first every trad lead but it was the first of the Top Fifty. Ever since then he's been working his way steadily through the list of best routes. On Monday last he climbed both Goliath's Groove (HVS) at Stanage and Requiem (E3) at Cratcliffe in the day completing all 50 of the routes.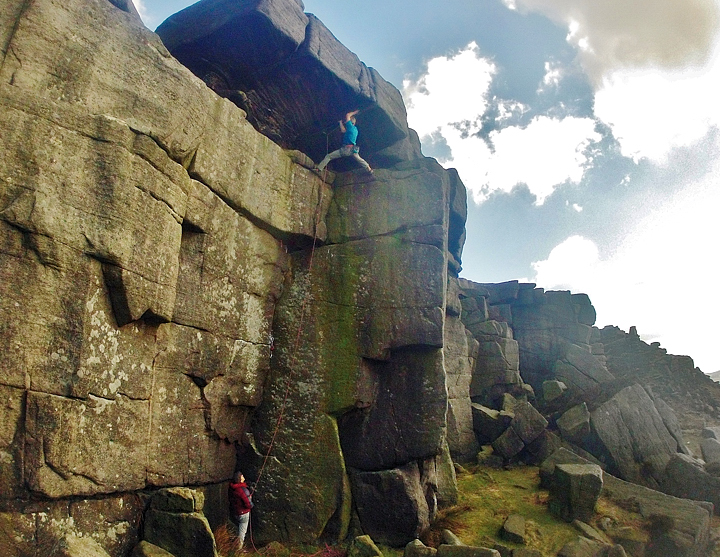 Sam Hamer on Nectar (E5) Stanage, Photo Hamer Brothers
Sam comments on his blog; "It was an awesome end to the day topping out the final headwall in glorious sunshine overlooking the wonderful Peak district feeling really proud to have climbed them all. I've found that having a list such as this is really important and keeps you focussed on your climbing ambitions. So thanks Rockfax!"
Sam on Green Death (E5) at Millstone. Photo Hamer Brothers
CLIMBER has been in touch with Sam to get a bit more detail…
When did you figure you were in with a chance to do all 50? I guess the start of this year, as I only had a handful left to do. I did my first one Croton Oil at Rivelin way back in 2005 and since then I've gradually ticked my way through the routes. It's been a nice process each winter having a look at which ones I had done and which I had got left to do!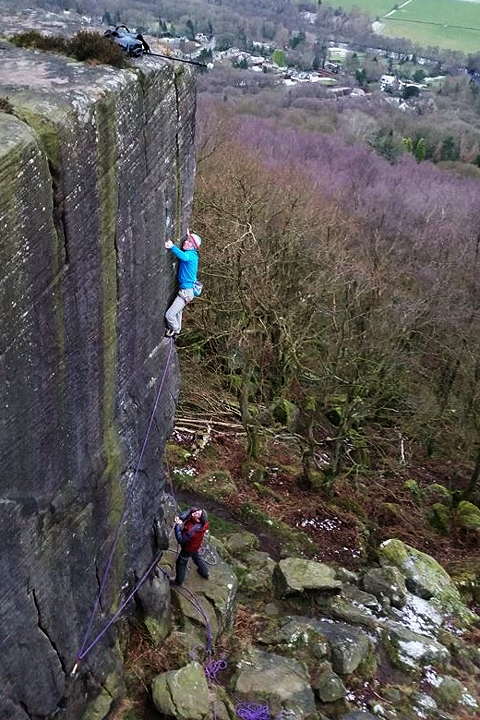 Sam on Beau Geste (E7 6c). Photo Hamer Brothers
Where there any that you were really psyched to do and if so why? End of the Affair was always going to be a big one and showed me the way for what I could do on grit. It was also my first of the grade on gritstone. But the one that I was most psyched to do was Beau Geste. This is far harder and gets way less ascents than EOTA. This always stood out to me as being the best line on the cliff and I knew I had to try it someday! Luckily it all came together on a freezing cold day this January after a few slamming falls round the corner!
They're obviously all good but which would be your top three that really stand out as climbs? My Top three would have to be: Great North Road at Millstone, Sentinel Crack at Chatsworth and Beau Geste at Froggatt. But they're all amazing!
Are you working on the top 50 western routes next or is it limestone for a while? Done a fair amount of those too! Though still got a few more to go at, so should keep me busy. The grit is definitely still on just need to find those North facing walls!
Thanks to Sam for sharing his personal story. Sam makes a good point there that having goals and targets is really important and he's not alone in ticking through lists. Rumour had it at the time that is why Ken Wilson included routes like The Scoop – then a full-on aid extravaganza – in Extreme Rock so that anyone looking to complete the entire list would have their work cut-out! Interestingly, the Top Fifty best routes in the current edition of Eastern Grit from Rockfax tops –out at E5 so anyone looking to complete that list is one for an easier time!
Read more about Sam's climbing on the Hamer blog here…