Sachi Amma blasts his sport climbing CV to new levels
Thursday 26th February 2015
Feb 26th, 2015
During his three-week trip to Spain, Sachi Amma has blasted his sport climbing CV to new heights.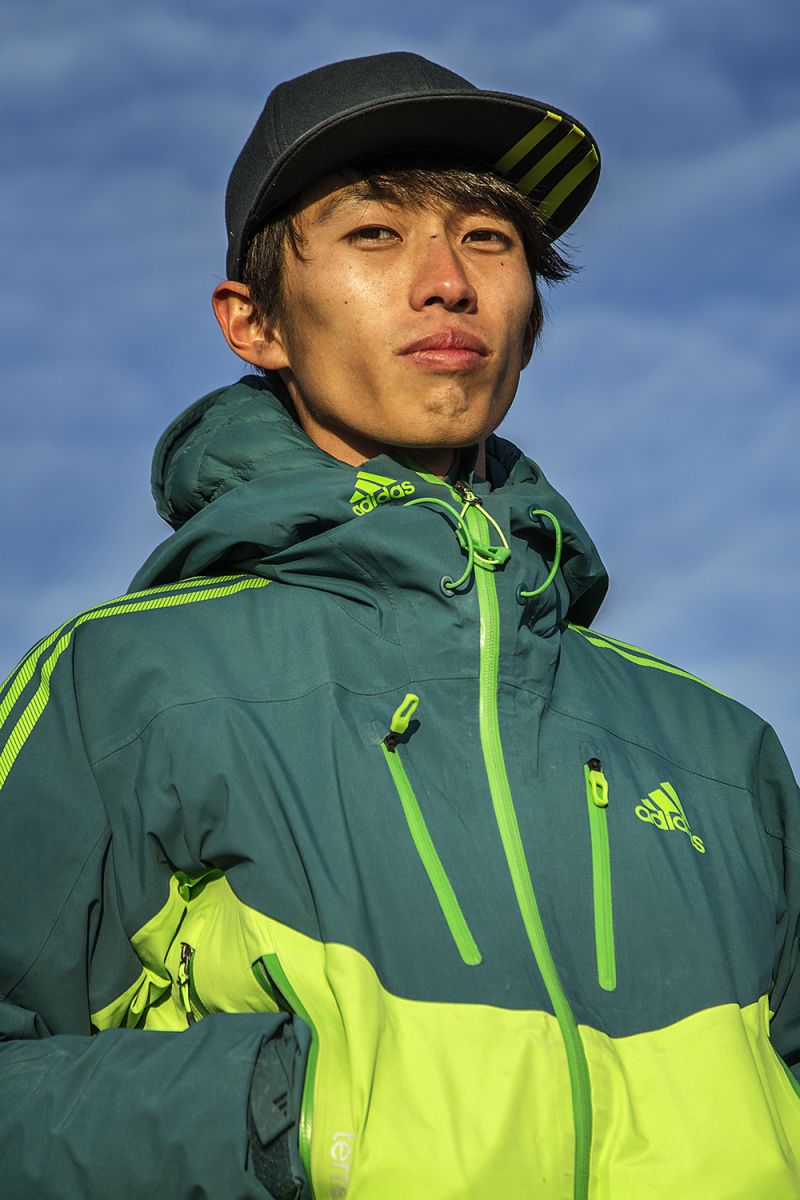 Sachi Amma in Spain. Photo Eddie Gianelloni
Over late Jan/early Feb the internet was alive with what seemed like almost daily posts of Sachi Amma's latest successes. Given that his trip is now over it's a good time to pull together his achievements whilst he was in Spain.
Before we do just that, it's perhaps worth just setting the scene and outlining some of his significant achievements prior to this trip. Firstly, Amma was/is no mean competition climber having won the 2012 and 2013 World Cup leading series. But for the fact that he switched to concentrate on 'outside' climbing in 2014 he would have almost certainly have finished higher than his rather lowly (for him) seventh place. As far back as December 2010 Amma made the fourth ascent of Chris Sharma's Papichulo (F9a+) at Oliano. At that time Papichulo had only been repeated by Ramonet and Ondra. Amma was climbing into exalted circles – perhaps hardly unexpectedly having previously done routes like KinematiX (F9a) in the Gorge du Loup area of Southern France. A year later in Dec 2011, and having finished third in the lead series of the World Cup, Amma did the second ascent of another of Chris Sharma's F9a+'s, Pachamama, again at Olina. The following December (2012) Amma made a reasonably quick redpoint of renowned Siurana test-piece, La Rambla (F9a+).
The next significant ascents came in 2014, as we said above, the year Amma switched away from World Cup leading to concentrate on climbing outside. Proving he was no mean boulderer as well, in May of that year Amma repeated Hydrangea and Babel – two Font 8C's originally put up by Dai Koyamada's Shiobara. In August that year Amma repeated Chris Sharma's world-famous Cieuse test-piece, Biographie (F9a+) – Amma's fourth route at that grade.
Such was Amma's CV when he arrived in Spain earlier this year. It didn't stay that way for long however as Amma kicked off his visit with a repeat, the fourth ascent, of Fight or Flight Chris Sharma's F9b at Oliano. Writing on Facebook Amma confirmed that he'd had more than 30 tries on this route over four previous visits. Just days later Amma redpointed Catxasa (F9a+) at Saint Linya after which he also did Power Inverter (F9a+) at Oliano and Selleccio Anal (F9a+). It had taken Amma just three weeks to boost his CV to a new all-time high – a three week sending spree that is one of the best trips for any climber ever.
Sachi Amma on Fight or Flight. Photo Eddie Gianelloni
His attempts during 2014 on Fight or Flight had clearly made a big impression on Amma – it became his main focus; "...everything in my mind was changed before coming to Spain, through thinking about climbing and training a lot for being stronger. I started trying FOF at the end of 2013. FOF always asking me just one thing, " Are you earnest about life?". It is tough to keep thinking about this. But after I started trying FOF, I never climb without thinking about the route and this question. At the beginning of the 2015, I was into climbing. And everything was different than before. That was the most important thing which I learned through climbing FOF."
Here the low-down of Amma's trip:
1/29 Seleccion Natural 9a, 6 tries in 2014, 1 try in 2015
2/1 Fight or Flight 9b about 30 days of trying, 3 tries in 2015
2/1 Joe-Cita 9a 1 try in 2014, 3 tries in 2015
2/5 Fuck the System 9a 2 tries (1 day sending)
2/5 Rock Fucks 8b+ onsight as a cool down
2/11 Catxasa 9a+ 1 try in 2014, 3 tries in 2015
2/16 Power Inverter 9a+ 1 try in 2014, 8 tries in 2015
2/17 Blume 8c+ 1 try in 2013, 1 try in 2015
2/18 Seleccio Anal 9a+ 2 tries (1 day sending)
We like to thank Eddie Gianelloni for sending though a detailed account of Amma's trip and allowing us to use his photos.
Click through here to see Eddie's website. Alternatively follow Eddie here on FB or Sachi Ammi here on FB.