Russian's Meshkova and Rubstov take Euro Champs Combined Gold
Thursday 3rd December 2020
Russian climbers Viktoriia Meshkova and Aleksei Rubtsov won gold in last week's European Championships and qualify for the Olympics.
As we reported earlier, last week saw the three individual Speed, Boulder and Lead events at the European Championships. Click here for our report into those events.
As expected, it was an action-packed week, especially in the women's events. Kicking off the week in fine style Iuliia Kaplin set the stage alight with a new World Speed Record of 6.964 seconds. Her teammate, Viktoriia Meshkova, took double gold medals winning in both Boulder and Lead. In the men's events, Jernej Kruder and Sasha Lehmann posted stand-out performances in the Boulder and Lead respectively.
Crucially from Team GB's perspective, Molly Thompson-Smith and Will Bosi kept British hopes alight with some excellent performances. Not only did Molly finish with a Bronze medal in the Lead event but both she and Will finished in 10th and 8th respectively in the top 20 meaning that they went forward into the Combined event on Friday and Saturday to contest the final two places – one male and one female – for European climbers in the Tokyo Olympics.
Combined 'Qualification'
Following a much-needed rest day on the Thursday, the Combined started on Friday with three 'qualification' rounds – one each for Speed, Boulder and Lead. The 20 highest placed climbers competing in the Combined event, including Molly and Will, are listed below. Crucially none of the climbers qualifying for the Combined Final had already qualified for the Olympics as the two athletes, Petra Klinger and Aleksandra Miroslaw, both of whom had already qualified for Tokyo had already withdrawn due to injuries. It was, therefore, a simple case of the first two athletes past the post would take the remaining two European Olympic places.
Combined Qualifiers: Men

Combined Qualifiers: Women

1 - Nicolas Collin (BEL)
2 - Sascha Lehmann (SUI)
3 - Sergey Luhetzky (RUS)
4 - Jernej Kruder (SLO)
5 - Nimrod Marcus (ISR)
6 - Nikolai Iarilovets (RUS)
7 - Anze Peharc (SLO)
8 - Will Bosi (GBR)
9 - Ram Levin (ISR)
10 - Danyil Boldyrev (UKR)
11 - Martin Stranik (CZE)
12 - Yuval Shelma (ISR)
13 - Hannes Puman (SWE)
14 - Alex Khazanov (ISR)
15 - Simon Lorenzi (BEL)
16 - Alexey Rubtsov (RUS)
17 - Marcin Dzienski (POL)
18 - Geva Levin (ISR)
19 - Peter Kuric (SVK)
20 - Jan Kriz (CZE)

1 - Viktoriia Meshkova (RUS)
2 - Stasa Gejo (SRB)
3 - Chloe Caulier (BEL)
4 - Aleksandra Kalucka (POL)
5 - Elena Krasovskaia (RUS)
6 - Eliska Adamovska (CZE)
7 - Hannah Meul (GER)
8 - Natalia Kalucka (POL)
9 - Lucia Dorffel (GER)
10 - Molly Thompson-Smith (GBR)
11 - Afra Honig (GER)
12 - Alma Bestvater (GER)
13 - Nika Potapova (UKR)
14 - Marketa Janosova (CZE)
15 - Patrycja Chudziak (POL)
16 - Ayala Kerem (ISR)
17 - Anna Brozek (POL)
18 - Michaela Smetanova (CZE)
19 - Vana Piccini (CRO)
20 - Noa Shiran (ISR)
As expected the specialists dominated the Speed round with the two Polish speed climbers, Marcin Dzienski and Patrycja Chudziak, taking the top slots. Second and third places in both the men's and the women's Speed went to further speed specialists; unsurprisingly, the non-speed specialists were squeezed down the rankings.
The Boulder round which followed saw an almost unprecedented number of tops suggesting that the setters had under-cooked the difficult. In the men's event, no less than ten male athletes all finished with four tops and four zones; Alex Kazanov and Will Bosi finishing in joint top having matched each other's attempts throughout the round. Although the women's event didn't see as many tops, three climbers - Hannah Meul, Eliska Adamovska and Stasa Gejo - all finished with four tops, four zones in four attempts.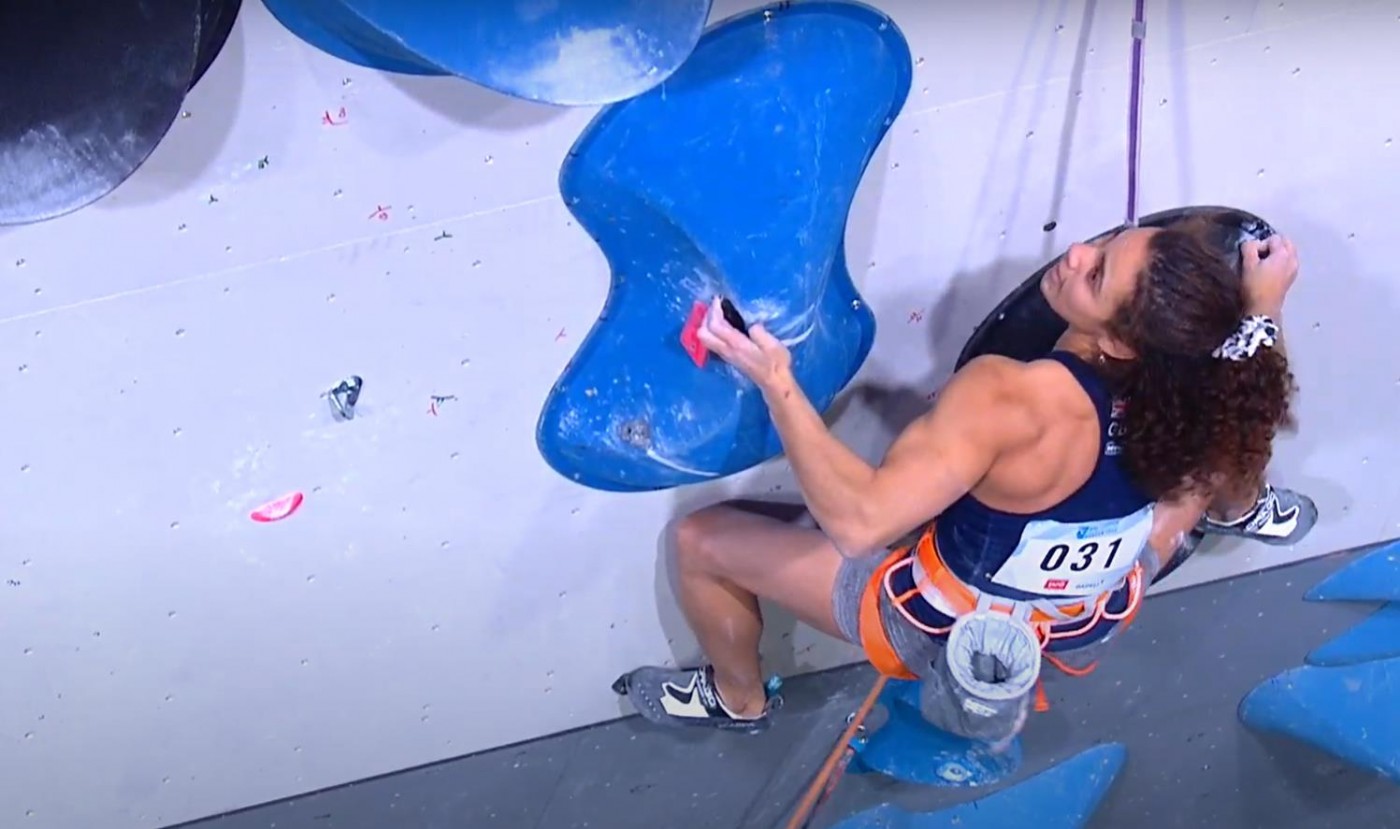 Lead, the final round of the day on Friday was equally eventful. Three climbers, Sasha Lehmann, Yuval Shemla and Hannes Puman all topped the men's route. In the women's event, only Eliska Adamovska topped the route with Molly coming second and Elena Krasovskaia third.
By the end of the penultimate day of the whole competition we were left with just eight male and female climbers who would progress through to the Combined final on the last day. Perhaps the biggest shock was that Jernej Kruder, run-away winner of the men's Boulder Championship earlier in the week, didn't make the cut for the final eight! Sascha Lehmann, thanks to his strong boulder and lead rounds where he finished in 3rd and 2nd respectively, lead the men's finalists with a commanding points score – exactly half that of second-placed Sergei Luzhetskii. Will Bosi finishing in 3rd, was also in a strong position as well. Eliska Adamovska was the stand-out leader in the women's finalist having finished in 1st in both boulder and lead rounds. Molly, finished Saturday in 6th place following her strong performances in both boulder and lead.
Combined Final
Saturday, the day of reckoning, was unsurprisingly a day full of non-stop action and changing fortunes. Because of the scoring method where athletes scores from each round are multiplied together the 'lead' changes almost constantly; crucially, as more athletes finish their rounds and their scores are calculated then positions of other athletes are amended. It was to prove a truly nail-biting final as we'll explain.
Speed
The two Polish speed specialists, Patrycja Chudziak and Marcin Dzienski, convincingly won the Speed final. Despite falling in the final run, and hence not recording a time, Viktoriia Meshkova took 2nd place in the women's event whilst Stasa Gejo finished in 3rd. Sascha Lehmann and Alex Rubtsov were neck and neck in 4th and 5th just 1/100th of a second between them! Were it not for a slip Sergei Luzhetskii might have won the men's event but he had to settle for 2nd; his teammate, Nikolai Iarilovets finished in 3rd. Having both been pretty consistent with their various speed runs all week both Molly and Will were a little slower in their crucial last runs in the final; Molly finishing in 7th whilst Will finished in 6th having taken a small slip on his final run.
Boulder
The boulder round featured just three blocs; the setters, however, jammed the full gambit of style into the three blocs creating some imaginative and very testing problems including awkward and fiddly "sit-down" starts, dynos, parkour-style combo moves, toe/heel catches as well as out-and-out power/campus-style moves. Perhaps conscious of a large number of tops in the easier rounds the three problems looked and seemingly proved harder; certainly the number of tops were drastically reduced.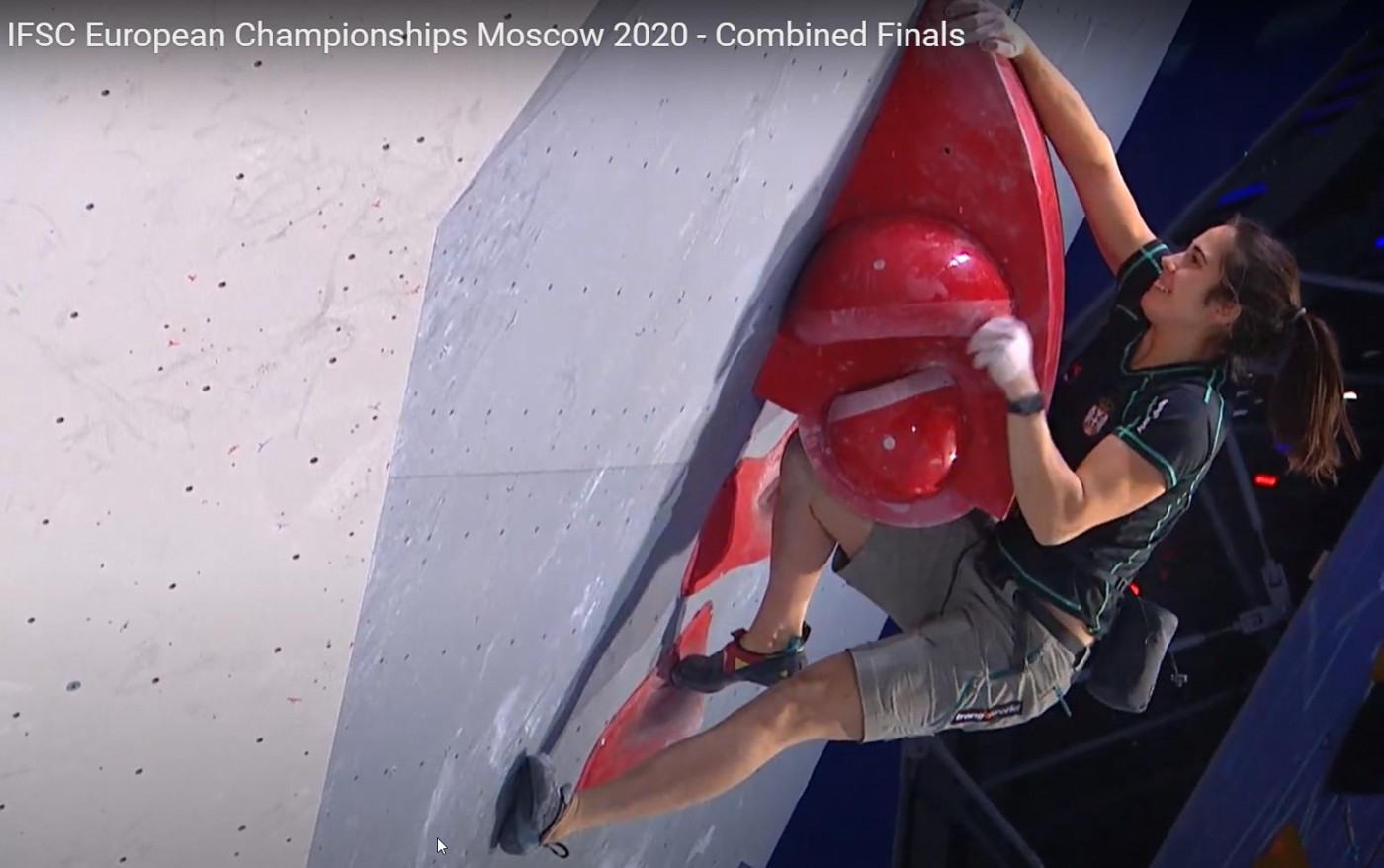 In the women's event, W1 and W2 proved 'doable' but W3 shut everyone down and whilst four finalists got the zone no-one topped the problem. Given four of the eight female finalists finished with two tops and three zones attempts to the tops and the zones were crucial. Stasa Gejo finished in 1st having taken three attempts for her two tops whilst 2nd placed Chloe Caulier took four attempts! Elena Krasovskaia and Eliska Adamovska finished in 3rd and 4th place each with five attempts for their two tops; they were therefore only separated by their respective attempts to the zones splitting them by the narrowest of margins.
Viktoriia Meshkova, winner of the Boulder Championship in the first half of the week, finished in 6th narrowly ahead of Molly Thompson-Smith; both were restricted to a single top. Speed climber, Patrycja Chudziak, was totally shut down.
The men's three final blocs were equally varied but produced a more rounded split in the finalists' scores – just! Aleksei Rubtsov alone topped all three blocs taking eight attempts, however. Second-placed athlete, the Russian strong house Nikolai Iarilovets, flashed both his two tops but wasn't able to top all three blocs.
Sasha Lehmann also got two tops and three zones but finished in 3rd having taken more attempts. Alex Khazanov and Sergei Luzhetskii also finished with two tops and three zones but in more attempts. Yuval Shemla got a single top and finished in 6th. Will Bosi was extremely close to getting M3 falling off the final hold; sadly, speed specialist Marcin Dzienski was totally shut down and finished with a blank sheet.
After two rounds in the Combined Final, the top competitors were separated by the slimmest of margins. In the women's, the top five ranked climbers were all within 9 points of each other whilst just seven points separated the top five men! As so often the case with such Combined events, the leader board was to change significantly as the lead final progressed.
Lead
Chloe Caulier established what looked like a competitive high point but she was judged to have used a bolt during her climb and ultimately she was placed much lower on hold 21+. What would have been a 4th place finish in lead became 7th. Molly climbed superbly and was a whisker away from topping the route; falling off going for the final hold she finished lead in 3rd place demonstrating yet again how solid her lead game has become recently. However, both Viktoriia Meshkova and Elena Krasovskaia both topped the lead route; that was enough for them to take 1st and 2nd place in the lead respectively; Meshkova taking 1st having topped in a quicker time.
Crucially, Meshkova and Krasovskaia strong lead finishes meant they finished the Combined in 1st and 3rd respectively; Stasa Gejo's 5th place finish in lead was enough for her to take 2nd in the Combined. Chloe Caulier's bolt issue cost her dearly and she finished overall in 5th place instead of what would have been 3rd place instead of Eliska Adamovska. The tears of joy on Meshkova's face when she realised she'd won and booked her place at the Olympics was wonderful to see. Despite all her superb efforts Molly Thompson-Smith finished in 8th place.
The men's final was another 'high scoring round' with three tops from Yuval Shemla, Sascha Lehmann and Sergei Luzhetskii and two near tops from Aleksei Rubstov and Will Bosi who both fell off going for the final move. Sergei Luzhetskii topped first in just 2:51 minutes which forced Sascha Lehmann to go even faster; he stopped the clock in 2:31 minutes. Lehmann's time looked like he'd was going to take the win in the Lead final and hence the overall Combined. However, Yuval Shemla came out and absolutely flew up the route in just 2:20 minutes – a time which gave him the 1st position in but crucially pushed Lehmann down into 2nd place and when the scores were multiplied Lehmann was knocked off his 1st position in the Combined by Aleksie Rubstov who, despite finishing the Lead in 4th, held onto his 1st place going into the Lead event and so finished 1st in the Combined.
As the result became clear Aleksie Rubstov nearly jumped into orbit when he realised he had grabbed the magical final European qualification place for Tokyo; Sascha Lehmann, by contrast, was understandable totally gutted to have got so close but to be pipped at the post! Lehmann finished the Combined in 2nd with Sergei Luzhetskii in 3rd. Will Bosi had battled incredibly hard all week but was forced into 8th place in the Combined.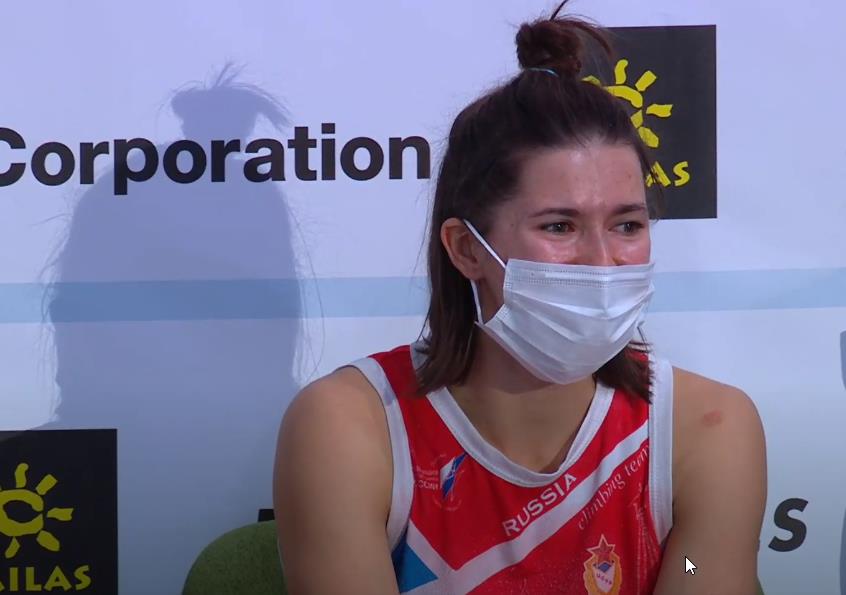 The final full score is below…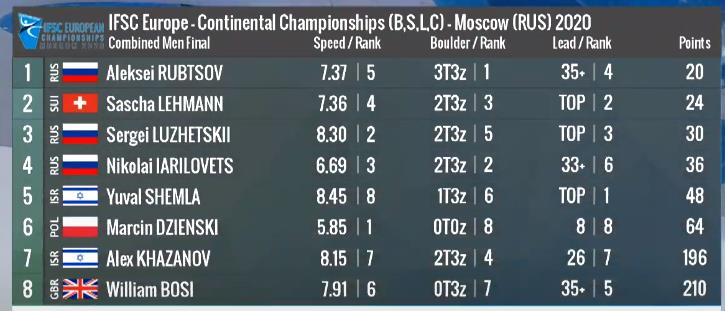 Watch the Combined Finals below…